In February 2023, House Beautiful reported that the Society of Garden Designers predicted the rise of gravel gardens as a popular trend in garden design for the year. Additionally, there has been a growing interest in utilizing drought-tolerant plants and a resurgence of the eternal cottage garden aesthetic. 
Other than cultivating one's own produce, kitchen gardens, and greenhouses have gained significant popularity, highlighting the sustained interest in the "grow your own" movement. However, the prevailing garden design trends for 2023 focus on innovative and environmentally conscious designs that apply even to smaller spaces.
According to Andrew Duff MSGD, Co-Chair of the Society of Garden Designers, people are exhibiting a strong inclination to fully immerse themselves in nature. Whether it's through balcony gardens that connect with the outdoors, public parks, personal gardens, or the serene countryside, there is a widespread desire to spend more time outside. 
Duff further emphasizes that, in today's artificial world, individuals yearn for the genuine experience of walking on real grass and revel in the nostalgic power of scents that evoke cherished memories. Creating a personalized garden can fulfill these innate longings.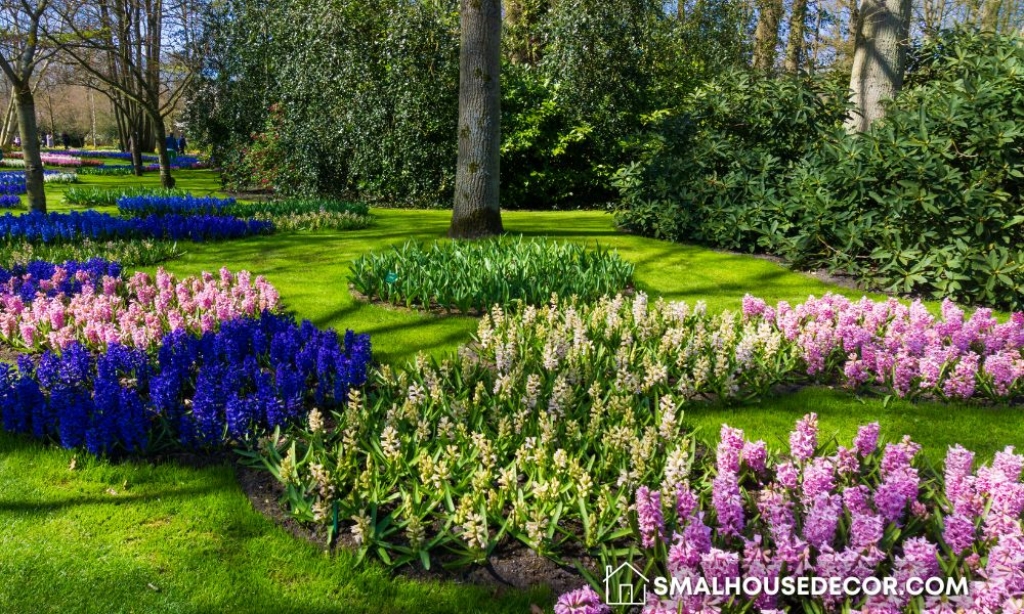 Garden Design Ideas for Small Houses in 2023
In February 2022, Homes to Love highlighted that larger backyards were once a popular trend. However, with the increasing prevalence of urban living, both our homes and gardens have reduced in size. Yet, small garden spaces can still be inspiring and captivating. There is no need to compromise on your vision of a lush, green paradise.
Instead, view these compact spaces, such as balconies, courtyards, patios, or front yards, as opportunities to unleash your creativity and make the most of the available area. Embrace space-saving options like striking pot plants, climbing vines, and vertical gardens to push the boundaries even in a small yard. 
Let your imagination guide you as you explore innovative garden design ideas that will transform your humble abode into a captivating urban oasis. Do you want to redo your small house garden space? Here are a few ideas that will work best in 2023: 
When considering bamboo as a screening plant, it is crucial to select the appropriate species. A popular option for this purpose is Bambusa textilis 'Gracilis,' also known as slender weavers' bamboo. This particular variety is non-invasive, forming clumps that make it an ideal choice for screening.
Sophie Grieve, a landscape architect from Think Outside Garden, mentions that slender weavers' bamboo reaches a height of 6 to 8 meters, providing excellent vertical coverage. It boasts a rapid growth rate, shooting up from 1 meter to approximately 6 meters within 18 months.
Furthermore, Sophie suggests planting one bamboo plant per 0.6 to 1 meter, depending on the desired density of foliage. Slender weavers' bamboo retains its green color throughout winter, avoids yellowing, and exhibits tolerance to frost. Once established, it demonstrates decent drought tolerance, although it flourishes when given sufficient water during the summer months for optimal vitality.
For screening purposes, the bamboo stems can be left dense and bushy, or, the leaves can be pruned back to expose bare stems, allowing light to penetrate the area effectively.
Also Read: If You're Passionate About Gardening You Should Know These Things
The modular planters provide flexibility and versatility, enabling you to maximize your small house space. They get designed so that you can easily rearrange and reconfigure them, making it easier to adapt to changing needs or preferences. 
Modular planters can help you create customized layouts, tiered arrangements, and vertical gardens that cater to the small garden space. It is excellent for managing a variety of plants, flowers, and herbs in different compartments. It is a stylish and practical solution for small house gardens, that helps in creating a visually stunning and functional outdoor space. 
Crescent Garden suggests that modular plants must work for you, instead of the other way around. Hence, homeowners must choose a contemporary look for the planters that will cater to their urban house design. It is necessary to check the warranty so that the investment justifies the cost. 
House Beautiful featured an innovative succulent garden bed concept designed by Tamsin Johnson, which was seamlessly integrated into the exterior of a modern home. The carefully chosen tall plants were strategically placed to enhance privacy while still allowing a partial view of the living room. One of the most appealing aspects of this design is the low-maintenance nature of succulents. This makes it an ideal choice for individuals who may not possess a natural affinity for gardening, making it accessible to anyone seeking a beautiful and manageable outdoor option.
By strategically layering plants with varying leaf sizes and heights, you can create an optical illusion of spaciousness in your garden. In the Melbourne front garden designed by Inge Jabara, the bluestone pathways are beautifully adorned with a delightful array of Portuguese laurels, lamb ears, English box, seaside daisies, and German iris, thereby forming a captivating layer of foliage.
Conclusion 
This year, the garden design ideas for small houses provide an array of exciting possibilities for you to explore and choose from. From embracing space-saving solutions like modular planters to utilizing vertical gardens and maximizing outdoor spaces, there are endless opportunities to unleash your creativity. 
Incorporating drought-tolerant plants, exploring the beauty of gravel gardens, and reviving the timeless charm of the cottage garden aesthetic are all elements that can elevate the allure of your small garden.