5 Tips for Planning a Home Renovation Project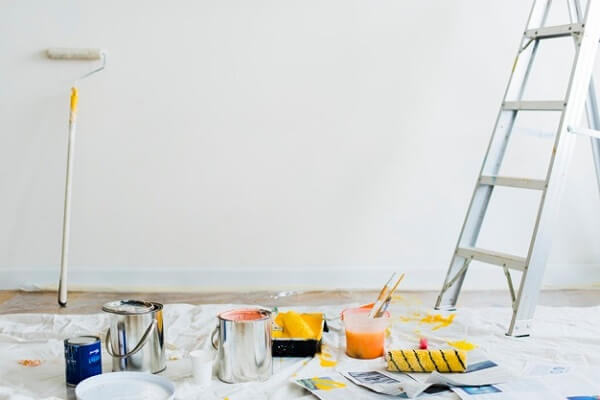 House restoration can be highly profitable. However, there is no denying that it is a challenging project. You must look past the current shortcomings of the property and design the space to accommodate your vision and needs.
Careful budgeting for house renovation expenditures is also necessary, as is good planning to complete the work as cost-consciously and efficiently as possible. If you do things appropriately, you can increase the value and live in a beautiful home.
When deciding on a complete home remodel, you must know what you're getting into. Here are a few tips to help you understand what's involved and plan your home remodeling more successfully.
1.    Organize
It would be best if you did not begin painting, stripping down the wallpaper, or making repairs right away. The first step in home improvement is to declutter what you already have. Reducing items in the home will make it easier for you to organize after the renovation is complete. You can segment your things into possessions you want to put in storage, keep, donate, recycle or throw in the trash.
The ideal strategy is to start packing one room at a time, and you will be surprised to find things you have never used. Pack your belongings in a separate box. An excellent way to remember what is in a box is to take pictures of the contents, especially the ones going into storage.
If you are looking for reliable storage spaces in Arkansas, you can check out the Discovery Storage units Rogers AR offers and see if they meet your requirements.
2.    Define a budget
Before engaging in a home improvement project, thoroughly examine the costs and budget to ensure the project is financially viable. Examine and assess the scope of the task so you can create a detailed financial plan.
The price of building supplies, labor, building permits, and ornamental finishes should all be included in your home renovation budget. Continue by deciding how much you want to spend, and then complete your financing.
Remember to set aside at least 10% of your budget for unanticipated expenses—request price quotes from several contractors. If your projected costs exceed your budget, eliminate lower priority project aspects.
3.    Create a Wishlist
Create a plan that identifies the main objective of the renovation. An outline of the tasks that must be accomplished should include your project needs and desires. Making decisions early on can help to avoid delays later on. Proper planning might also help you stay within your budget.
Investigate local zoning restrictions and permissions at this stage of home renovation planning. Check to see if your neighborhood allows you to remodel and if you'll require a permit. You will almost certainly require a permit if you are doing a renovation that would modify the construction of your home or the use of a room. Wait until you've recruited a team and created a project timeline before applying for permits.
4.    Decide who will do it
You'll need to hire your team for your home renovation. Don't base your contractor selection solely on pricing estimates. Consider the following factors while interviewing and selecting contractors:
Experience: A contractor who has been in business for a long time is a better option than someone new to the industry.
References: Obtain references and approach previous customers to confirm positive or negative reports. This research is an excellent approach to ensure that your contractor isn't only good on paper.
Contracting license: Ensure that your contractor has completed all the necessary steps to receive applicable certifications for their line of business.
Certificate of insurance: Contractors should have workers' compensation and liability insurance appropriate for their work.
Payment schedule: A respectable contractor will not require you to pay the entire amount upfront. However, you must discuss payment terms before the building begins. In some circumstances, it is preferable to spend a bit more to find someone with whom you are comfortable working.
 
If you hire numerous contractors for a job, decide who will be in control before the commencement of the project to avoid confusion or delays afterward.
5.    Define a timeline
Once you've established your remodeling budget and team, it's time to create the renovation timeframe. First, set a preferred start date, or if you want to finish it by a specified date, adjust the start date accordingly.
Meet with your contractors to assess how long each phase of the project will take. Discuss with contractors the remodeling stages, which ones they must accomplish first, how long they will take, and which project components they can complete concurrently.
When planning your restoration timeframe, consider future holidays and occasions you want your property to be ready. Your contractor will inform you how the season affects any construction plans. Set an end date and work backward, being realistic and leaving extra time in case of delays or more repairs.
Conclusion
Starting a home makeover might be intimidating, especially if you've never done one before. First, it's crucial to prepare the space and make plans to avoid using rooms that will be rebuilt, renovated, or remodeled. 
An important decision is whether or not you should reside in your home during renovations. However, if you are planning to stay, make alternative arrangements for the space you will not be able to use during the process.
Are you thinking about renovating your kitchen? Create temporary cooking and eating area and remove all dishes and minor equipment from the kitchen. Are you remodeling the main suite? Make new arrangements for sleeping and locate a storage facility for your furniture. However, if you're planning a major home remodeling job, you might wish to relocate for a while.
Whatever the project, your renovation will contain many details that can quickly become overwhelming. Any renovation can seem overwhelming, but if you plan and follow the tips above, it will go much more smoothly.