Are you looking for ways to make your small space look larger and more inviting while still reflecting your style? If so, then you've come to the right place! 
In this blog post, we'll be exploring six stylish and unique ways to spruce up any small home décor. From clever multi-use furniture solutions to vibrant fabrics and even a few helpful tips on how to maximize space, these DIY ideas are sure to leave your interior design dreams fulfilled in no time at all. 
With clear descriptions of each project as well as plenty of photos, there's something for everyone – no matter what your level of skill or creative eye may be. So, don't wait another day – let's get started on transforming that tiny abode into something truly special!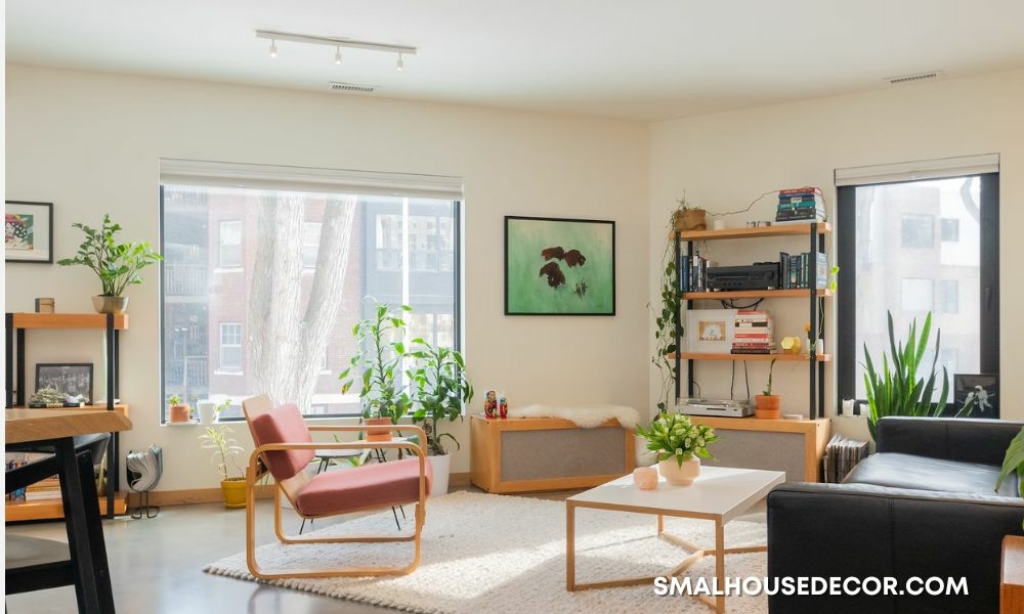 Hang Mirrors to Add Depth and Space
Mirrors have always been a great addition to any home's décor. But besides their aesthetic appeal, they serve a practical purpose as well – they can create depth and space. This is especially important for those with smaller homes looking to open up their living areas. By strategically hanging mirrors on walls, you can make a room feel brighter, more inviting, and larger than it is. It's one of the easiest and most affordable ways to make the most of your living space! 
Create a Gallery Wall 
A gallery wall is the perfect way to showcase your style and add a unique touch to your home. Whether you enjoy photography, paintings, or memorabilia, a gallery wall can be the perfect backdrop to display your favorite pieces.
With the right arrangement and careful consideration of color and spacing, you can transform an empty wall into a work of art. Use your creativity and imagination to choose the perfect pieces for your gallery wall and put them in an easy frame to complete the look. With so many possibilities, creating a gallery wall is an exciting and fun way to enhance your living space.
Add an Accent Wall 
There's nothing like a pop of color to brighten up a room. But if painting an entire room seems hard, consider adding an accent wall instead. Not only does it add a bold statement to your living room or bedroom, but it also gives you the chance to experiment with different textures and patterns. Whether you choose a bright hue or a subtle tone, an accent wall will add a touch of personality and charm to your space. 
Also Read: 12 Perfect Colors That Go Well with Burgundy
Get Creative with Storage Solutions 
Are you tired of constantly tripping over your books and media equipment? Don't let clutter take over your space! Instead, think outside the box and let your creativity run wild with unique storage solutions. Install floating shelves to showcase your favorite novels, or use old suitcases as stylish storage containers.
Need a place to store your vinyl collection? Turn an old ladder into a trendy display shelf. The possibilities are endless when it comes to getting organized and adding extra flair to your living space. So why settle for plain and boring storage options when you can showcase your creativity with these fun and functional solutions?
Update Your Lighting
Transform any dull and dreary room into a lively and vibrant space with an update of lighting. Choosing the right type of lighting has the power to transform a room and make it appear larger and brighter. Ditch those outdated and unflattering light fixtures that leave your room feeling small and cramped.
Whether it's a chic pendant light fixture, trendy floor lamp, or classic chandelier, there are endless options for lighting to suit any interior design style. Experiment with different types of lighting to create a focal point or to highlight a specific area. With the right lighting, your room will feel refreshed, energized, and ready to impress.
Invest in Pieces You Love 
There's something special about investing in pieces for your home that you truly love. Whether it's a vintage armchair or a statement lamp, these items can add real character to your living space. While it may be tempting to opt for cheaper alternatives, investing in quality pieces can be more cost-effective in the long run.
Not only will they last longer, but they'll also retain their value over time. So, take your time when choosing new items for your home, and make sure you love them. After all, there's no place like home, and the right pieces can make it feel truly special.
Final Words
Small and cramped living spaces can often be a source of stress, but with a few stylish tricks, you can easily turn your home into the cozy and inviting retreat it deserves to be. From hanging mirrors to creating space and depth to creating an accent wall or gallery wall, there are many ways to brighten up even the smallest of spaces.
Choose pieces that you love, invest in quality storage solutions, and invest in new lighting fixtures to bring out the best your home has to offer. There is no right or wrong way when it comes to decorating your living space – just think creatively and mix bits of style until you've achieved the perfect formula for your unique vision!