Choosing the right decorative handles or pulls for your cabinets must balance functionality and decorative style. The knobs or pulls that you select must effortlessly draw your space together when coordinated with your overall style and the size of your drawers and cabinet doors.
There are no strict rules to this, but careful consideration before visiting the hardware store can save you a lot of money.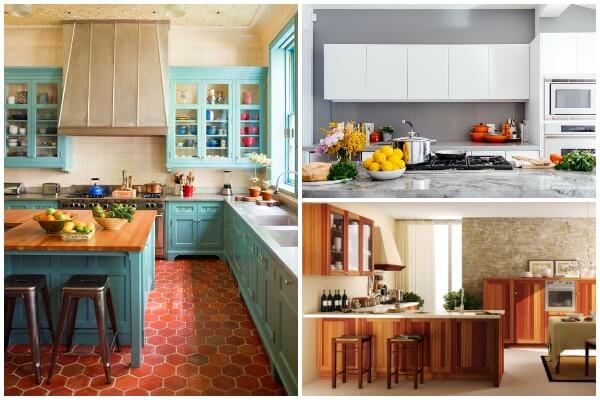 Looking for Ideas
The best place to start is to look around and see what's available and for something to spark your imagination. For modern, sleek and beautiful hardware, you can start with the comprehensive catalog at Rocky Mountain Hardware. For more antique pieces that evoke thoughts of yesteryear, look at your local salvage reclaim yards. A quick tip for searching for antique hardware is to search for hardware lots rather than individual pieces.
These places will give you an idea of what is available and, in the case of antique hardware, how many of a similar type you can find.
Difference between Knobs and Pulls
When looking at cabinet hardware, you'll be faced with two terms, knob and pull. But what's the difference? Essentially, they do the same thing in that they will be pulled to open a door. The door may be a cabinet door, or it may be pulling a drawer open, but both of these items refer to the things you grab to open something.
Most often, a knob is a small, compact piece of hardware that fits snugly into the palm of your hand. It's most often found on upper cabinets and bathroom vanities.
Pulls are more substantial and are typically found on large drawers and lower cabinets. For the beginner placing knobs on the upper doors and pulls on the lower doors will provide a visually balanced plan.
Using Vintage Hardware
The pulls and knobs on your cabinets can be considered the jewelry in the home and using reclaimed and refurbished antique pieces can be extremely attractive as well as being functional.
There are many types of vintage pulls. They can be divided by style of finish or period. The materials from which to choose can include iron, brass, ivory, wood and porcelain. Some porcelain handles and knobs are beautifully painted and can be statement pieces on their own.
Antique hardware can have many imperfections, so try to buy lots where there are more items than you need so you can use the best of the bunch. A tip for using those slightly imperfect knobs is to use them on a wooden board as a coat rack in your entrance hall.
Also Read: How to Add Antique and Rustic Feel to Your Flooring
Using Modern Hardware
The range of modern hardware is immense. There is every imaginable shape and size from which to choose. The range of materials is just as large, with stainless steel, chrome, glass, ceramics and iron leading the way most of the time,
It's also a lot more simple to find collections of modern hardware. Here you'll find pulls and knobs that have the same aesthetic, making it more simple to design a plan.
Mix and Match Vintage and Modern
It's wise to be flexible in your approach as you may not find enough vintage hardware to equip all the drawers and cabinets in your plan. Vintage treasures can be found even if there aren't enough to go around, but they can inspire a new path where you use a mix-and-match approach.
You can take different lots of vintage hardware that will work well together and use them on your cabinets. Here, it will be better to try and keep the pulls of a certain type clustered together rather than scattered around the plan.
Use the same pulls on all drawers or the upper or lower cabinets, but unless they are very close in design, don't use them on alternative doors or drawers. It will make the plan look messy.
You can take your beautiful vintage pulls and match them with modern pulls that have a similar shape and size. Your vintage pulls can be placed at eye level and your more modern pulls can be lower down. Using a mix-and-match approach can give your plan loads of character as well as being visually appealing.
To Wrap Up
It makes no difference which style of fitting you use so long as you are happy with the end result and the fittings do the job of opening the doors and drawers. Use your personal sense of style and align the style of the cabinets with the style of fitting and you will not go wrong.