The holidays are around the corner, and it's time to start planning that celebratory decor so you can enjoy your cozy space with loved ones. Whether you take the minimalist approach and opt for a plethora of candles or go all out with festive greens and bold reds, this is your opportunity to sprinkle some cheer into every nook and cranny in your home. From creative DIY ideas to quick hacks, let's go over our top tips on how to plan for perfect holiday décor in no time.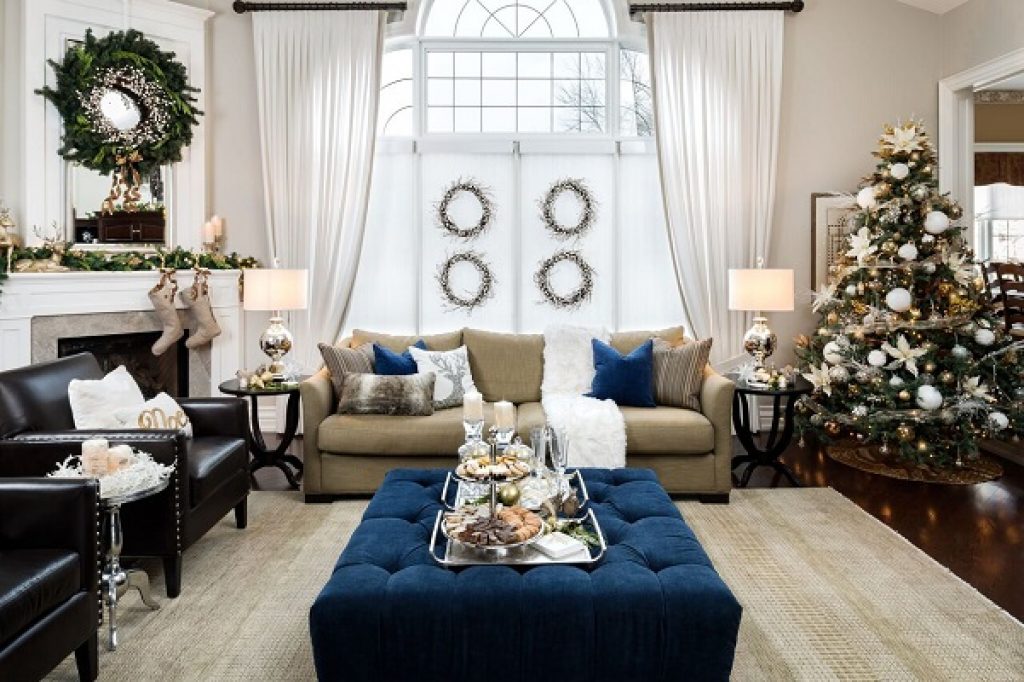 Choose a color scheme for the season
As the seasons change, so too does our desire for different colors. The question on everyone's mind is: warm and inviting tones or bold and cheerful colors? There's something special about the warm tones of reds, oranges, and yellows, as they evoke feelings of comfort and coziness. On the other hand, bright blues, greens, and pinks can bring about a sense of excitement and joy. Ultimately, the decision is up to you and what you want to express in your environment.
When choosing your color scheme, remember that it should be consistent throughout your home. This will create a cohesive look and make your decor feel intentional and thought out. Make sure to incorporate your chosen colors in every element of your décor, from your table settings to your throw pillows and everything in between. As the folks from Wonderly Lights put it, you need to bring joy, elegance, and a touch of magic to your holidays. Plus, a consistent color scheme will make it easier to shop and coordinate your decorations.
Create a festive atmosphere
The holiday season is just around the corner, and what better way to create a warm and inviting atmosphere than by hanging twinkle lights, garlands, and wreaths? Twinkle lights, with their soft and glowing aura, bring a magical touch to any room. Garlands, whether adorned with berries or pinecones, add a natural moment of nature indoors.
And wreaths hung on doors or walls, invite guests to gather and celebrate the season with you. Whether you opt for classic hues of green and red or choose to mix in other colors, these festive decorations will add a touch of sparkle and cheer to your home.
Additionally, don't forget about the power of scent. Light some seasonal candles or diffuse essential oils in scents like cinnamon, pine, and peppermint to bring a comforting and nostalgic aroma into your home.
Decorate with seasonal foliage
As the air grows chilly and the leaves turn orange, it's time to start thinking about ways to bring the cozy charm of the season indoors. Decorating with seasonal foliage is a popular way to add a touch of natural beauty to your home during the fall and winter months. Consider incorporating evergreen branches, holly, berries, and pinecones into your decor for an easy and festive touch.
Whether you're arranging them on your mantel, tucking them into wreaths, or using them to dress up your dining table, these items are sure to add warmth and charm to your space. Plus, they'll infuse your home with the fresh, earthy scents of the season.
Keep in mind that you don't have to stick to the traditional greens and reds. You can also get creative by using dried citrus slices, twigs, or even pampas grass in your holiday decor for a unique and modern twist.
Also Read: Velvet Curtains for Seasonal Home Makeovers: Refreshing Your Space
Light up your home with holiday candles, lanterns, and lamps
One of the simplest ways to add a cozy and inviting atmosphere to your home is through lighting. Opt for soft, warm lights like candles, lanterns, and lamps to create a warm and welcoming ambiance. Not only do these light sources add coziness, but they also bring in an element of style with their various shapes and designs.
Staggering different types of lighting throughout your home will create a dynamic and inviting environment. For example, you can place candles on your dining table, lanterns on your entryway console, and lamps on side tables in the living room. This will not only add to the festive mood but also provide soft and warm lighting that is perfect for gatherings with family and friends.
As the festive season approaches, remember that the most important aspect of holiday decor is creating a space that feels warm, inviting, and comfortable for you and your loved ones. Whether you opt for bold colors or warm tones, incorporate seasonal foliage, or light up your home with candles and lamps, the key is to let your personality shine through your decor.
After all, the holiday season is all about expressing joy and togetherness. So, let your creativity fly, get decorating, and prepare to create unforgettable holiday memories in your beautifully adorned home. Here's to a holiday season filled with sparkle, cheer, and endless delight!