Nowadays, new trends have been emerging in Scandinavian decorating: dark, dramatic shades and textures. Scandi style is typically known for its minimalism and light colors, but this emerging trend focuses on using darker colors such as black or navy blue to create an elegant sense of drama.
Various textures are also used to add visual interest- thick velvet upholstery, luxurious fabrics with rich patterns, dark textured chobi rugs, or deep wood finishes. This new take on Scandi design is perfect for those who want their homes to be more dramatic without sacrificing any of the simplicity that made Scandi designs so popular in the first place!
The Scandinavian design is the most popular in the world. Its clean lines and neutral colors are perfect for a modern home, but it can also be brought into traditional homes with light woods and white walls to create a space that feels fresh and new.
Read on to find out how you can use dark, dramatic shades and textures to modernize Scandi interiors in your own home!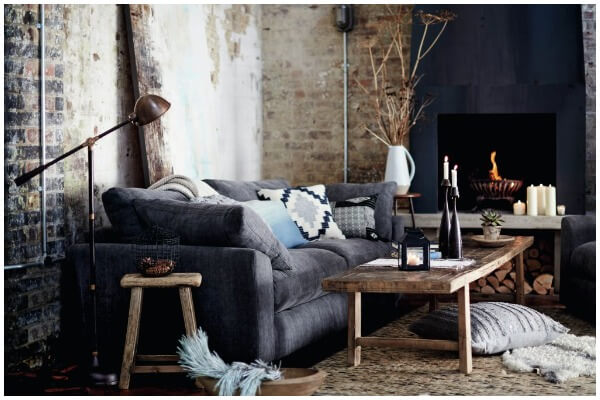 Consider a Color Palette
The color palette is the main thing. In Scandi design, color palettes are typically light and contain a variety of shades. To modernize this take on Scandinavian design, use deep grays or dark wood finishes.
The darker shades are more dramatic and create a strong contrast, perfect for modernizing Scandi interiors. The color palette should be dynamic and not feel too monotonous.
Use Textures to Bring the Home to Life
Scandinavian homes typically use light woods, which can make a space seem cold or lifeless. To create warmth in your home, add natural materials like wool rugs on hardwood floors, leather upholstery for furniture, and ceiling beams.
The texture is a great way to bring warmth and character into your home. You can also use vibrant colors to add contrast and warmth, but avoid going overboard with the color palette.
The Home is Alive with Color!
In Scandi style homes, there are typically very few wall hangings throughout the space. To bring a bit of life into your home, use wallpaper and paint in contrasting patterns like stripes or polka dots for a modern, vintage feel.
The wallpaper creates the feeling that your home is full of personality and character without taking up too much space on walls for other features.
A Nordic-inspired interior design guide will help you with the design process and give you some new ideas to take on. Some other interior design tips include painting your baseboards dark brown or black for a dramatic effect.
Faux Finishes in Your Home: Walls or Ceilings?
Often when decorating a Scandi style interior, you will find very few finishes used throughout the room. This is because many Scandi styles decorating tips recommend avoiding excessive wall coverings and instead use a more dramatic ceiling to complete the look you are after.
The ceilings makeover is often completed with a faux finish or by applying a paint that mimics the appearance of ornate plaster, wood paneling, or brick on your ceilings and then applies it to all four sides to create an enclosed space. This type of look is usually best for living rooms.
Use Natural Material
You can also create a sense of openness by using the same natural materials throughout the space, such as wood flooring in all rooms or leather furniture in every room.
This helps tie everything together and creates an overall feeling of coziness that is perfect for Scandinavian design.
The natural materials also act as a great blank canvas to showcase your design choices. Wood, stone, metal, and concrete are all great materials to use for this purpose.
Use the Same Shades of Gray Throughout
One way to bring together your Scandinavian interior design is by using the same shades of gray throughout. This helps unify everything, making it feel like one cohesive space rather than many different rooms that happen to be in the same place.
The way that Scandinavian homes are designed is to make the entire home feel like one big space, so this helps give you that feeling of unity even when it's not a single open concept layout.
Use Dark and Dramatic Textures
To modernize your Scandi interior design and add some dramatic flair to the room, use Ziegler rugs and furniture with dark and dramatic textures.
Natural materials like wool or leather bring in a tactile element that makes your room feel cozy, while adding pops of color to the space will give it some life. The dark and bold colors of the textiles can help you modernize your Scandi look.
Choose Textures Wisely
Textures in your home are among the basic design steps. You can use textiles like wool rugs or velvet upholstery on larger pieces of furniture to provide an inviting texture that contrasts beautifully with darker shades in the room.
You can also use natural materials like wool or leather to add a tactile element that warms up your space and brings pops of color while modernizing the look.
The key is finding textures made from natural elements, not synthetics such as polyester or PVC. Synthetic textiles will have an artificial feel and do not provide the same coziness that natural materials do.
Who is Your Home For?
A Scandi-style home will have a lot of open spaces. It's important to think about who your "person" is in the house and what their personality might like or prefer when designing elements.
Keep this in mind when you're thinking about paint colors, fabrics, furniture, and accessories. While living in a Scandi-style home, you'll notice no walls between the kitchen and dining room, so it's important to make sure these areas flow together cohesively.
The same goes for any other shared spaces such as bathrooms or hallways – they should be seamless with each other on both levels.
A Few Indoor Plants
No home style is complete without plants. While living in a Scandi-style home, it's important to have some indoor greenery around for natural light and fresh air. Please bring a few plants and place them in a few corners of the living room, kitchen, or bedroom.
Green Accents
The last thing you'll want to incorporate is some green accents throughout the house. A Scandi-style interior is known for its minimalistic design, sleek furniture pieces made from natural materials (such as wood), and neutral color palettes.
Some green accents will help bring warmth to the home and make it feel more inviting, not cold or stark as modern homes can sometimes feel.
Finally
If you want to modernize your Scandi-inspired space with a dark, dramatic mood, it's time to purchase new furniture and accessories.
Our team at RugKnots has been providing customers with quality Pakistani rugs for years in the form of contemporary styles that are perfect for any room or office.
We have all sorts of hues and textures available, so you can find something that will work best for your needs! Contact us today if you're looking to buy modern and contemporary style rugs now.