Are you excited to finally start decorating your new home but not sure where to begin? Decorating projects can seem intimidating, especially when trying to make your house look as beautiful and inviting as possible. However, before you spend any time and energy on the fun parts of furnishing a home, it is important that you check off some basic maintenance tasks first!
Taking care of necessary repairs will help prevent future issues from arising down the line which could cost both money and be an annoying distraction from adding those finishing touches. In this article, we'll walk through four essential things every homeowner should address before beginning their interior décor journey.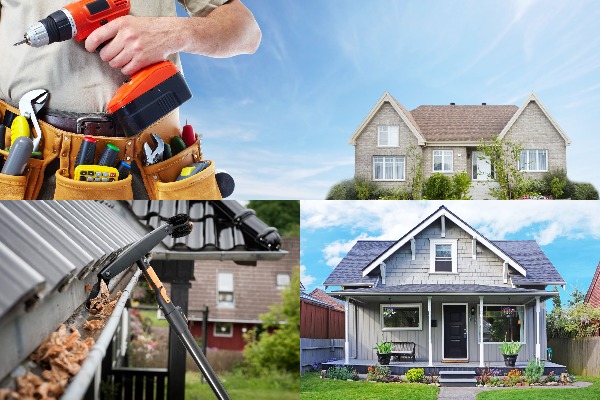 Check the condition of the roof
Before you jump into redecorating your home, it's crucial to check the condition of your roof first. A leaky or damaged roof can easily ruin all your hard work and investment. The last thing you want is for your newly painted walls or furniture to be ruined by water stains. Therefore, it's essential to inspect your roof regularly and look for any signs of leaks or damaged shingles that need to be replaced.
This is especially crucial if you live in an area with harsh weather conditions, such as heavy rainfall or snow. With a little bit of effort and attention to detail, you can avoid potential disasters and ensure that your home is in good shape to enjoy your decorating projects fully.
Also Read: What Should You Keep In Mind When Choosing A Roof For Your Home?
Look at the plumbing system
Take a moment to scrutinize your plumbing system. A small leak or sign of corrosion may indicate larger issues that could wreak havoc on your newly designed space. Examine your pipes, faucets, and shower heads thoroughly to ensure that everything is in proper working order.
Don't let a small problem turn into a major headache down the road. A little time spent on preventative maintenance now may save you both time and money in the long run. So grab your tool kit and take a good look at your plumbing system before moving forward with your decorating plans.
Replace any old windows
As homeowners, we all want to ensure that our homes are as energy-efficient as possible. One of the most effective ways to achieve this is by replacing old windows with energy-efficient models. Not only will this help to reduce your heating and cooling costs, but it will also improve the overall aesthetic look of your home.
Moreover, choosing the right replacement window can be a daunting task, which is why it's essential to consult with professionals. If you are a resident of Castle Rock, CO, you can reach out to Home Window Repair Castle Rock CO for assistance in choosing the ideal energy-efficient windows that suit your specific requirements and budget. Don't hesitate to upgrade your windows today, and start enjoying the numerous benefits of energy-efficient windows!
Patch any holes or cracks
As you prepare to decorate your home, it's important to patch any holes or cracks in walls and floors. Leaving these imperfections exposed can detract from the overall look and feel of your room, making it appear unfinished and unpolished.
Whether you're painting, hanging wallpaper, or adding decorative accents, it's crucial to take the extra time and effort to ensure the surfaces are smooth and even. Not only will this create a more cohesive aesthetic, but it will also help your decorations last longer and stay securely in place. By patching up any holes or cracks, you'll be setting the foundation for a beautiful and well-crafted room that you'll love spending time in.
Ensuring that your home is in good condition before you start decorating is key to creating a safe and comfortable living space. From there, it's time to show off your creativity and transform your house into a warm and inviting sanctuary!