Often considered the home's heart, the kitchen is where families gather to cook, dine, and share their day-to-day experiences. It's no wonder that homeowners are constantly looking for ways to elevate their kitchens' aesthetics while maintaining functionality. One design element that has gained popularity in recent years is the incorporation of wooden island legs. This article will explore the various types of island legs made of wood available, their benefits, and tips on selecting such products to add warmth and charm to one's space.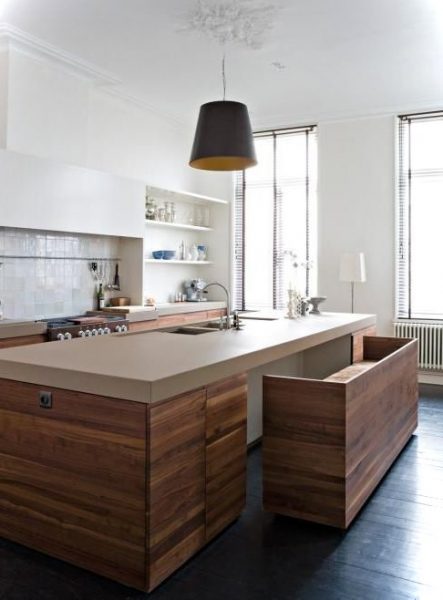 Several types:
The world of wooden island legs offers a variety of options, allowing folks to find the perfect fit for their kitchen. Here are some popular choices:
Traditional Turned: These products feature intricate designs, often reminiscent of antique furniture. They are ideal for adding a touch of elegance and sophistication.
Square Tapered: With a clean, modern look, square tapered legs bring a subtle touch of contemporary style.
Mission Style: Featuring straight lines and a simple design, mission-style items are perfect for homeowners seeking a more minimalist yet warm aesthetic.
Acanthus Leaf: These ornate items showcase stunning acanthus leaf carvings, adding a touch of classical beauty.
Also Read: 10 Multifunctional Kitchen Island Ideas
The Benefits of Wood: Warmth, Durability, and Timelessness
When it comes to kitchen design, wood has long been a favorite material for several reasons:
Warmth: Wood brings a natural warmth to a kitchen, creating a cozy, inviting atmosphere. The organic tones and textures of wooden items can transform a space, making it feel like an extension of the outdoors.
Durability: Wooden items are built to last. When properly cared for, wood can withstand the test of time and continue to look beautiful for years to come.
Timelessness: Wood has a timeless quality that transcends design trends. Choosing wooden island legs ensures a classic, enduring look that will never go out of style.
Tips for Selecting the Perfect Products: Finding the Kitchen's Soul
To ensure you find the perfect island legs made of wood, consider the following tips:
Match Your Style: Choose products that complement your kitchen's overall design theme. For example, if your kitchen has a farmhouse feel, opt for traditional turned legs, whereas if your space is more modern, square tapered items may be a better fit.
Consider Proportions: Select products that are proportionate to your kitchen island's size. Smaller islands can be overwhelmed by overly large or intricate legs, while larger islands may require more substantial items for balance and support.
Wood Species and Finish: Consider the type of wood and finish that will best match your kitchen's cabinetry and flooring. Popular wood species include oak, maple, cherry, and walnut; finishes range from natural to stained and painted.
Customization: If you want something unique, consider customizing your island legs. Many woodworkers and manufacturers offer custom design services, allowing you to create one-of-a-kind products that reflect your personality and style.
Conclusion: A Timeless Addition to Your Kitchen Sanctuary
Incorporating wooden island legs into your kitchen design is a beautiful way to add warmth, charm, and character to the heart of your home. By investing in high-quality, handcrafted wooden items, you are not only supporting artisans but also creating a timeless addition to your kitchen sanctuary. Embrace the beauty of wood and let it transform your kitchen into a space where family and friends can gather, share meals, and create lasting memories.