One of the areas of the home that you may not take care of that well is the drainage. When there is a little blockage in the drains, you assume that it is not a big deal and you will ignore it and hope that it gets better on its own.
But there can be some issues when it comes to leaving a blocked drain in your home, which can cause some damages that are hard to fix and can be really expensive. Some of the issues that you may notice if there are blocked drains and pipes in your home include: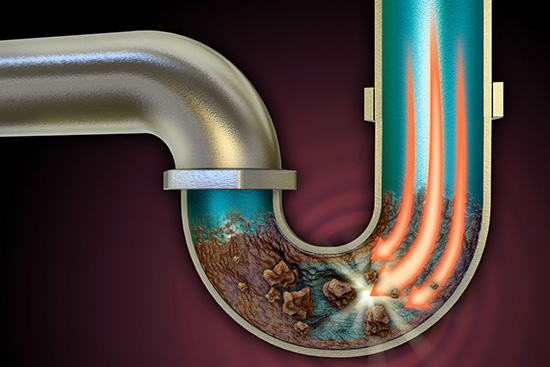 Slow Drainage
This is one of the more obvious problems that will happen in your home. When you have water going down the pipes, it will tend to go down the drain really slowly.
With some solids clogging up the pipes, the water is not going to flow down like it should. It often starts out with a small problem and builds up to a really big problem, with the drain taking a long time to clear up and slowing down some of the work that you need to do. 
Depending on which pipe has the issue with drainage, you may find that it is hard to take a shower, wash your dishes, or do other things around the home. You should consider hiring professionals to come into your home and fix the clog so that your pipes will be protected and you can get back to work.
Leaks and Flooding
In some situations, you may find that a blocked drain will only cause problems with slow drainage that are frustrating. But if the problem persists for a long time, it could end up leading to flooding and leaks in the home.
When the contents that you send down the pipes are not able to get to their final destination, it can cause it to overflow, sending the water and everything else back up the drain. 
One sign that this is happening is that you will start to notice traces of water on the bathroom floor, especially around the toilet. In some cases, it is possible that pressure will build up in the pipes from the water, which will cause the material to leak and burst over time. These are just a few of the issues that come up with clogged drains that you should call in a professional plumber to take a look at quickly.
Property Damage
When you allow the flooding and leaks to continue around your home, it could get bad enough that it pools in the foundation of the home. It could also cause the soils around the home to oversaturate.
Both of these are enough to compromise some of the integrity and the stability of your home and may cause other damage to the rest of the home, such as the walls, floors, and ceilings, which can make them weak. 
This can be a lot of damage to the property of the home. You will end up with a huge repair bill if you allow this problem to continue and if you do not call in a professional to do the work for you. While you may assume that it is just a few water stains and a little discoloration around the home, you will find that it can cost a lot to repair and can decrease the value of your property if you are not careful along the way.
Health Risks
If the homeowner does not fix a blocked drain as soon as possible, then there is a higher chance that the water that gets stuck in the drain will become a great place for bacteria to grow and do what it wants.
This can end up causing a lot of health problems for people who live in the home or the building. The contamination is not good for anyone and the wet conditions can also speed up the mildew and mold. 
It is important to get the blocked drain fixed as soon as possible. This will help everyone in the building to stay safe and can prevent the spread of diseases or sickness due to mold and mildew and other bacteria that may try to get in the home.
Pests
Another problem that you may run into is pests when you have clogged drains that you do not fix. If you do have a drain that is blocked up, it may be enough to attract a lot of pests into the building.
One example of this is mosquitos who will come into the property and may choose to lay their eggs in the stagnant waters.
There are a lot of insects and pests who will be attracted to the water in your home and some of them can carry viruses into the property with them. This is why you need to take care of the blocked drain as soon as possible to avoid more problems.
Do not let the pests get into your property and make you sick or contaminate some of your food. Addressing the clogged drain, which is the root problem here, is the first step, and then you may need to call in the professionals to handle the pest problem if they have already found their way into the home. 
When you are worried about the plumbing in your home, you need to call on the professionals to give you the right care and attention your home will need.
Letting the pipes and drains get blocked up in your home can be an expensive mistake, causing a lot of damage that is hard to fix up and make better. That is where our team at Kenec Plumbing and Gas can step in to help.
Our team of professionals understand how many different plumbing systems work and we are ready to put that expertise to work for you.
Whether you have a small blockage in your pipes or you are worried there is a major problem to handle, our team will step in and provide you with the assistance you need to take care of it all. Don't leave your plumbing to chance. Trust our team to help take care of your home.