In California, most patio construction projects require a building permit from your local city or county building department before starting construction. Here are some key things to know about patio permit requirements in California: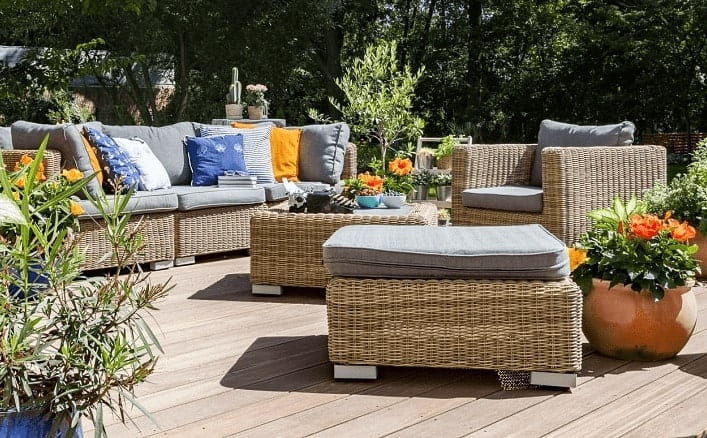 What Types of Patios Require a Permit?
Attached patios – Any patio that is attached or structurally connected to your home will require a permit. This includes patios with a roof or cover over them.
Elevated patios – Freestanding patios that are more than 30 inches above grade require a permit2.
Large patios – In general, freestanding patios over 120 square feet in size require a permit3. However, some local jurisdictions may require permits for patios as small as 100 square feet.
Patios with permanent structures – Things like built-in barbecues, fire pits, water features, or storage cabinets make a patio more permanent and typically trigger permit requirements.
Electrical, plumbing, or gas work – Any electrical, plumbing, or gas lines being installed for the patio will need permits from the appropriate trades departments.
When Can Patios Be Built Without a Permit?
Small freestanding patios – Simple patios not attached to a home and less than 120 square feet typically do not need permits in most areas of California.
At-grade patios – Ground-level concrete slabs and paver patios usually do not require permits unless they are very large.
Prefabricated patio kits – Easy bolt-together patio kits from home improvement stores often do not require permits if installed as-is.
How Do I Get a Patio Permit?
The process for getting a patio permit involves:
Submitting a permit application to your local building department. This usually requires basic information about the project scope.
Providing a detailed site plan showing the patio location in relation to your home and property lines.
Submitting construction plans showing materials and structural details if required.
Paying permit fees based on the size and type of patio. Fees range $50-$500+ depending on the jurisdiction.
Getting the permit before starting any construction. Beginning work without a permit can lead to fines.
Scheduling any required inspections by the building department during construction.
Getting final approval and sign-off from the inspector after the patio is complete.
Are There Any Other Considerations?
Zoning regulations – Local zoning codes may restrict the size, height, setbacks, and other aspects of patio construction6. Getting zoning approval may be required.
HOA rules – If you live in a homeowner's association, get HOA approval before applying for a patio permit. The HOA may prohibit certain types or sizes of patios.
Contractor licensing – Most jurisdictions require a state-licensed contractor to get the permit and complete the work if over a certain dollar amount.
In summary, nearly all patios in California require a permit from your local building department before construction can legally begin. The only exceptions are small, at-grade patios under 120 square feet with no permanent structures. Be sure to check local permit rules and get necessary approvals to avoid problems down the road. Applying for the permit early and hiring a qualified contractor is recommended for smooth patio project permitting.
What are the consequences of building a patio without a permit in California?
Here is a summary of the key points on the consequences of building a patio without a permit in California:
Local building departments require permits for most patio construction projects to ensure the patio meets building codes and safety standards. Building without a permit violates local laws.
If caught building without a permit, you may be ordered to stop work immediately until you get a permit. You can face fines of $500 or more per day for permit violations.
You may have to demolish unpermitted work or make costly repairs to bring it up to code. The building department can place a lien on your home if you don't pay fines.
Unpermitted work can prevent you from selling your home if disclosed, lower your home value, or cause a buyer to back out. It can also prevent you from refinancing if discovered during appraisal.
Building without permits risks safety hazards from improper electrical, plumbing, structural issues. It could void your home insurance coverage.
Even if you pay fines for unpermitted work, you will still have to eventually apply for proper permits and pay those fees too.
The permitting process provides oversight to ensure work is done properly and safely. It's best to get permits before starting any major construction project to avoid violations.
Citations:
https://www.cslb.ca.gov/Consumers/Filing_A_Complaint/Building_Permit_Complaint.aspx
https://www.angi.com/articles/common-problems-when-you-dont-pull-permit.htm
How Much Does A Building Permit Cost In California?
Here is a detailed response summarizing the key information from the search results on building permit costs in California:
Overview
The cost of a building permit in California can vary significantly depending on the location, size and scope of the project. Some key points:
Permit fees are set by local jurisdictions and can range from $50 for minor projects up to $2,000+ for major construction.
Exact permit costs depend on factors like project size, valuation, plan review needs, inspections required, etc.
Larger projects typically require a deposit, with final permit fees based on actual staff time spent reviewing plans and inspecting work.
Simple over-the-counter permits for minor work generally have fixed fees in the $100 to $700 range.
Factors Affecting Cost
According to the search results, key factors that influence permit costs include:
Location – Each city/county sets their own permit fees based on costs to administer the permit program. Fees can vary widely even within the same region.
Valuation – Higher value construction typically has higher permit fees. Valuation accounts for size, materials, labor, profit, overhead, etc.
Plan review – More complex projects require more staff time to review plans for code compliance. This adds to the permit cost.
Inspections – More inspections means more staff time spent on the project. Each inspection adds to the overall permit fee.
Additional reviews – Projects may require extra reviews for planning, engineering, coastal, environmental, etc. Each adds cost.
Typical Fees
To give an idea of typical costs, here are some example permit fees from the search results:
Small residential remodel (no structural work) – $100 to $700
Electrical service upgrade – $221
Residential re-roof (depending on size) – $269 to $505
1,500 sq ft single family home addition – $2,89
2,500 sq ft new single family home – $6,309
5,000 sq ft commercial building – $15,265
In-ground swimming pool – $537 to $715