If your home fridge is not working as it should, you may need to reset it. A reset can often fix common issues and get your fridge back to its original factory settings. Here are quick and easy instructions on how to reset your Samsung refrigerator.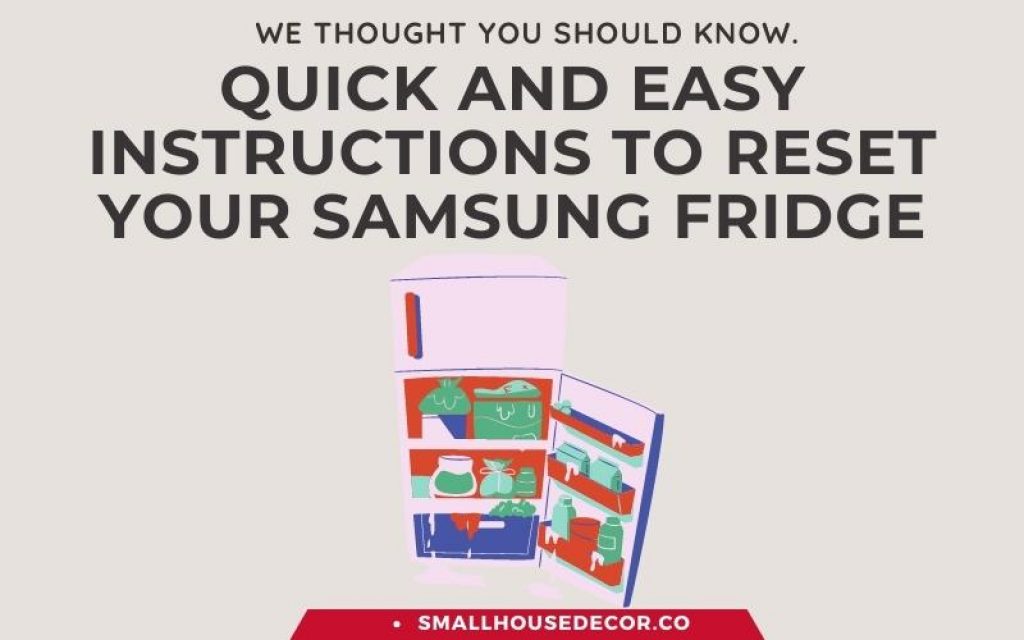 When You Should Reset Your Samsung Refrigerator?
Our home appliances are so integral to our lives that it's hard to imagine what we would do without them. We depend on them for everything from cooking and cleaning to keeping our food fresh.
So, when something goes wrong with one of our appliances, it can be a real headache. One appliance that we often have trouble with is the refrigerator. If your fridge starts acting up, you may be tempted to just hit the reset button and hope for the best.
Samsung does not recommend resetting your refrigerator
However, Samsung almost never recommends resetting your refrigerator, except in specific circumstances such as when directed to do so in troubleshooting steps.
Why is that?
Well, resetting your fridge can actually cause more problems than it solves. It can delete important data that the fridge needs to function properly, or it can even damage the appliance itself.
So, next time your fridge starts acting up, think twice before hitting the reset button. It might just save you a lot of time and money in the long run.
There are a few reasons why you might need to reset your Samsung fridge.
If your Samsung fridge is not cooling properly.
if the water or ice dispenser is not working.
or if the display is not working, a reset may be all you need to fix the issue.
But here is Samsung's Recommendation:
If you're directed to do so by refrigerator troubleshooting.
if you're moving the fridge.
if you're cleaning it
if you experience error codes such as 88 88, 83E, 85E, or 86E which are related to Voltage or Power Error.
These are four reasons you should need to reset your Samsung refrigerator. Read all Samsung refrigerator error codes meanings here.
When not to reset your Refrigerator
Samsung refrigerators usually display error codes when there is an issue that needs to be addressed.
The codes may appear as numbers or as separate illuminated parts on the display. In most cases, it is best to look into the issue represented by the code to determine if there is indeed a problem with your fridge.
However, keep in mind that not all codes signify an error with your refrigerator. Samsung refrigerators are equipped with numerous safety features, so it is important to understand what the error codes mean to ensure that your appliance is operating properly.
For example: "OF OF" or "O FF"
Samsung refrigerator's "OF OF" or "O FF or OFF OFF" is Cooling Off mode (also known as Demo mode or Shop Mode). Your fridge does not need to be reset for this; you can just turn off Demo mode.
Demo mode is used by Samsung to display the fridge in stores. The lights stay on and the compressor runs, but the fridge does not get cold. This saves Samsung money in electricity costs and helps to prevent the fridge from getting too cold in transit.
You might be having trouble with your refrigerator. There are many different error codes that can appear on the screen and if you don't know what they mean, it could make things worse! To find out more about these errors check out this article from Samsung's website.
How to Reset Your Samsung Refrigerator
Note: If your fridge still isn't working after following these steps, you may need to call a repairman. But Resetting a Samsung refrigerator is usually a pretty simple process that anyone can do.
How to Reset your Family Hub screen
If the screen on your Family Hub refrigerator ever gets frozen or unresponsive, you can use the red switch located inside the top of the right door to reset it.
To do this:
Just flip the switch and wait a few seconds for the screen to restart. You might need to do this occasionally if the screen starts acting up, but it's usually a quick and easy fix.
Doing this will reset the entire screen, which can be helpful if you're having trouble with any of the features or applications.
You'll need to set up your account and preferences again after resetting the screen, but it only takes a few minutes. So if you're having trouble with your Family Hub, give resetting the screen a try!
How to Factory Reset your Family Hub
When it comes time to reset your Family Hub screen, there are a few things you'll need to do.
First, navigate to Settings and select About Family Hub.
Then, select Factory data reset and choose RESET.
You'll be prompted to select RESET again – go ahead and select Delete all data.
This will factory reset your Family Hub screen and clear all of the data currently on it.
Afterward, you can begin to set up anew, adding in all of your family's favorite apps and features. Resetting your screen is a great way to start fresh, so if you're experiencing any problems, this is always a good place to start troubleshooting.
Also Read: How to Reset a Whirlpool Refrigerator (Fix Not Cold/Cooling)
Samsung Fridge Not Cooling Reset
Step 1: Make sure your Samsung Fridge is not in Cooling off mode.
If your display has any of the following, you are in Cooling Off mode:
OF OF
O FF
OFF OFF
Temperature bars scrolling back and forth
On Family Hub models, in Fridge Manager, all compartments display OFF
This also means your Samsung fridge is in Demo Mode or Shop Mode.
Samsung refrigerators have different ways to turn off Demo Mode or Shop Mode, depending on the model. Check your owner's manual for specific instructions.
To find your model number, look for a label on the back of your fridge or inside the fridge compartment.
Step 2: Power cycle the refrigerator and wait 2 hours.
If you're having trouble with your Samsung refrigerator, one thing you can try is power cycling. To do this, unplug the fridge or turn off the power at the circuit breaker.
Then wait 5 minutes before restoring power. In most cases, cooling should resume normal performance within 2 hours.
After power cycling, verify that the temperatures and other settings are configured as desired. If you're still having issues, it's best to consult a Samsung service technician.
Watch this video about what to do if your Samsung refrigerator is not cooling at all.
Samsung Refrigerator Network Reset
Note: This only applies to models with Wi-Fi capabilities.
Method 1: Hold the Lock Button
Has your Samsung refrigerator been acting up lately? If it's not connecting to your Wi-Fi or you need to reset the network information, don't worry – it's easy to do.
Just touch and hold the LOCK button for about 12 seconds until "A" and "r" appear. Then release the button and your fridge will be reset.
Method 2: Network reset on a Family Hub model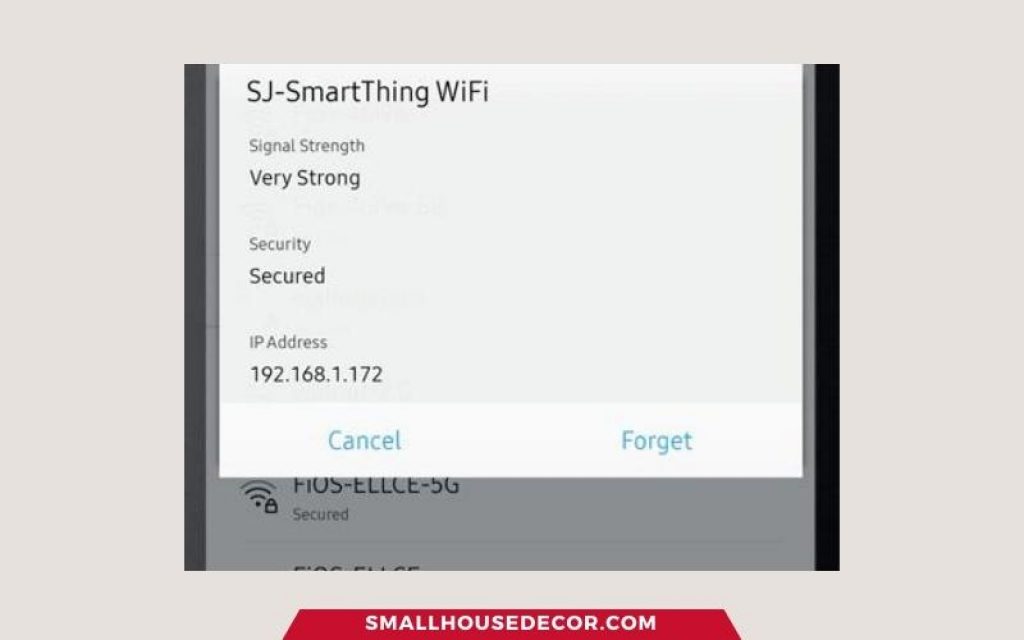 To do this:
Navigate to Settings
Select Wi-Fi, and then select your desired Wi-Fi address.
Select Disconnect or Forget.
If you're still having trouble, you may need to contact Samsung customer service for further assistance.
Also Read:
How to reset Samsung refrigerator after a power outage
If your Samsung refrigerator has been disconnected from power for any reason, you'll need to reset it before using it again.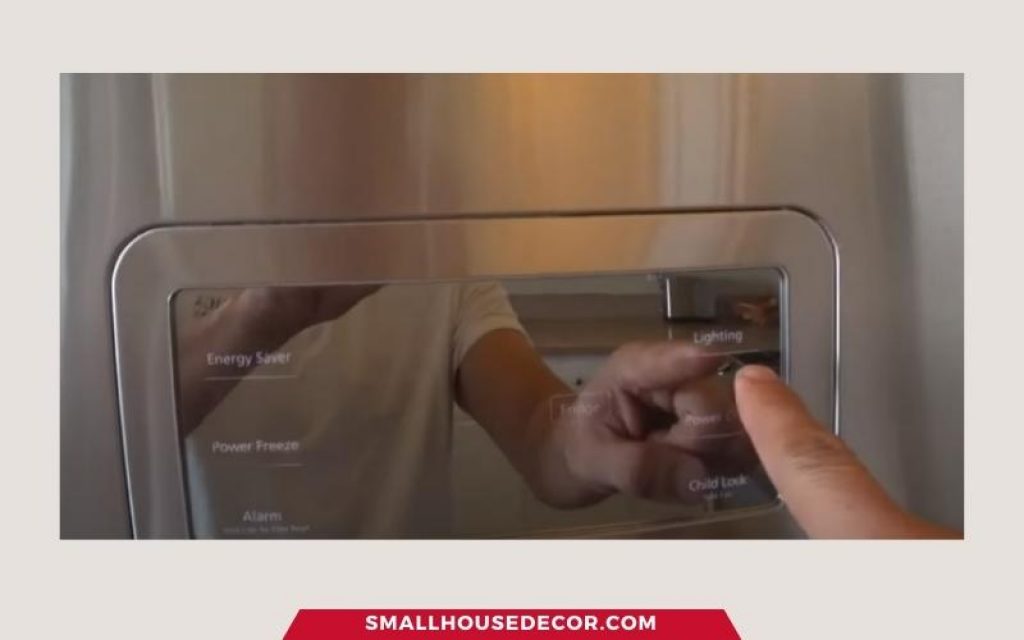 To do this:
Unplug the refrigerator for 2 minutes and plug it back in.
Hold down both Energy Saver and Lightning for 8 seconds.
The screen will blink means the fridge has been reset.
This will clear up the error code and help control the temperature, condenser fan, etc.
Reference: Samsung support page
How to Reset Samsung Fridge Temperature
You can't just go randomly adjusting the temperature on your fridge and freezer and expect everything to stay cold. The ideal fridge temperature is between 35-38°F, while the ideal freezer temp is 0°F.
If your food isn't staying cold enough, there is a video explaining how to TURN UP a Samsung Fridge's Temperature. The model is RF28hFED but the logic is similar to all other models.
Finding Refrigerator Reset Instructions
Google is your friend when you need appliance manuals. Just type in "[Your Refrigerator Type] Manual PDF" and you'll get results just about every time.
If you're still having trouble, you can always give the manufacturer a call. They should be able to help you out
Or you can head to the Samsung support website:
https://www.samsung.com/us/support/
Type your refrigerator model number into the search bar and hit enter.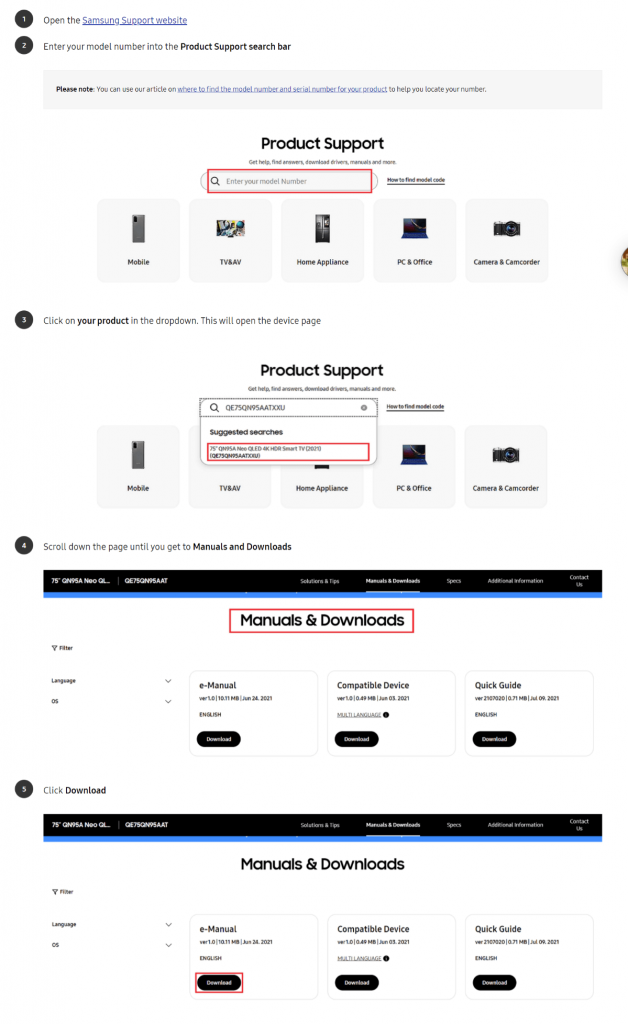 Finding refrigerator reset instructions is easy as long as you know where to look. Good luck!
Samsung Fridge Accessories
If you've got a Samsung fridge, then there are some great accessories out on the market for it.
Set Of 8 Refrigerator Organizer Bins
Is your refrigerator cluttered and chaotic? If so, it's time to get organized with these handy refrigerator bins! Made of clear plastic, they're perfect for storing everything from food to kitchen tools.
The bins come in two sizes – four large and four medium – so you can choose the right size for your needs. And they're stackable, so you can maximize space in your fridge. Plus, the bins have handles for easy transport. So say goodbye to fridge clutter and hello to organization!
OUGAR8 Refrigerator Door Handle Covers
No one likes dealing with smudges and fingerprints on their refrigerator door. It's always aunt Frida who leaves a big handprint on the stainless steel fridge when she comes to visit, or the kids never seem to remember to use a coaster for their glasses.
And don't even get us started on those pesky food stains! But with these OUGAR8 door handle covers, you can say goodbye to all of that. Made of high-quality silicone, they're easy to clean and fit most standard-sized refrigerators.
Plus, they come in a pack of five, so you can cover all your appliances. So go ahead and add them to your cart – your kitchen will thank you!
Final Words
Resetting a Samsung refrigerator is easy to do and only takes a few minutes. Whether you need to power cycle the fridge or reset the network information, follow the steps in this article and you'll be up and running in no time.
If you're still having trouble, contact Samsung customer service for assistance. They'll be more than happy to help you out.
FAQs
How do I reset my Samsung double-door Refrigerator?
To reset a Samsung double-door refrigerator, unplug the fridge for 2 minutes and plug it back in. Hold down both the Energy Saver and Lightning buttons for 8 seconds until the screen blinks. This will clear up any error codes and help control the temperature, condenser fan, etc.
Where is the reset button on a Samsung refrigerator?
Samsung doesn't have a reset button. To reset the fridge, you'll need to unplug it for 2 minutes and plug it back in.
Alternatively, you may simply press the combination buttons on your Samsung refrigerator's screen. Each model has different combinations, so please check your user manual.
How long do I unplug my fridge to reset it?
You'll need to unplug your fridge for 2 minutes and plug it back in.