Are you having trouble with your Whirlpool refrigerator? If so, resetting it may be the solution. In this guide, we'll show you how to do a full reset of your Whirlpool fridge in just minutes.
Whirlpool GE Refrigerator not Cold/Cooling
If you own a Whirlpool GE refrigerator, you may have noticed that it isn't cooling properly or is not as cold as it should be. This could be caused by a variety of factors and can lead to food spoilage and other problems.
The most common causes of Whirlpool GE refrigerators, not cooling/cold include:
Dirty condenser coils
Closed air vents
Clogged air filter
Faulty temperature control settings
Low refrigerant levels
Leaking or damaged door seals.
But, before we go to the technical solution we recommend trying resetting your refrigerator. To do this, follow the steps outlined in the 2nd section of this article.
Additionally, check the air filter and replace it if necessary. You should also make sure that the temperature control settings are adjusted correctly, as well as inspect for any signs of leaking or damaged door seals.
If none of these solutions works, it is best to contact a professional for further assistance. A qualified technician can quickly diagnose and repair any issues you may be having with your Whirlpool GE refrigerator.
How to Reset a Whirlpool Refrigerator
If you are having issues with your Whirlpool refrigerator, you may be able to resolve them by resetting the appliance. There are two methods to reset a Whirlpool refrigerator: resetting the control board and resetting the circuit breaker.
Method 1: Resetting the Control Board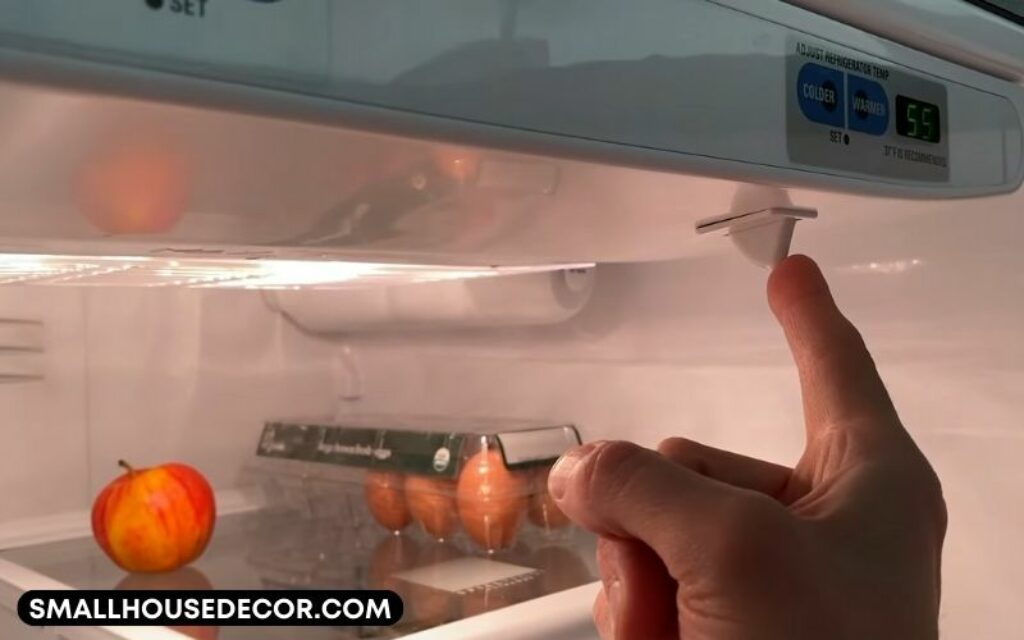 Locate the control board of your refrigerator. It is usually located near the temperature display on the front of the fridge.
Locate the reset button on the control board. This may be a small white, red or black button.
Press the reset button 3 times.
Wait 3-5 seconds for the control board to reset and then check if the fridge is functioning properly.
Your freezer should have one as well. Repeat the steps 1 to 4.
Method 2: The Circuit Breaker Method
Please follow these steps:
Power down the unit by turning off the circuit breaker(s) or unplugging the product for 5-10 minutes.
Power up the unit by turning on the circuit breaker(s) or plugging the product back in.
Ensure the cooling function is turned on. This can usually be done by adjusting the temperature settings on the control panel or by pressing a button labeled "Cool" or "Freeze."
Test the control panel functionality. Make sure all buttons are working properly and that the temperature settings are displaying correctly.
By following these steps, you should be able to reset your Whirlpool refrigerator and get it back to working properly. If you continue to experience issues, it may be best to consult the user manual or contact the whirlpool.
Also Read: Quick and Easy Instructions to Reset Your Samsung Fridge
If you have a Samsung refrigerator, you know how difficult it is to force defrost during the winter months. Fortunately, there is an easy way to defrost samsung fridge that will ensure your refrigerator remains working at its best.
Fix Whirlpool Refrigerator's Control Panel Not Working
If you're having trouble with your Whirlpool refrigerator's control panel, don't despair! Help is on the way. There are a few possible solutions you can try.
First, check if the power recently went out. Some models have a power outage indicator that lets you know if the power supply to the refrigerator has been cut off. If the indicator is on, it means the freezer temperature has risen to 18°F (-8°C) or higher and all other control and dispenser functions are disabled until you confirm that you are aware of the power outage.
Next, check if the refrigerator is in showroom or demo mode. Some models have this feature which is used when the refrigerator is on display in a retail store or if you want to turn the cooling off and deactivate all other functions except interior lighting. In this mode, the control panel will not respond to most commands.
If you unintentionally turn on Showroom mode, the word "Showroom" will light up on the display. The sequence for exiting showroom mode varies by model, so please refer to your Owner's Manual for full instructions.
Another possibility is that the refrigerator is in Sabbath mode. Some models have this feature which is designed for those whose religious observances require turning off the lights and dispensers.
In Sabbath Mode, the temperature set points remain unchanged, but the interior and dispenser lights turn off, all sounds and alarms are disabled, the dispenser display screen backlight turns off, and the dispenser pads are disabled. The sequence for exiting Sabbath mode varies by model, so please refer to your Owner's Manual for full instructions.
If none of these solutions resolve the issue, it may be best to consult the user manual or contact a professional for further assistance.
Also Read: Quick & Easy: How to Reset Whirlpool Ice Maker
Whirlpool Side by Side Refrigerator Not Cooling at all
When your Whirlpool Side by Side Refrigerator isn't cooling at all, it may seem like a catastrophe – but don't panic! With a few simple troubleshooting steps, you can determine the cause and get your refrigerator back up and running.
Before calling a technician or bringing out new parts, start by checking out youtube videos that provide step-by-step instructions on how to troubleshoot the problem.
These videos are an invaluable resource for handy homeowners looking for DIY solutions, so be sure to visit youtube for advice on getting your refrigerator back on track.
Also Read: How to Easily Force Defrost Your Samsung Refrigerator
Summary
To summarize, resetting your Whirlpool refrigerator is a simple and straightforward process. Depending on the model of fridge you have, you may need to reset both the electronic control board and the master control board for a full reset.
If neither of those methods works, try unplugging the refrigerator from its power source for 10 minutes to see if it will reset itself. Remember to always consult your specific manufacturer's manual when performing any maintenance or repair work.