Are you ready to transform the exterior of your house and give it a fresh new look? It can seem like a daunting task, not knowing where to start or what materials to use.
However, with the right guidance and this comprehensive guide detailing easy steps for improving the look of your home's exterior, it can be easier than ever before! In this post we'll walk through different ways you can update and improve the outside of your home – from selecting high-quality materials that suit your tastes and budget to understanding local building codes – allowing you to create stunning results that stand out on any street.
So read on if you're interested in transforming your exterior into something truly great!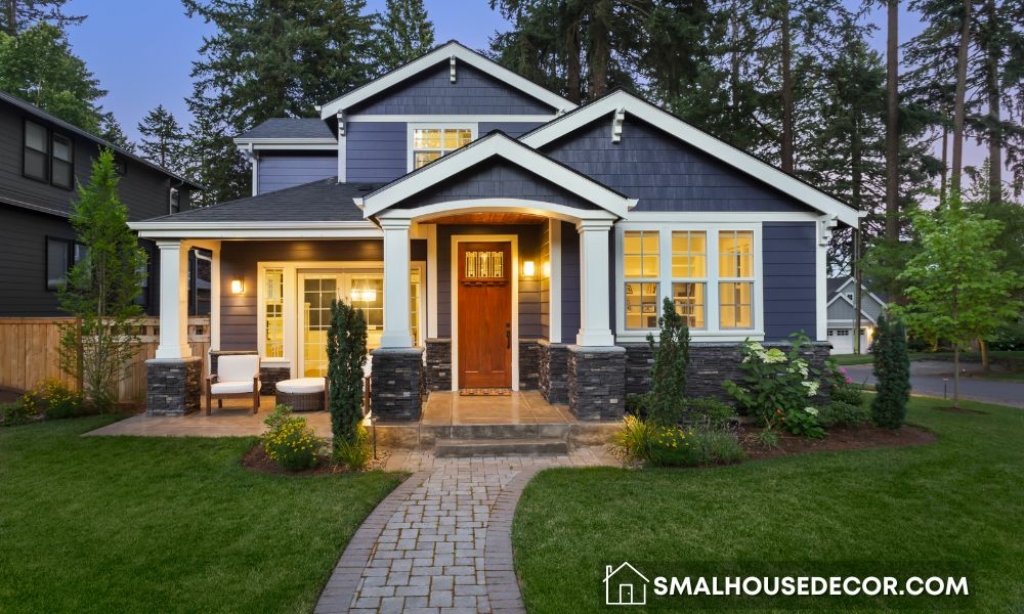 Replace Your Siding
When it comes to increasing the value of your home, one area that often gets overlooked is the siding. However, replacing your siding with a new, modern material can have a huge impact on the overall look and feel of your home. Not only will it improve its curb appeal, but it can also help to increase its energy efficiency and lower your monthly utility bills.
From vinyl to fiber cement, there are a variety of materials to choose from, each with its unique benefits. So, if you're looking to give your home a fresh new look, consider replacing your siding with modern material and watch as its value instantly increases.
Get Awnings Installed
Awnings can be a great way to add character and style to the exterior of your home. Not only do they provide protection from the sun and rain, but they also look great when done right. They come in a variety of styles, materials, and colors so you can find something that complements your existing décor. And since awnings are relatively inexpensive and easy to install, they are an ideal choice for transforming the exterior of your house.
Also, you can learn more about it on this website and find out more about their different products that you can use to fulfill your needs. Just be sure to check your local building codes before installation to ensure you are in compliance.
Add Some Color
Spring is in the air, and what better way to celebrate than by adding some color to your home's exterior? Flower beds and plants are the perfect way to accentuate the charm of your house by bringing out its natural beauty. Imagine stepping outside and being greeted by a burst of bright, lively colors in the form of blooming flowers and lush greenery.
Whether you prefer a more seasonal look with spring blossoms or something more perennial that will brighten up your outdoor space all year round, there are countless options to choose from when it comes to finding the best time to paint your house's exterior.
Whether it's the fresh start of spring or the milder days of autumn, considering the best time to paint exterior house can make a significant difference in the longevity and quality of your home's new color.
Also Read: How to Create a Quiet Oasis: Benefits of Blackout Curtains
Upgrade Your Landscaping
Transform your backyard into a natural oasis with a few simple touches! By trimming your hedges, planting trees, and adding beautiful shrubs and foliage, you can easily revive your outdoor space and give it a new lease on life.
The lush greenery will not only create a peaceful environment for you to relax in, but it will also add texture and depth to the overall appearance of your yard. Whether you're looking to add a pop of color with vibrant flowers or create a serene hideaway with lush greenery, upgrading your landscaping is the perfect way to achieve a more visually pleasing and inviting outdoor living space.
Also Read: How to Transform Your Attic into Livable Space
Install Outdoor Lighting
There's no denying the allure of a well-lit outdoor space. Whether you're looking to boost curb appeal, enhance the beauty of your landscaping, or simply create a more inviting atmosphere for guests, outdoor lighting is a fantastic way to do so.
But with so many options to choose from – from pathway lights to spotlights and everything in between – it can be difficult to know where to start. One thing's for certain, though: strategically placed lighting fixtures can transform the look and feel of your outdoors in an instant. So why not take the plunge and install outdoor lighting today? Your space (and your guests) will thank you!
Ultimately, transforming the exterior of your house is not just about aesthetics; it's also a great way to increase its value. By making small updates to your siding, adding some color, upgrading your landscaping and outdoor lighting, installing new windows, and adding a fresh coat of paint, you can boost curb appeal as well as property value.
And these improvements can be major or minor depending on your budget and desired results. With careful planning, thoughtful choices, and a little elbow grease, you should find yourself with a modern update that will last for years to come. Now that you have all the necessary steps covered in this guide, it's time to get started giving your home a makeover!