Brilliant Space Saving Bed and Sofa ( Murphy Sofa Bed)
You probably don't live in a big space house or apartment. But you don't have to sacrifice your comfort or your style to live in a limited space. If you have a small home/apartment, the best thing to do is to opt for furniture that can save a lot of space.
Even muttering where to put the bed? Most people including me find it difficult to devote a whole room to a big bed sitting there, taking up valuable space.
The Murphy Bed, also known as  fold down bed, a wall bed or pull down bed, is a bed that's hinged at one end so it can be folded up and stored vertically in a closet or against the wall. It's useful in most situations where floor space is limited, like tiny house,studio apartments, dorm roomsand even on Motor homes.
This space saving bed design is after a guy named Murphy—William L. Murphy. But, this article provides you with more a step ahead space saving idea with stylish convertible Bed + Sofa. Let me introduce to you: The Murphy Bed Sofa!
By day these space-saving hideaway beds are hidden vertically, tucking back into walls and leaving simple shelves and sofas behind to make their presence all the more invisible. By night they are full-fledged bedroom furniture – often still including storage space under bed frames and other smart functions.
"Self-standing vertically-opening queen bed with a sofa". It comes with 2 side cushions and 2 back cushions and also has a standard 6 feet size. It also has ample storage underneath to store pillow or sheet.  Efficient and stylish solution for lack of space in your home!
When you want to use the bed, Just pull the shelve under, and the shelves automatically becomes the leg support for the bed
Another smart murphy sofa bed. Begins as a couch and top shelf but ends up as a sleeper. The practical intuitive space saving design safely and easily lifts and lowers a vertical bed. Once converted from the sofa position, the bed is ready for use without moving any object from shelf.
The furniture smartly hides a comfortable sofa and bed for daily use. When closed, the Wall bed is a highly attractive and practical shelved unit.
When open, the bed stands on the floor of the room to reveal more shelving (which stays in place) and emphasises the whole surround. Bed sizes on above image is 160cm.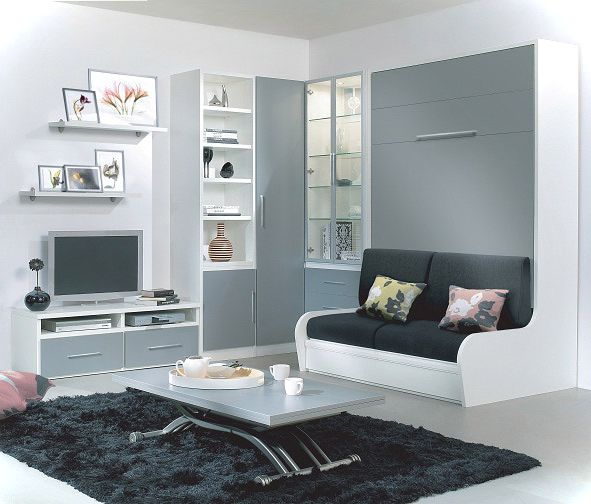 The Murphy sofa bed modes are also not necessarily binary – some of the coolest combinations involve various in-between modes for relaxing, reading and general lounging.
Image-Source: wallbed.co.uk
Image source: Dornob
Some of these Murphy Sofa Bed designs are incredibly crafty, requiring multiple operational moves to convert them from one position to another – but, as a result, they look completely natural in either setup.