Awe-Inspiring Murphy Bed Ideas That Blow Your Mind
Murphy bed actually a smart way to make more out of any small space, and can be customized in a plenty of different ways depending on your preference,budget and mainly space you are working with. Here are creative Murphy Bed Ideas we've rounded up from all over the web.
Desk and Murphy Bed Ideas
The Murphy Bed combine with a full-size bed into a wall desk. It integrated with top shelves to maximize every inch into functional spaces. The design equipped a gas-assisted piston mechanism that keeps the desk upright, . The bed also can be double or queen size.
Image-Source: http://theawesomer.com
Image-Source: thestowcompany.com
This space saving bed features a folding-down desk and two horizontally split styles shelves above the bed that run the length of the unit. Its installed with a horizontally opening queen size bed . This modern murphy bed design integrates perfectly with modular closets and storage shelving systems.
Image-Source: ResourceFurniture.com
Dinging Table and Murphy Bed Ideas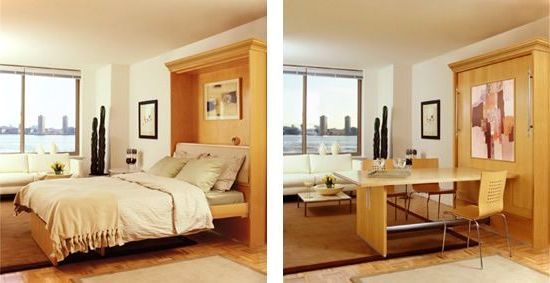 Another multi-functional wall bed from resource furniture. But now  it comes with a dining table on the front that seats up to five people.
Image-Source: ResourceFurniture.com
Library and Murphy Bed Ideas
For a bed that needs to be concealed most of the time, this gorgeous bookshelf is a beautiful option. This Murphy bed operates on a roller track system that allows the center two bookcases to move horizontally easily. A space savings and practical furniture piece for your home.
Image-Source: wallbedfactory.com
Sofa and Murphy Bed Ideas
Just pull the shelve down when you want to use the bed. The top shelves automatically becomes the leg support for the bed and its done without you put away things from the selves. Practical!
Image-Source: Dornob.com
For more inspiration and ideas We Already create dedicated post here: