16 Creative Under Stairs Remodelling Ideas
Anyone who ever watched Harry Potter movies must know that the main protagonist slept in a tiny room under the stairs, a place where normal people use as closet space. But we will show more than one way to use the space under the stairs, and while they are not to house a teen wizard, that space, no matter how little, can be put to more practical use with some remodelling. if you know more of these inspiring ideas, let us know.
There's no rule stating that you must store your clothes in the bedroom. So just create whatever storage space that passed your mind.
Photo of a mid-sized industrial wooden straight staircase
Add some interest to a smart under-the-stairs book shelf by also storing the drinks there.
Beautiful reading nook under the stairs, be sure to face some outwards rather than stacking them side by side to make the most of the beautiful illustrations that usually adorn the front covers. Painting the wall a bright colour behind the shelves will help highlight the books, and make the space more inviting for children.
Simple office under stairs. Just put the desk and put office looking stuff to bring 'Work Space Atmosphere"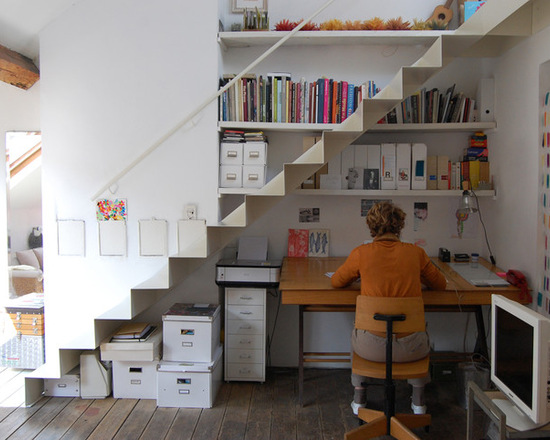 Notice how the bookshelf actually behind the stairs? It naturally divides the shelf, so the bottomright side can be used for computers, reference books and scrapebooks, while the top left side can be used for fiction or science books.
More serious remodelling to create better small home office under stairs. Enhance it by adding more shelves to get more spaces. Light paintings also helps to bring spacious feels.
Put everything from tomes to the TV sit neatly on view and within reach for an stylish and super-functional display.
Maximize your near kitchen stairs under spaces to store your food supplys
A playhouse under stairs for your kids. A good medium to boost their imagination indoors
Narrow door built into the side of this Los Angeles staircase leads to a private retreat for the homeowners' children.
Custom wetbar featured: Beverage refrigerator, wine rack, sink, stacked-stone wall above the countertop and puck lights underneath the staircase amazing transformation!
Last of The lists we have the sides of the stairs for bathrooms.
Image-Source: houzz.com