Working from home can be a blessing, but it can also be a burden, especially if you don't have a dedicated place to work on your small house. We're introducing  closet  office that turned into a beautifully organized office . I have collected a few examples of home office designs from around the web. Check out my closet offices list for some inspiration to create your own. Let us know your favorites or even send over any that we missed . 🙂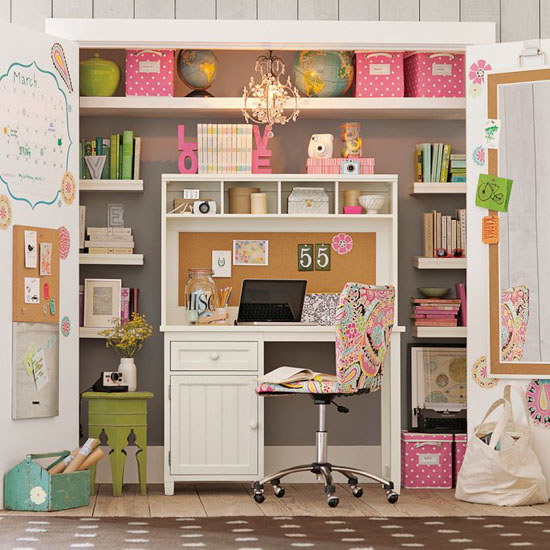 Ever muttering that you can built small home office on your closet? But guess what? It's possible! Just open the door, add style and hide your clutter. Put storage in eye catching colors, office desk, chairs and even tons of book or ornaments. That way your space will be used for something productive instead of just storage. it's important in any office space no matter how tiny the closet is, there are ways to finagle some creative touches in there, like on the closet door.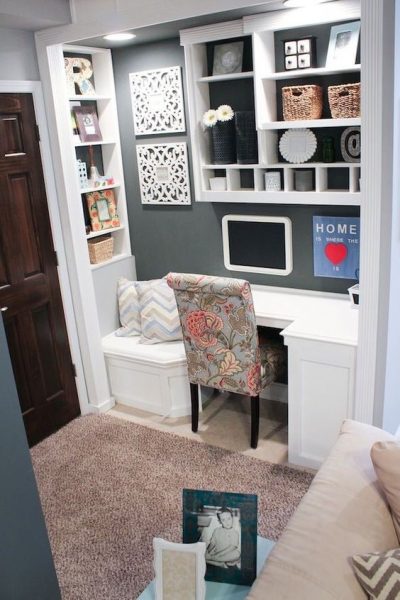 Isn't this little office so inviting? the nook storage make it looks so 'Office" . Mounted monitor also give you extra space on work desk.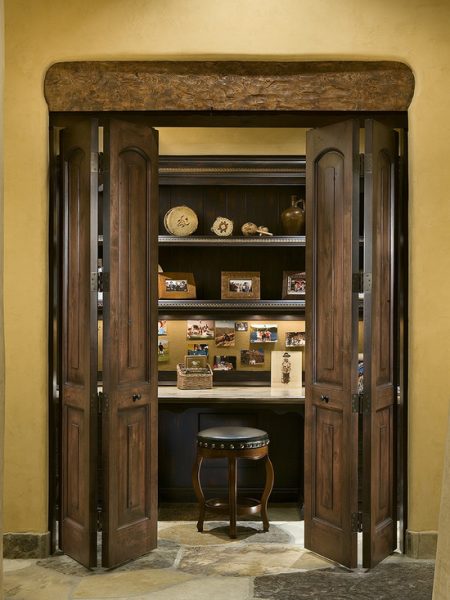 Behind this set of wooden bifold doors is a beautiful, inviting workspace.  The doors make the space look like the otherclosets in the house, so it blends right in. fuel the warmth inside your closet office by adding some picture of your beloved ones.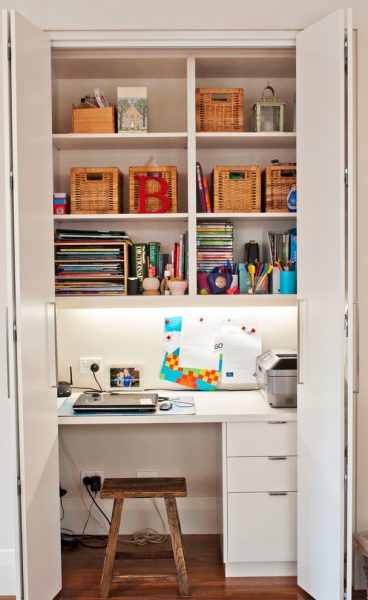 Just take this ministudy 6 feet wide Closet Office!! You don't need a whole room to have a hardworking office. 🙂 you just need to put a desk, wooden chairs and  an attic or a nook into a hardworking office space. This is an example of a small contemporary home office with white walls, dark hardwood floors and a built-in desk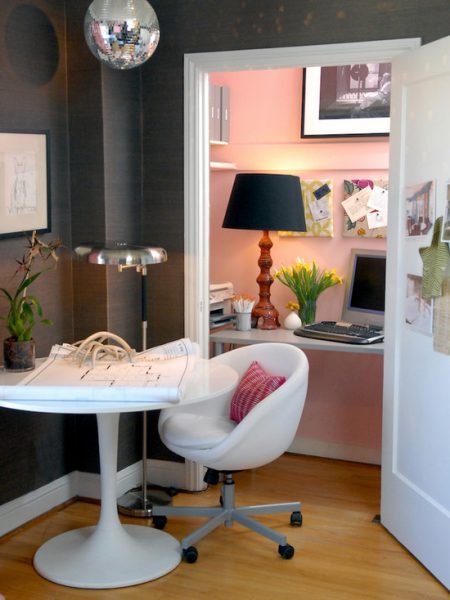 clever closet transformation for any office lady. In this setup, the door was kept on. If the room needs to be used for something else, the chair just needs to be drift away, and the door is closed and locked.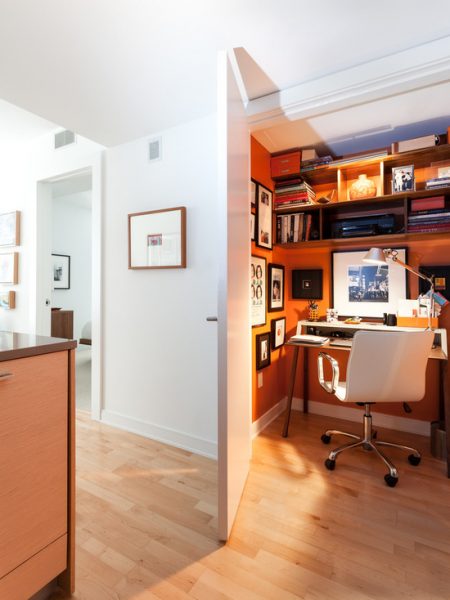 look at this 3- by 4½-foot office space (formerly a pantry), painted with orange theme color on the inside. Its give glowing effect and create warm working environment . When its not being used, it can be closed off from the living space. Built-in shelves above the desk provide storage, and a mini gallery photo wall provides a big design improvements.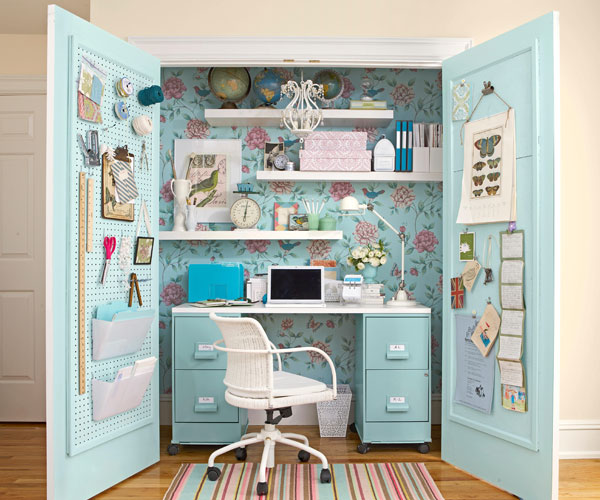 With a little time, a few low-cost budget and flowerish light blue wallpaper you can transformed a cluttered two-by-six-foot closet into this functional blooming office with inspiration. Maximize every square inch into clever storage function that worth showcasing to guest.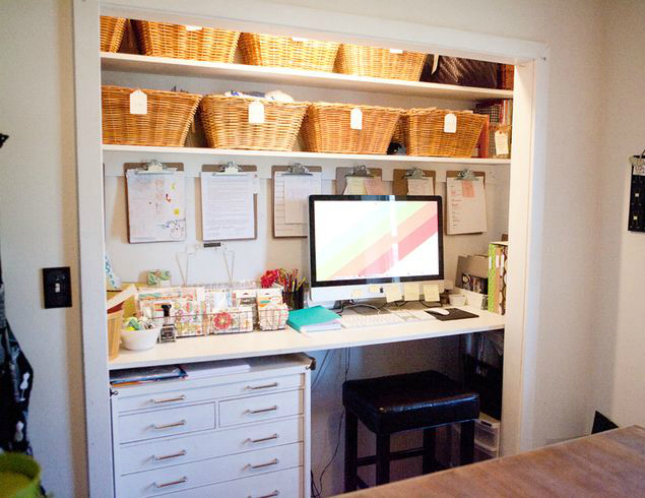 Grab some baskets to organize your DIY supplies and you can easily turn your closet into your own crafting space. Just pull a curtain over it when you have guests over and they'll never know there are workspace in the closets.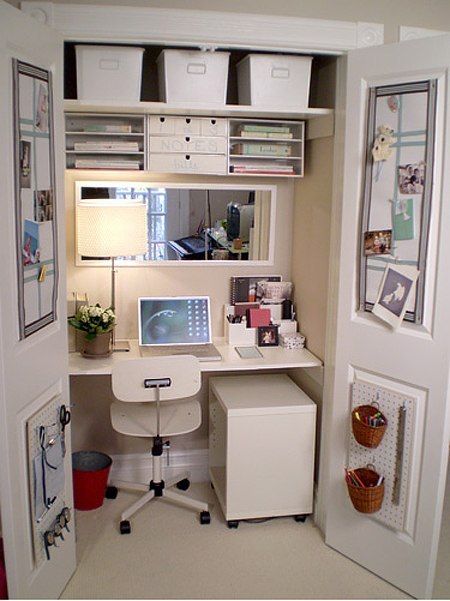 With all that vertical height, closet offices are perfect for storing any and all papers and materials. Keep yours stocked with shelves and a full white file cabinet and you'll never be hunting for those random receipts. Wide mirror also give the space looks bigger.
If creating a beautiful closet office is your goal, then consider ditching the closet doors and letting the world see how pretty your desk space really is. look at how beautiful is the marble desk and wooden wall-pallete as one combination.