7 Awesome Mini Kitchenette for Small Kitchen (Update 2023)
Living in a small house or tiny apartment that just doesn't have room for a basic kitchen setup? One of these 6 modular, movable, and efficient mini kitchens might just be exactly what you need.
Best for creating kitchens where there were none such us in warehouses, barn, office, construction site, and converted living spaces. Mini Kitchenette units convert a lot of standard kitchen appliance functions into the smallest possible space.
Designing a small kitchen is challenging. You want to maximize the space, but you also need to make sure that everything feels comfortable and works well together so you don't feel cramped in your own home.
There are many options when it comes to designing a small kitchen, which can be overwhelming and confusing. We've created this guide with our best mini kitchenette recommendation for your tiny house or apartment.
7 MINI KITCHENETTE FOR YOUR TINY KITCHEN
1.
Avanti
CK30B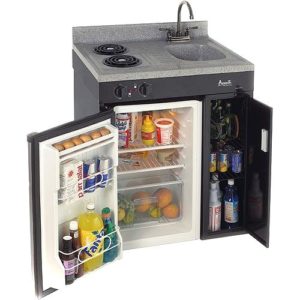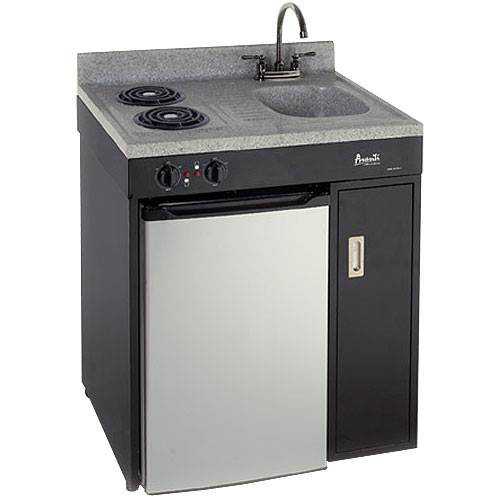 Avanti CK30B – Compact Kitchenette by Avanti
Key Features:
30-inch size Mini Kitchenette with 2 Electric Heating Elements up to 1000 watts.
Auto-Defrost All-Refrigerator (replaceable)
Deluxe Grey Composite Molded Countertop
Molded Sink with Antique Brass Faucet
Separate Storage Area with 2 Shelves and Door.
The Avanti CK30B-1 is a compact kitchen equipment that combines a sink, refrigerator, and stovetop into one unit.
The Avanti CK30B-1 is a great solution for those who are looking for an all-in-one kitchen appliance. This unit measures 30 inches across by 40 inches tall by 25.25 inches deep, making it the perfect size to fit in the space of a current range. Plus, it comes with a back guard to help save even more space.
This is a special type of appliance that is designed for small spaces, such as studio apartments and RVs. If you've ever looked at your oven and wished the space could be used for something else, then this is the appliance for you. It's proof that kitchens truly are endlessly customizable.
2. Acme Kitchenettes ROE9Y69L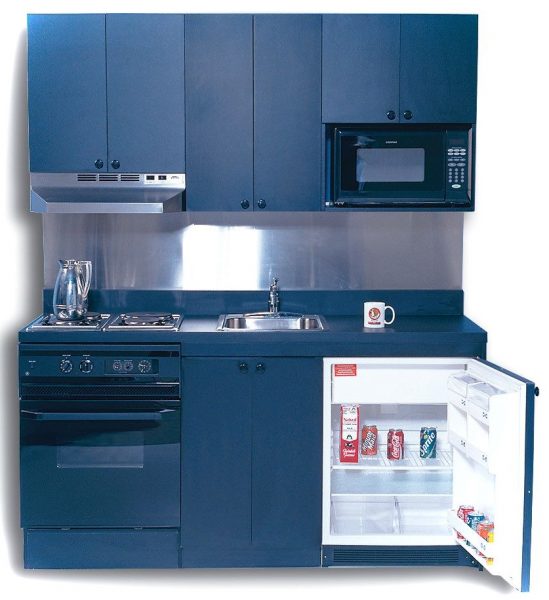 ROE9Y69L Mini Kitchenette by Acme Kitchenettes
Key Features:
4 Electric Burners, Oven, Sink and Compact Refrigerator- 69 Inches
14″ Sink Width, 15″ Sink Length, 6″ Sink Depth,3.5
Electrical Burner 230v
30 lb capacity freeze
Automatic Cycle Defrost
Laminate Countertop
The Acme Kitchenettes ROE9Y69L Compact Kitchen is a great addition to any home. It comes with a laminate countertop, 4 electric burners, an oven, a sink, and a compact refrigerator.
It's 69 inches wide, has a 14″ sink width, a 15″ sink length, and a 6″ sink depth. The electrical burners are 230v type, and the deluxe crispers can hold up to 30 lbs of food.
The freezer has a capacity of 30 lb, and the reversible door hinges make it easy to adjust to your needs. There's also an interior light for easy viewing, and the automatic cycle defrost ensures that your food stays fresh. The adjustable shelves and dairy compartment
Read Our Recommendation:
Best Compact Breakfast Station appliances under $100 that will work best in any small space. Read the full review here
We've found 5 best electric egg cookers on Amazon and reviewed them in detail to help you make an informed decision. …
3

.

Mini Kitchenette

for Residental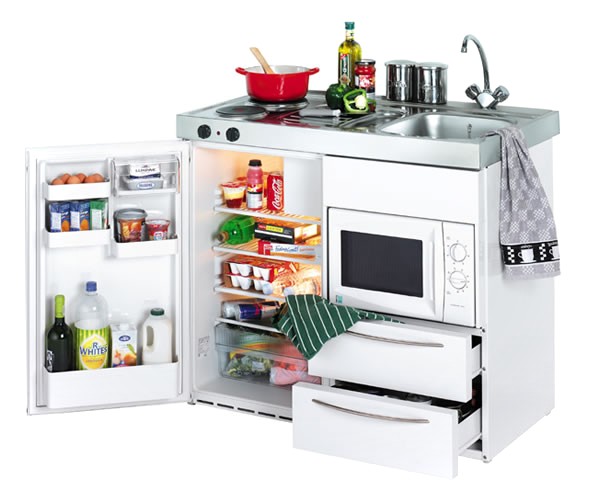 900mm Mini Kitchenette for Residental from TinyKitchen.co.uk.
Key Features:
Built-in 900mm width with Stainless Steel Sink Top
Refrigerator, and Hot Plates with the timer..
Powder Coated Stainless Steel Doors
2 x Standard Hot Plates with Cut Out Timer
Liebherr Refrigerator with Integral Ice Box
Slim foam filled doors
You can fit this mini kitchen into any space with ease by using this handy, compact 900mm wide option. Their rugged construction ensures they will provide years of service and their powder coated or stainless steel finish makes cleaning up easy.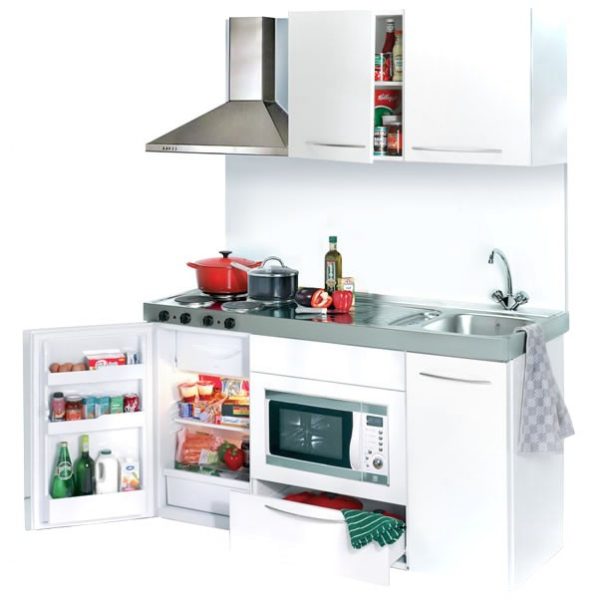 1500mm Mini Kitchenette for Residental from TinyKitchen.co.uk.
Key Features:
Stainless Steel Sink and Worktop,
Liebherr Refrigerator, Fan Assisted Oven, Extractor Hood, Pan Drawer & wall cabinets.
2 Standard Hot Plates,
This small 1500mm wide kitchen will turn an often messy meal preparation area into a tidy functioning space

This 1500mm wide mini kitchen will turn your often messy meal preparation area into a tidy functioning space. Their rugged construction ensures they'll provide service for many years and the powder-coated or stainless steel finish makes cleaning easy!
The additional wall storage cupboards are constructed from robust material as well, so you can be sure these units won't tarnish easily either – thanks to their durable frames that have been designed with durability in mind; because if there's one thing we know about kitchens it's how difficult they can get when not taken care of properly.
Also Read: Small Kitchenette Floor Plans Ideas: Designing for Functionality and Style
4

.

1200mm Wide

Tiny Tea Kitchen

for Commercial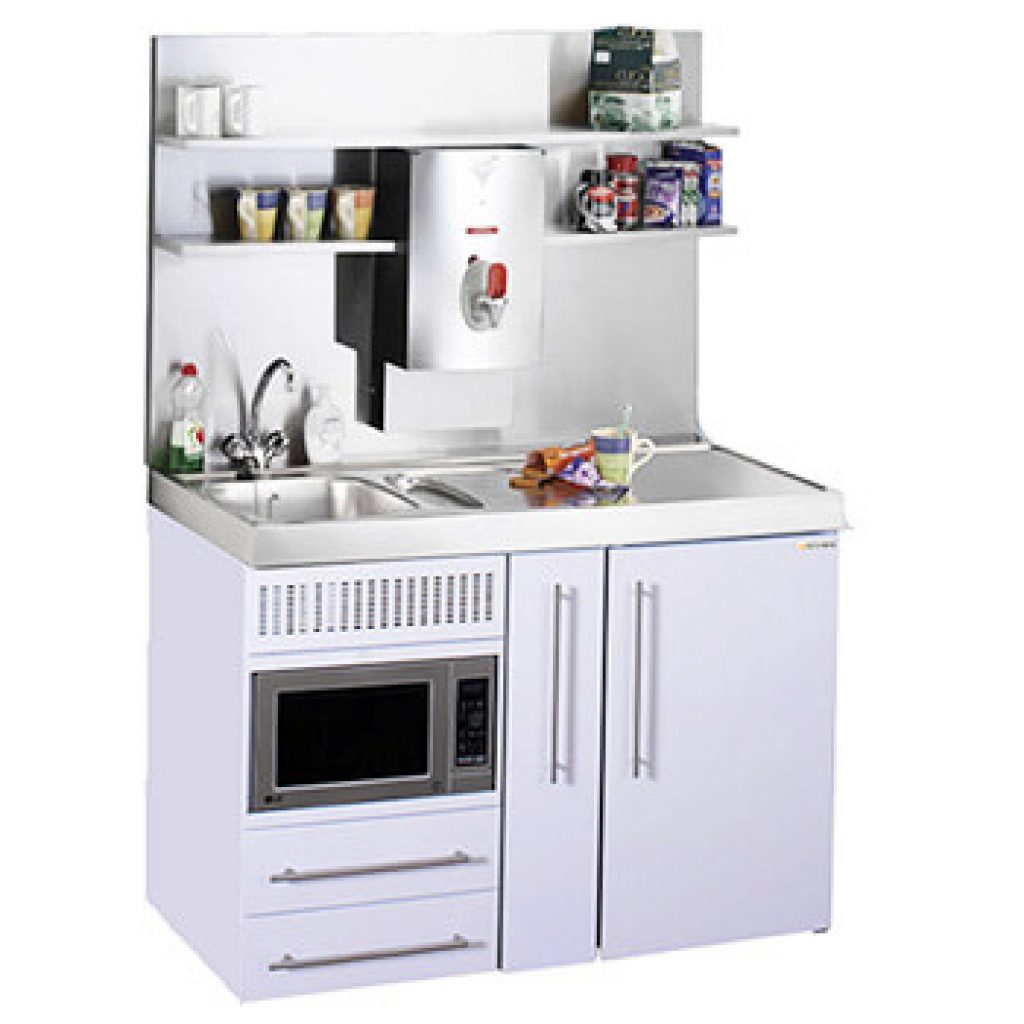 1200mm Mini Kitchenette for Commercial from TinyKitchen.co.uk.
Key Features:
Liebherr Refrigerator with Integral Ice Box
3itre Russell Hobbs Microwave
2 x Pan Drawers
20 Litre Russell Hobbs Microwave
The Commercial Mini-Kitchens mini kitchen is a convenient and efficient space that will change your often messy meal prep into an organized working environment.
Their rugged construction ensures they are able to provide service for many years, while also making maintenance easy with their powder coating or stainless steel finish!
The additional wall storage cupboards made from the same robust material as these cabinets allow you extra organization options in this one small area – check out all its features here
5

.

Kitchoo

Cuisine K1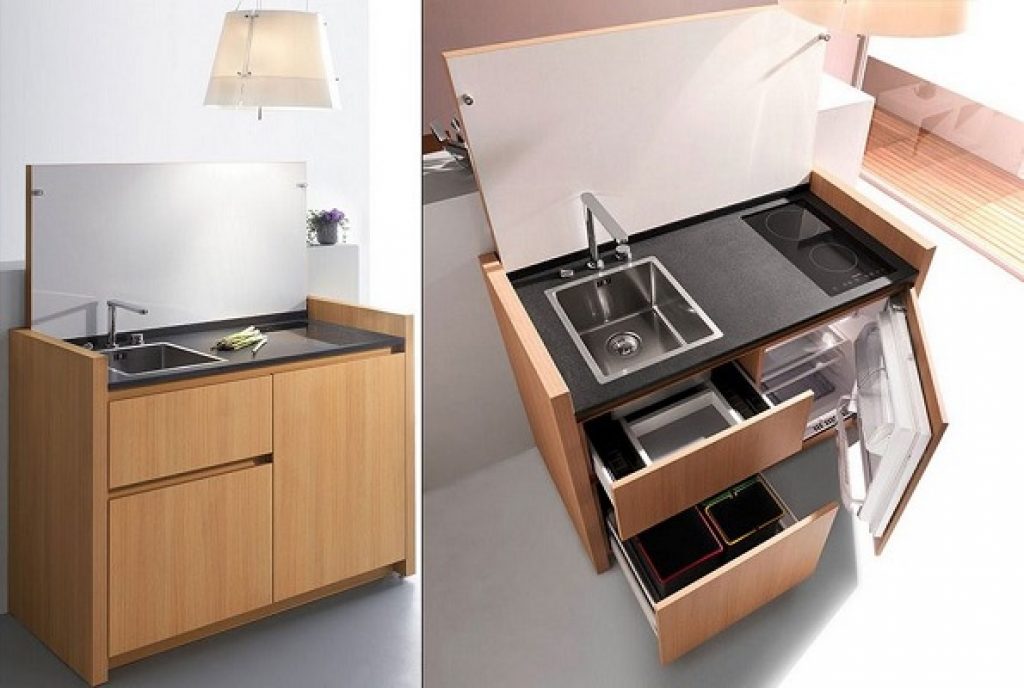 Kitchoo Cuisine K1 is an all-in-one mini kitchen that serves functions usually occupying half of a standard-sized kitchen. Packs a punch in the form of Two induction burners for cooking, an integrated fridge and freezer, a telescopic tap/mixer, a small dishwasher, and more.
This design is the definition of compact.  As optional you may add an integrated dishwasher and trash compartment as add-ons. The Kitchoo Cuisine K1 Mini Kitchenette is perfect for small apartments, dorm rooms, RVs, or boats. It is also a great gift for newlyweds or college students.
The Kitchoo Cuisine K1 Mini Kitchenette is easy to set up and use. It includes a stovetop, oven, refrigerator, and sink. The oven has a timer that can be set for up to 60 minutes. The refrigerator holds up to six 12-ounce cans. The K1 Mini Kitchenette includes a stovetop burner with adjustable temperature control.
Kitchoo

Cuisine K1

Video
6

.

Compact Concepts – The Circle Mini Kitchen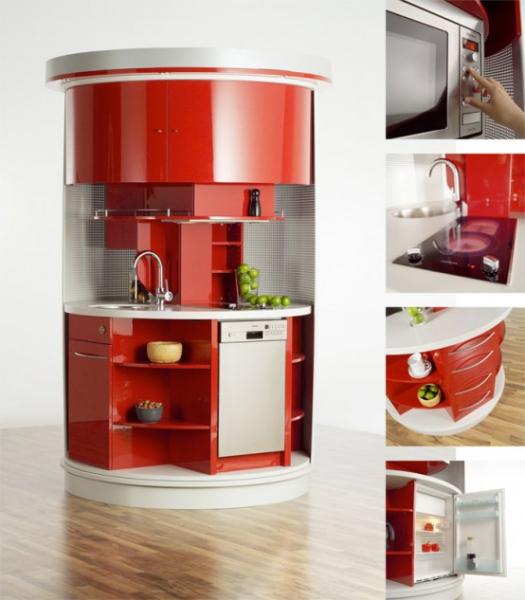 The Circle Mini Kitchen from Compact Concepts is made to be placed in the center of a room. Built with fixed rear wall and sliding doors (180° opening) which incorporate everything from the kitchen sink and dishes to microwave and dishwasher. The kitchen is fully circular and you are able to access all appliances by turning the inner ring.
Circle® Kitchen from Compact Concepts is a small and efficient mini kitchen. It's 1.8 square meters of space that features all the characteristics you would expect in your average home.
No annoying doors in the way while working in the kitchen, no deep cupboards. Available in a range of finishes with all kinds of customizable gadgets, this mini kitchen for small spaces starts at $6,500 to up to $15,000 depending on the feature.
Built-in oven, sink with running water to wash veggies or dishes, dishwasher for cleanliness after cooking messes kids often make. Rotating shelves provide easy access to pots & pans while also providing 360° rotation so nothing gets lost on its way down!
12/20/2021 Update
Add more mini kitchenette ideas
7

.

Kitchoo Tiny Kitchen K6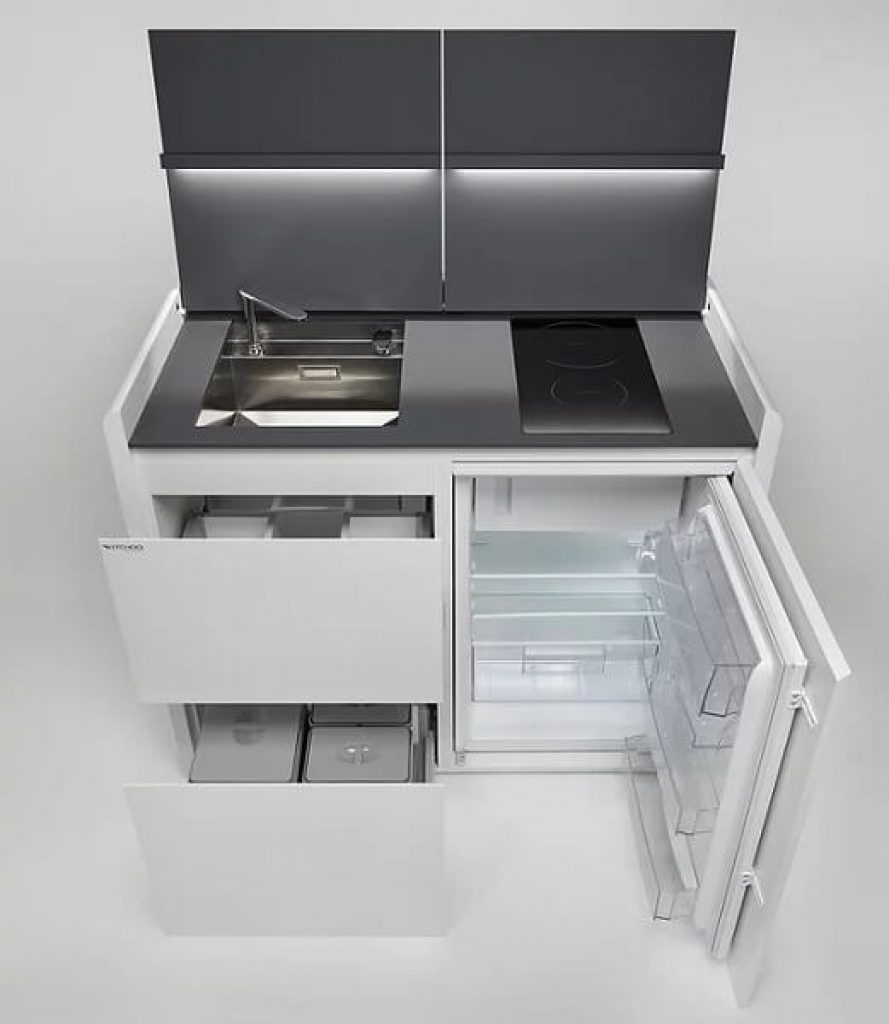 The Swiss have been known to generate their own ingenuity when designing a kitchen. Kitchoo has designed a particular kitchen that will help to add more comfort and pleasure in less space.  Made from the latest generation acrylic resin, the kitchen surface is resistant to scratches, abrasion, dry heat, and acidic solvents.
This same robust material also covers the inside of the two hoods. An original sink with a retractable mixer tap is integrated into the kitchen plan. The hinges and slides of German origin ensure the perfect operation of doors and drawers. Appliances of major brands have been selected for their characteristics and in particular for their capacities. More pleasure, more comfort in less space, maybe that simply reflects the tiny kitchen K6. Complete and fully equipped starting at $ 5,174 USD (€ 4,600)
Key Feature
Double individual hoods with automatic led lighting.
Independent power supply socket.
Able to choose from over 500 different colors.