The pallet shelves furniture become popular day by the day. It's reclaim powers and cheap materials are the two main factors behind its so much popularity. It's easy to mold and flexible so you can form into any desired design.
In this post, we have brought to a very efficient and smart way to use pallets as shelves that will not only beautiful but be multi-functional as well.
Keep reading and find the pallet recycle design that would really fit and suit your situation and might give you ideas to create better shelves for storage and organizing purposes.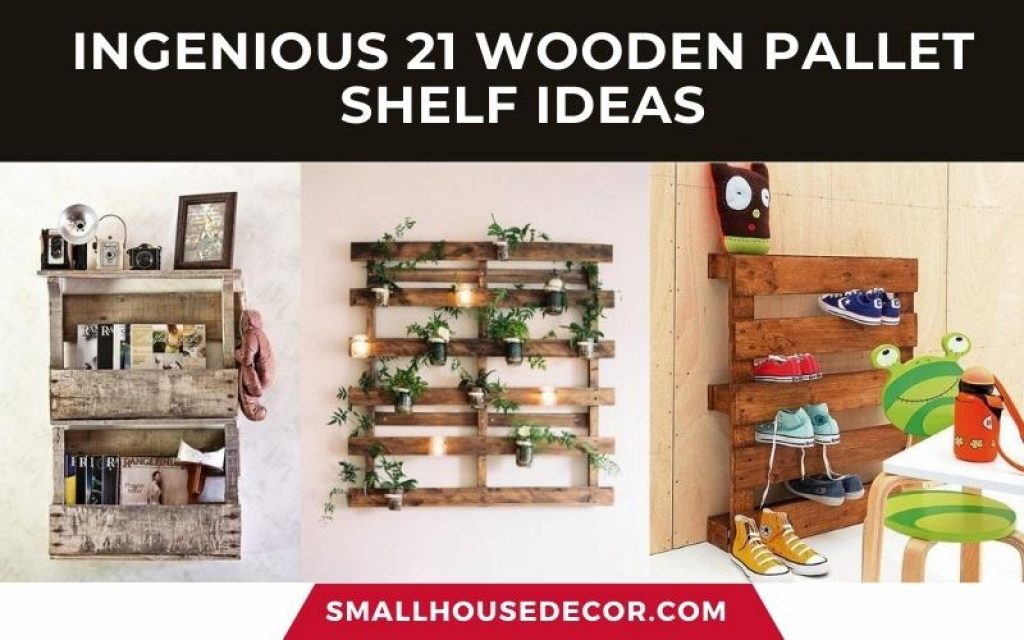 21 Pallet Shelves Reclaim Ideas
Upcycling is all the rage these days, and for good reason. It's a great way to give new life to old items, and it can also be a fun and creative project. If you're looking for a unique way to display your photos, why not try making a pallet wall shelf?
It's easy to do, and you can use whatever size and type of frame you like. To get started, simply find a pallet that is the right size for your space. You can usually find pallets at your local hardware store or online.
Once you have your pallet, sand down any rough edges and paint or stain it to your liking. Then, measure and mark where you want your frames to go.
You can either use nails or screws to secure the frames to the pallet, or you can use hot glue or another type of adhesive. Hang your shelf on the wall, and enjoy your new upcycled home decor!
Pallet Picture Display Ideas
Have you ever seen something made out of pallets and thought to yourself, "I could make that!"? Well, here's your chance.
To begin, you'll need to find some pallets. Once you have your pallets, the next step is to clean them off. Give them a good scrub with soapy water and let them dry completely.
Once your pallets are clean, it's time to get creative. Decide how you want to arrange your shelves and what kind of items you want to put on them. Do you want to use them for books? Plants? Picture frames? The sky's the limit! When you've got a plan in mind, it's time to start assembling your shelves.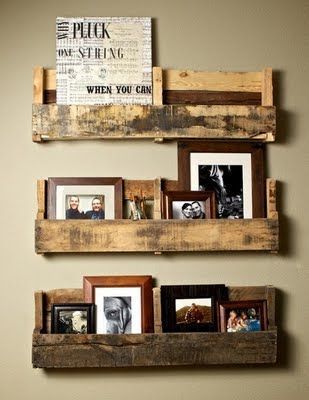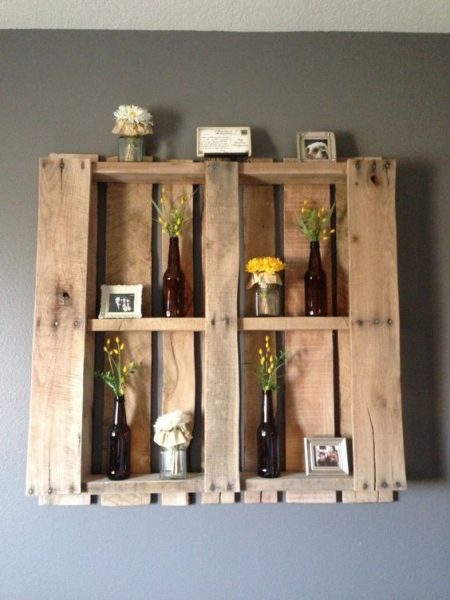 Simple Pallet Bookshelf Ideas
If you're looking for some simple yet stylish storage solutions, then check out these pallet bookshelf ideas. Pallets are a great material to work with as they're sturdy and easy to find, plus you can usually get them for free. Plus, there's something really satisfying about upcycling a piece of wood into something beautiful and useful.
To make a basic pallet bookshelf, all you need is a few boards and some heavy-duty brackets. Start by screwing the brackets into the wall, then simply slot the boards into place. You can paint or stain the shelves to match your decor, or leave them natural for a more rustic look. If you want to get really creative, you could even distress the wood or add some decals.
For something a little different, try making a ladder bookshelf. Start by cutting your boards into even lengths, then attaching them together at the top and bottom using L-brackets. Lean the ladder against the wall and voila! You've got a unique and practical shelving solution that's sure to turn heads.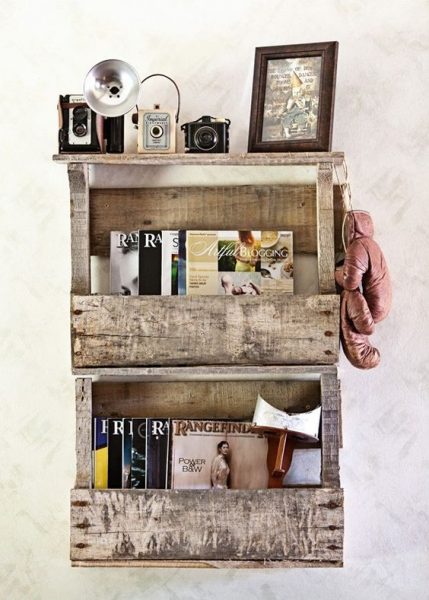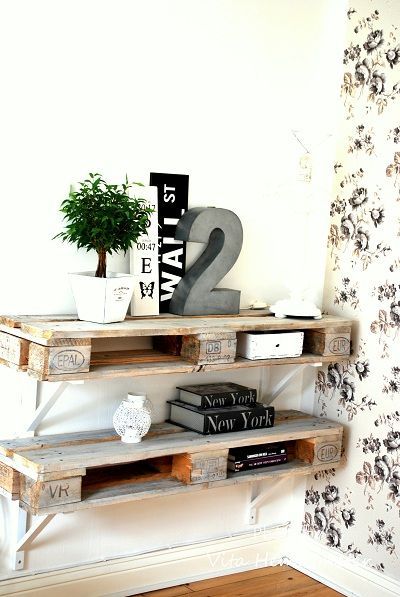 Rustic Pallet Shelf Ideas
Love the rustic look? Then you'll adore these pallet shelves! They're perfect for storing your accessories, bracelets, beads, and other trinkets.
Plus, they make a great addition to any woman cave.The shelf example in the picture above would be perfect.
Just imagine all of your favorite things on display! If you're looking for more shelving ideas, be sure to check out our other posts. We've got tons of great ideas, just waiting to be discovered!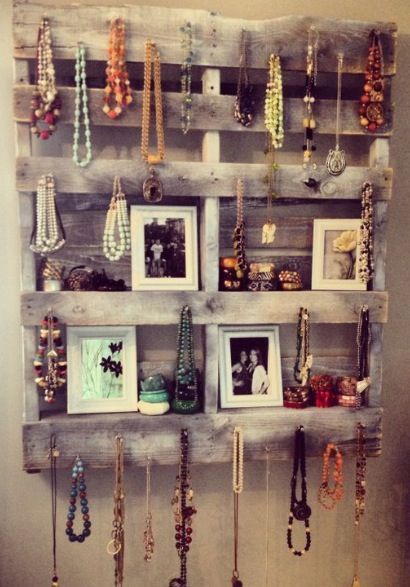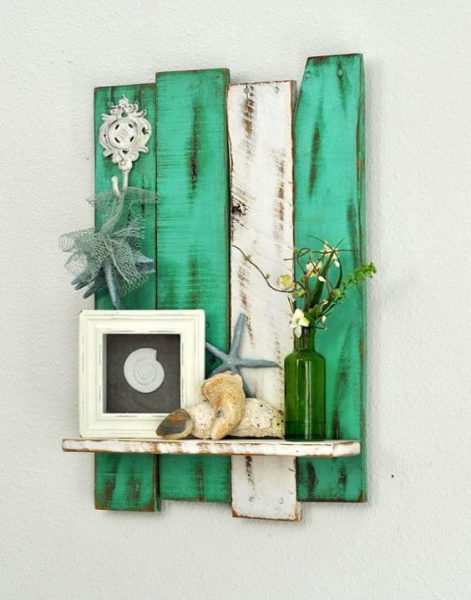 Pallet Shelf DIY Ideas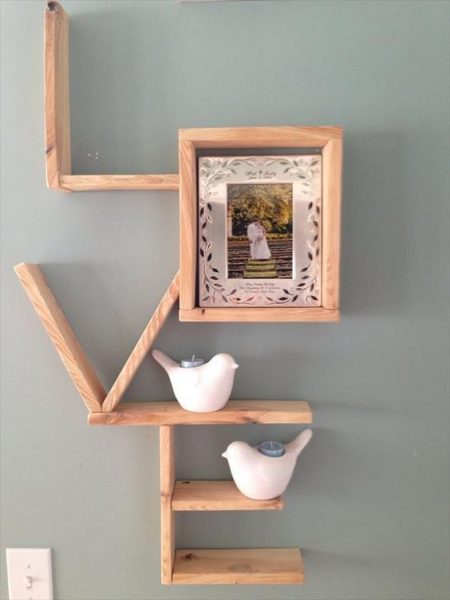 Who says that shelves have to be boring? With a little bit of creativity, you can transform a plain shelf into something truly unique. For example, take a look at this adorable design.
To create it, simply cut a pallet into small pieces and arrange them into any word you desire. On the example pictured above, we've got the pretty 'LOVE' shelf.
But you could spell out anything from your child's name to a motivational phrase. And to really take things up a notch, add some ornamental items to make the shelf look more stylish: a collection of vases or candles, a picture, a garland or one of mini-wreaths that you can find in stores like HeftyBerry.
Whether you're looking for a fun weekend project or a unique piece of home décor, this pallet shelf is sure to fit the bill.
Rustic Pallet Towel Rack DIY Ideas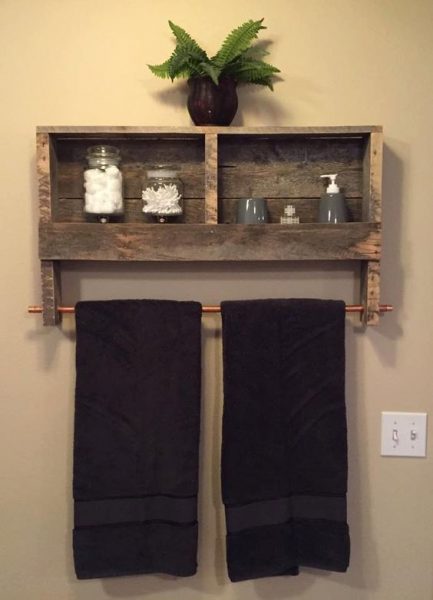 If you're looking for a unique and rustic towel rack, why not try using pallets? Pallet racks are easy to make and can be customized to fit any space. Plus, they add a touch of character to any bathroom.
To make a pallet towel rack, start by dismantling a pallet and Sanding down any rough edges. Then, use screws or nails to attach the pallet boards to the wall.
Make sure that the boards are evenly spaced and level before you screw them in place. Once the boards are secure, Hang your towels from the hooks or bar.
You can also add baskets or shelves to your rack for additional storage. With a few simple supplies and a little bit of elbow grease, you can easily transform an ordinary pallet into a functional and stylish towel rack.
Also Read: Decorate Your Home With These 8 Easy Ideas
Pallet Shoe Rack Ideas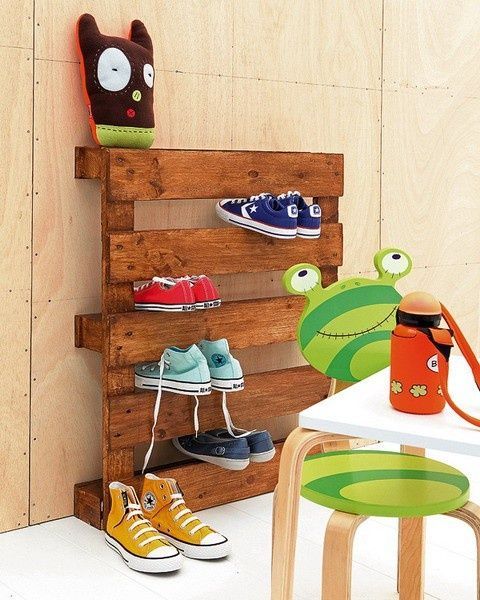 Looking for an easy and affordable way to organize your shoes? Check out these pallet shoe rack ideas! A pallet shoe rack is a great way to utilize vertical space in your home, and it's easy to make yourself!
You can either use a single pallet or two pallets side by side. If you're using two pallets, simply nail them together at the top and bottom. Then, screw in some hooks or nails to create hangers for your shoes.
You can also use L-brackets to attach the pallets to the wall for extra stability. Whether you're looking for a place to store your shoes near the front door or want to create a more organized closet, a pallet shoe rack is a great solution!
Pallet Toy Shelf Ideas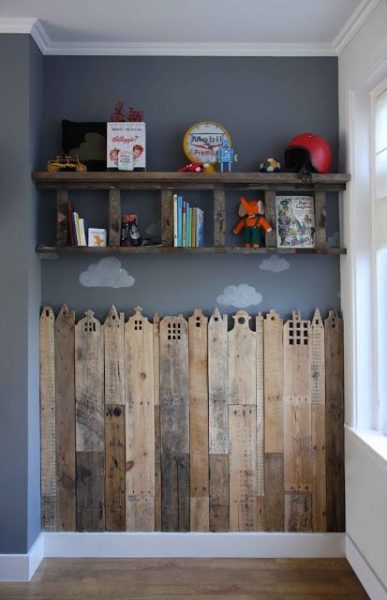 Looking for some creative ideas for toy storage? If you're short on space, or just want to get your kids' toys off the floor, pallet toy shelves are a great option.
Pallet shelves are easy to make yourself, and they provide a sturdy and stylish way to store everything from stuffed animals to board games. Plus, your kids will love being able to see all of their favorite toys at a glance.
Also Read:
Pallet Fold Up Desk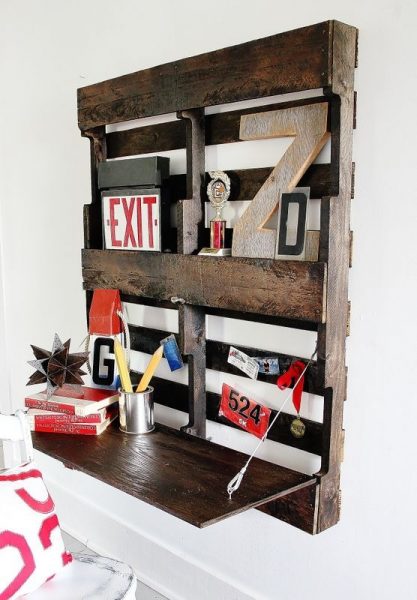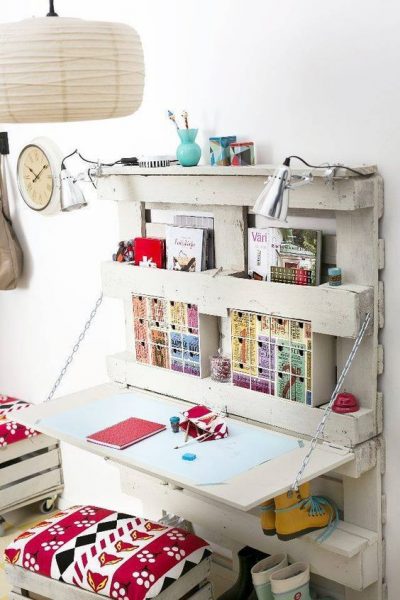 If you're looking for a creative way to maximize space in your home, you'll love these ingenious pallet shelves with a fold-up desk.
Perfect for any room in your house, these versatile shelves can be used for storage, as a workspace, or even as a makeshift dining table. And best of all, they fold up flat when not in use, so you can easily tuck them away when you need more space.
Made from sturdy recycled pallets, these shelves are built to last. And with their minimalist scandinavian design, they'll perfectly suit any décor.
Whether you use them in your kitchen, living room, or home office, you're sure to appreciate their stylish good looks and practical functionality.
So why not give them a try? You may just find that they're exactly what you've been looking for.
Pallet Shelves for Kitchen
The kitchen is definitely one of the busiest places in the house. There's always something going on in there, whether you're cooking a meal, cleaning up, or just looking for a snack.
And one of the biggest challenges in any kitchen is finding enough storage space. It seems like no matter how big your kitchen is, you can never have enough room to store all your pots, pans, dishes, and food.
That's where pallet shelves come in handy. Pallet shelves are a great way to add extra storage space to your kitchen without spending a lot of money. All you need to do is cut the pallets to the right size and mount them on the wall.
They're perfect for storing pots and pans, dishes, food, and even cookbooks. So if you're looking for a cost-effective way to add more storage space to your kitchen, pallet shelves are a great option.
Also Read: 11 Space-Saving DIY Pallet Bar Ideas
Pallet Coffee Cup Holder Ideas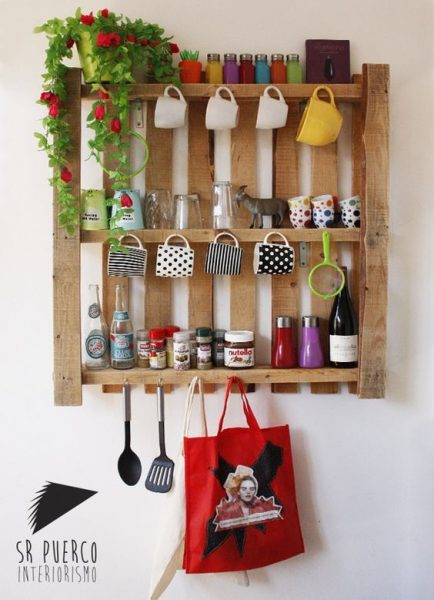 If you're looking for some unique and stylish pallet coffee cup holder ideas, then you've come to the right place. A pallet coffee cup holder is a great way to add a touch of personal style to your kitchen, and it's also a practical solution for keeping your coffee cups organized.
There are many different ways to make a pallet coffee cup holder, and the possibilities are almost endless. You can use pallets to create a rustic and charming holder for your coffee cups, or you can go for a more modern look by painting the pallets in bright colors.
If you're feeling really creative, you can even decoupage the pallets with photos or patterns. Whatever style you choose, a pallet coffee cup holder is sure to add character to your kitchen.
Pallet Coffee Cup Holder Ideas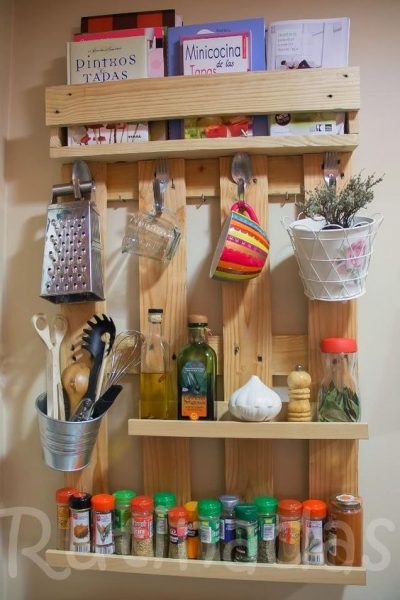 DIY Pallet Spice Rack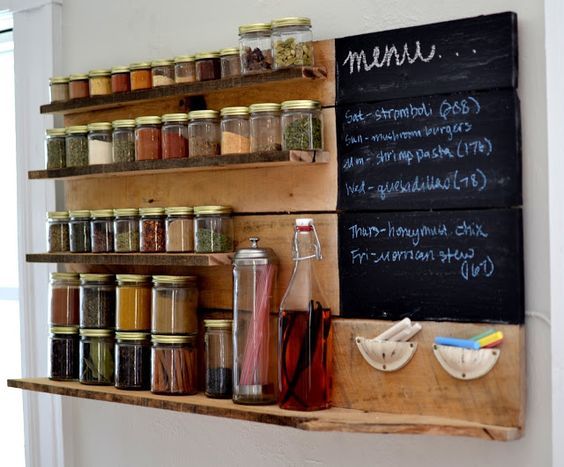 If you love to cook, then you know how important it is to have all of your spices organized and within reach. But if your cabinets are crammed full, it can be tough to find what you need when you need it.
That's where a pallet spice rack comes in handy. These handy DIY racks can be mounted on the wall or stored on a countertop, and they provide a great way to keep your spices organized. Plus, they're easy to make!
All you need is a pallet, some nails, and a few hours of time. Check out these pallet spice rack ideas and get inspired to create your own!
Also Read: 10 Kitchen Pantry Organization Ideas (Say Goodbye to the Mess)
DIY Pallet Wine Rack Ideas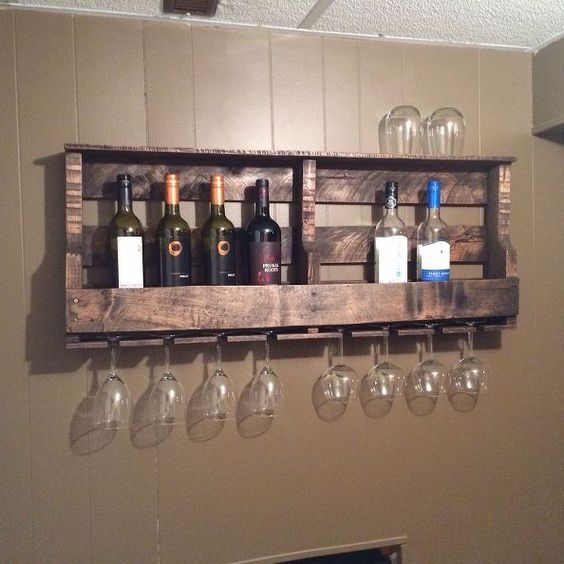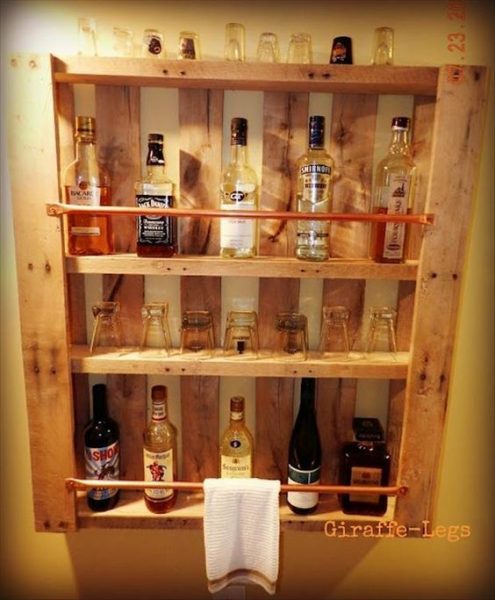 Love entertaining but don't have a lot of storage space for all your wine glasses and bottles? Or, are you simply looking for a rustic addition to your kitchen or dining room decor?
If so, then check out these awesome DIY pallet wine rack ideas! Pallets are easy to come by and relatively cheap, so they make the perfect material for creating beautiful and practical wine racks.
Plus, there are endless possibilities for customization – paint them, stain them, or leave them natural; add hanging hooks for glasses; or embellish with carved initials or other details.
So whether you're a wine connoisseur or just enjoy the occasional glass, one of these pallet wine racks is sure to fit your needs. Cheers!
Pallet Shelves for Gardening
For the green-thumbed among us, pallet shelves provide the perfect way to add a little extra space for gardening.
These shelves are inexpensive and easy to build, making them a great option for those who want to save money on their gardening projects. Pallet shelves can be used for a variety of purposes, including holding potted plants, storing gardening tools, or displaying garden art.
And because they are made from repurposed materials, pallet shelves are also an eco-friendly option for the home gardener.
So if you're looking for a way to maximize your space and go green at the same time, consider adding pallet shelves to your garden.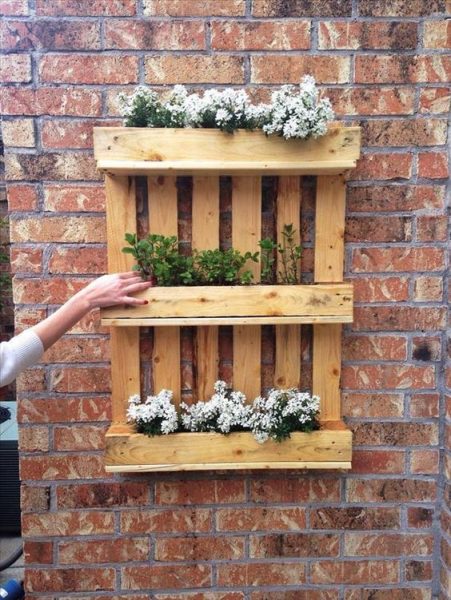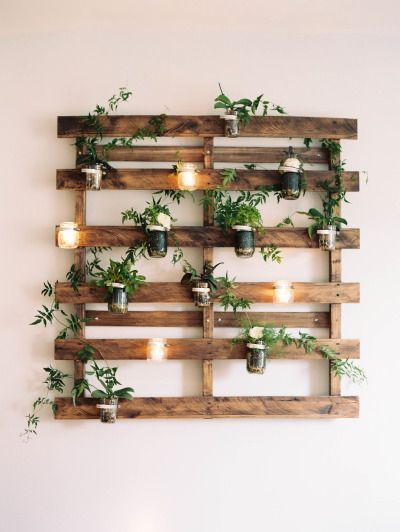 You can use glass jars as planting pots and fill them with lamp oil to create the stunning effect.
Alternatively, you could use mason jars or other types of jars. Pallet shelves are relatively easy to make, and they provide a great way to show off your plants.
So why not give it a try? You might be surprised at how much you enjoy it.
Final Words
After all, is said and done, it's important to remember that your pallet DIY project doesn't have to be perfect. Imperfections can often add character and charm. So don't stress if everything isn't perfectly straight or level. Just enjoy the process and the results!
Leave a comment below if you have any questions or suggestions. And be sure to share photos of your finished project with us! We love seeing what our readers create!