Check out these 11 space-saving DIY pallet bar ideas that are perfect for any small home or apartment. You can easily create a beautiful and functional bar using recycled wood pallets.
These bars are not only stylish but also very affordable to build. Most of them can be completed in just a few hours, and they're all easy to follow. So what are you waiting for? Start building your dream bar today!
DIY Pallet Bar Table Ideas 2022
Are you looking for some pallet bar table ideas? If so, you've come to the right place. In this article, we'll show you a few different ways that you can use pallets to create a bar table.
Make a Pallet Bar in a Few Easy Steps:
First, you'll need to find some pallets. You can usually find them for free at your local hardware store or home improvement center.
Once you have your pallets, you'll need to sand them down and then stain or paint them to your liking.
Then, you'll need to attach them together to create the table top. You can do this by nailing or screwing the pallets together.
Once the table top is complete, you'll need to add legs to the table. You can either buy legs or make your own out of scrap wood.
Finally, you'll need to add a finish to the table top and legs. This can be anything from varnish to polyurethane. Once the finish is complete, your pallet bar table will be ready to use.
Now that you know general ideas on how to make a pallet bar table, you can get started on your project. If you need more inspiration, be sure to check out the many pallet bar table ideas below.
Also Read: Ingenious 21 Wooden Pallet Shelves Ideas
#1. DIY Slim Pallet Bar Table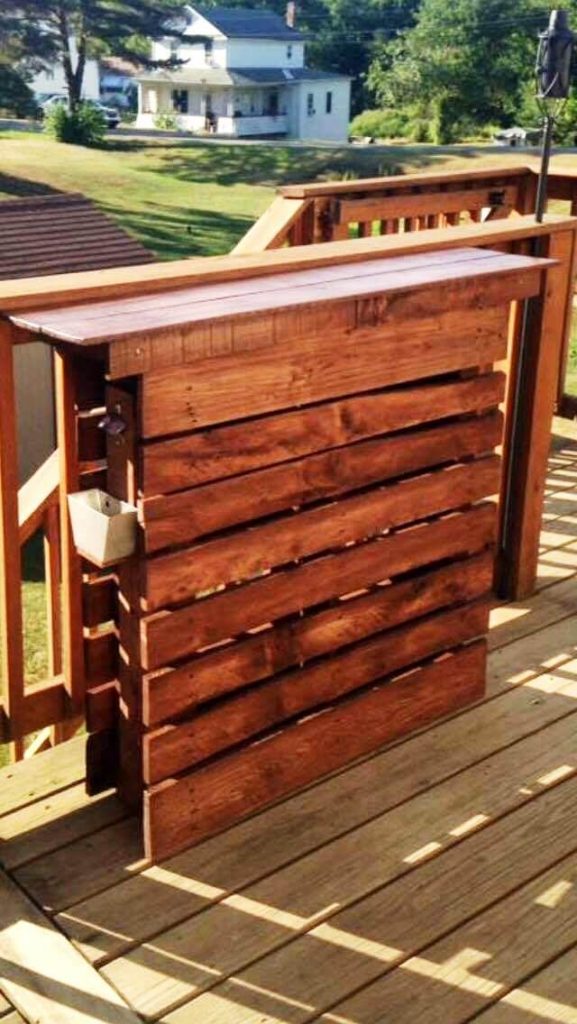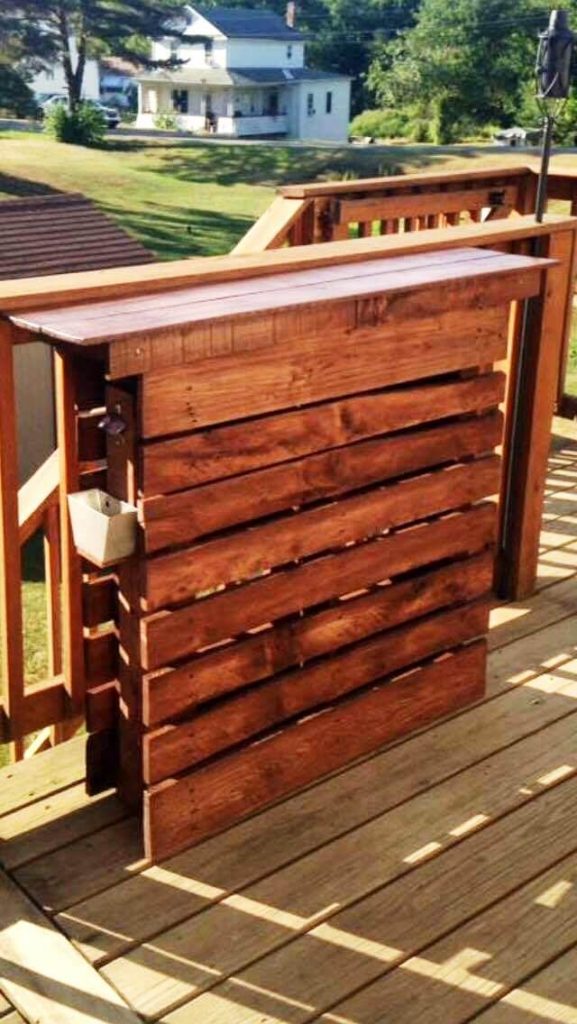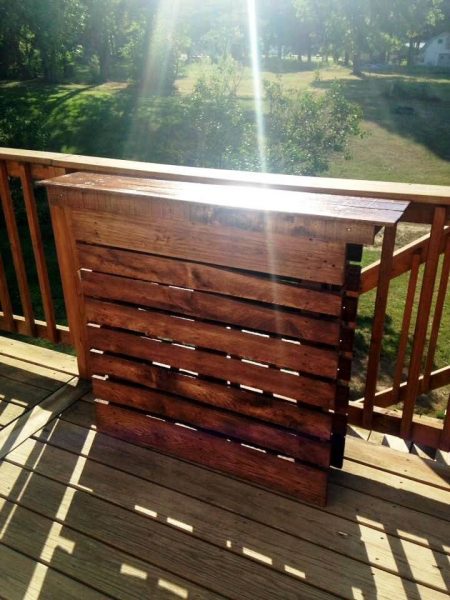 This Space-Saving Slim Pallet Bar Table is perfect for small spaces! The sleek, slim design makes it easy to tuck away in a corner when not in use, and the pallet construction means it's lightweight and easy to move around.
The top is made from reclaimed wood, so you can be sure it's built to last. And the best part? The entire table can be disassembled for easy storage.
This slimline pallet table features a built-in bottle holder and opener, making it easy to enjoy your favorite beverage. The table is coated with custom wood oils for an appealing red mahogany look. You can also add LED lights to the table for a bit of extra flair.
The compact design makes it ideal for balconies and other small spaces. Whether you're entertaining friends or enjoying a quiet afternoon alone, the Space-Saving Slim Pallet Bar Table is a great choice for any occasion.
#2 DIY Hanging Pallet Bar with Fold-Up Shelf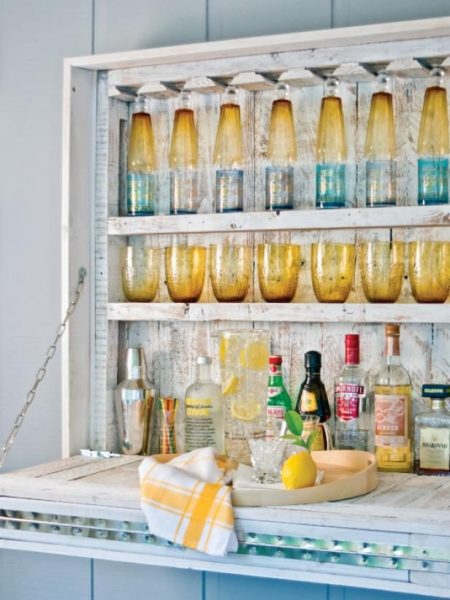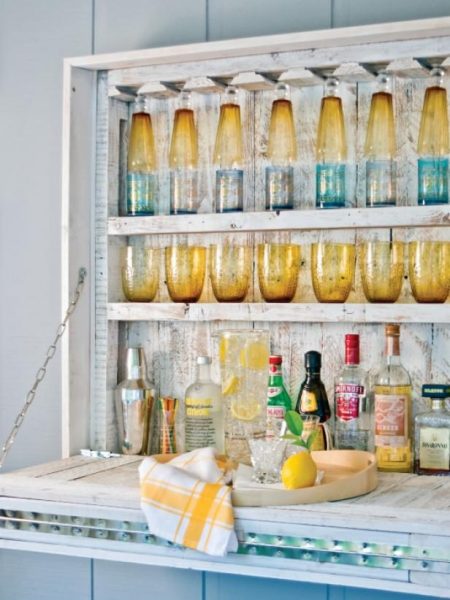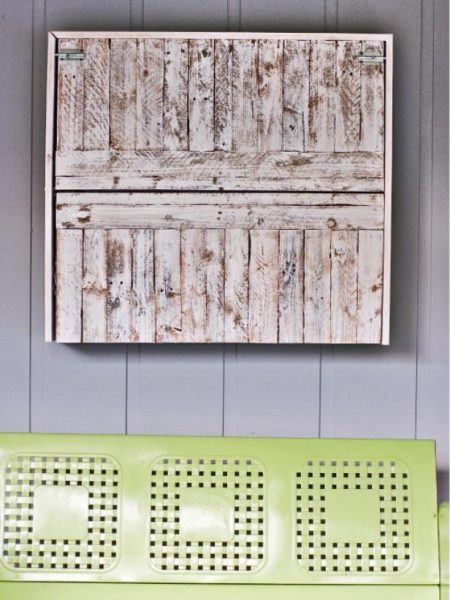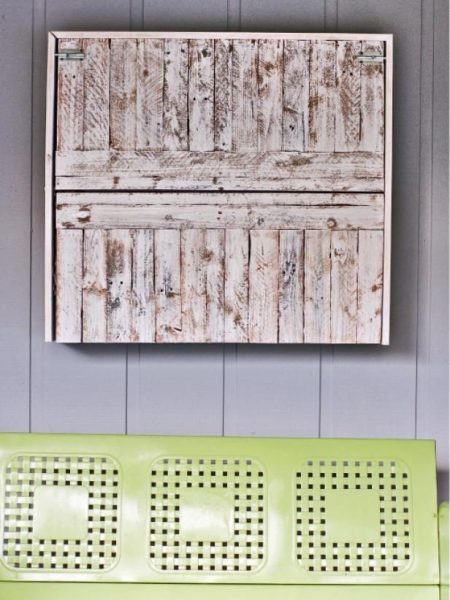 Looking for a unique way to add a bar to your home? Check out this hanging wooden pallet bar with fold-up shelf.
This stylish piece is perfect for small spaces, and can be installed by two people safely and easily. Simply use screws or nails to attach the pallet to the wall, and then fold up the shelf when you're not using it.
The pallet is made of sturdy wood, and the fold-up shelf provides a convenient place to store glasses and bottles.
Whether you're looking to add a touch of class to your home or simply want a practical way to keep your bar supplies organized, this hanging wooden pallet bar is the perfect solution.
Before you get too excited about your new hanging pallet bar, there's one important note to keep in mind. This bar is going to be quite heavy, so you'll need at least two people to safely install it on the wall.
So recruit a friend or family member to help you out, and then enjoy your new bartending setup. Cheers!
#3 DIY Portable Pallet Bar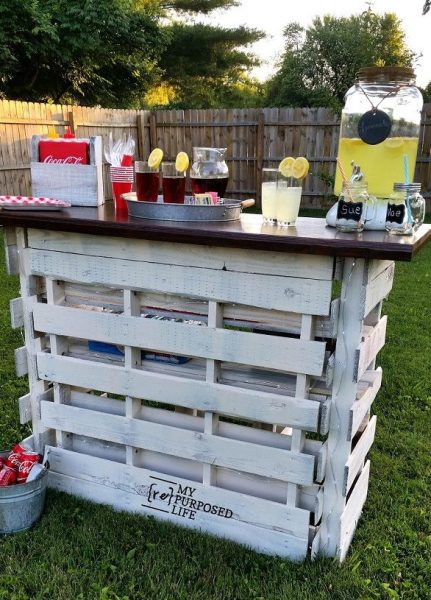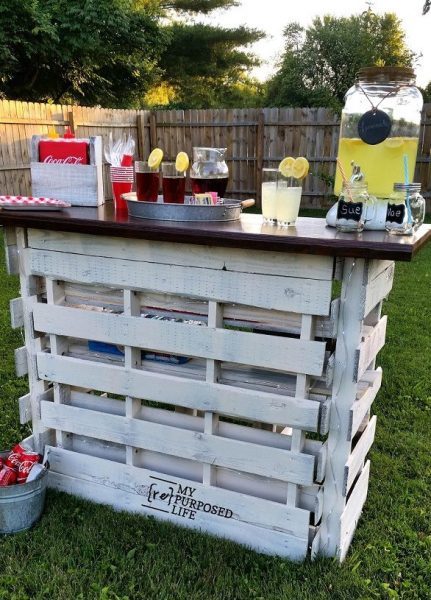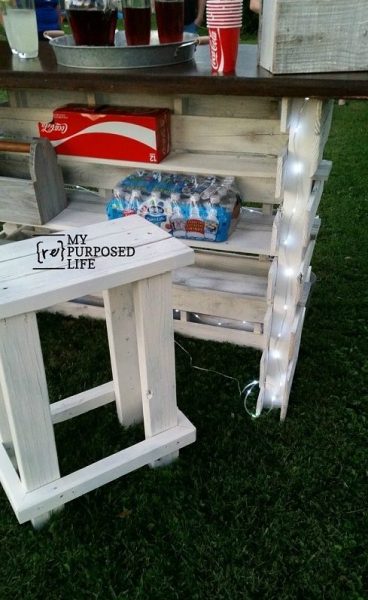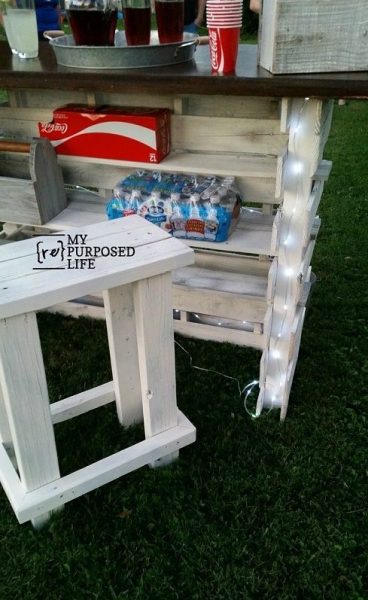 A Portable Pallet Bar is a great addition to any outdoor event, like birthday parties and reunions. As its name suggests, it's a portable bar made out of pallets – so it's definitely versatile! Plus, it's easy to set up and take down, which is always a bonus.
The portability of the pallet bar also makes it easy to take with you wherever you go, and the foldable design means that it won't take up much space in your garage when not in use.
There's also plenty of space for storage, so you can keep all your bar supplies organized and within reach. Whether you're serving up cocktails or mocktails, this Portable Pallet Bar is sure to be a hit at your next party!
And because the pallet bar is made from recycled materials, you can feel good about using it knowing that you're doing your part to help the environment. So next time you're looking for a way to enjoy your time outdoors, be sure to check out the portable pallet bar.
#4 Simple U-Letter DIY Pallet Bar Ideas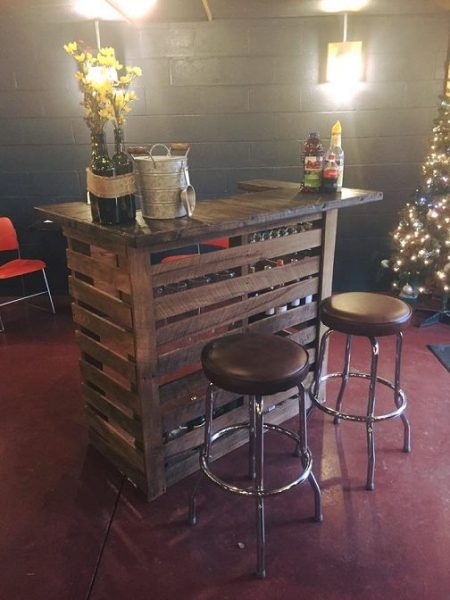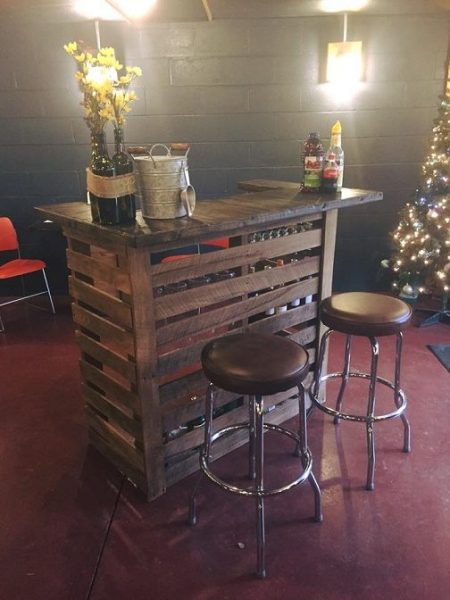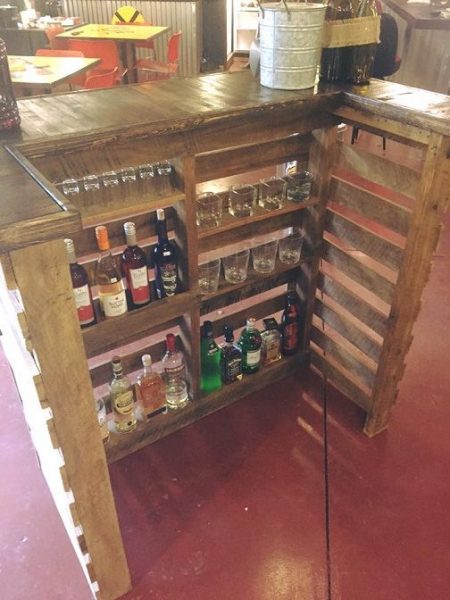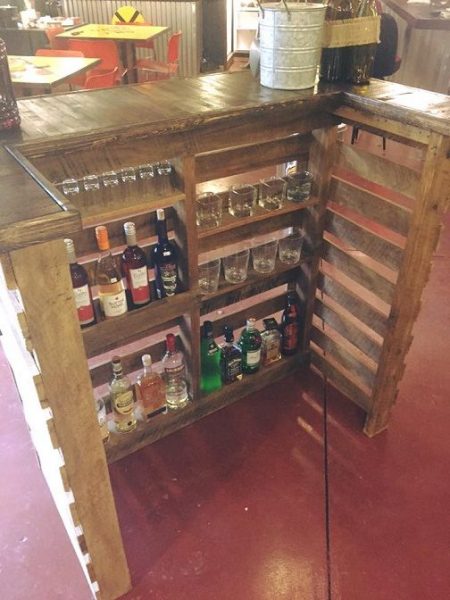 This pallet bar looks like something out of a magazine. It's minimalistic, with bottle storage behind the pallet panel wall.
The coating color makes this bar look elegant. But what's most impressive is that it's made as simple as possible and definitely suitable for your first DIY pallet projects.
This U-Letter DIY Pallet Bar is sure to impress your friends and family. And at a fraction of the cost of a store-bought bar, it's an affordable way to entertain in style.
So what are you waiting for? Get started on your own DIY pallet bar today!
#5 Pallet Bar with Integrated Aquarium Ideas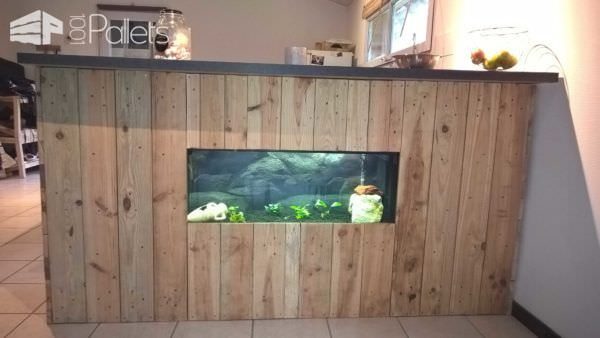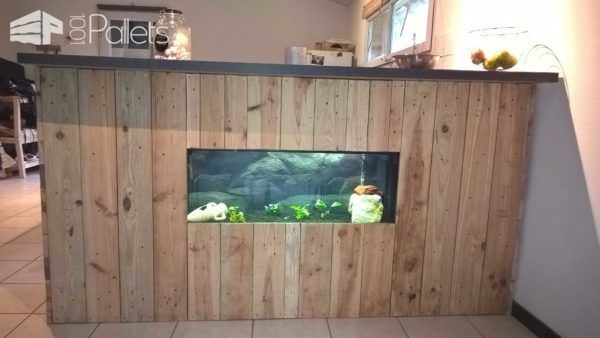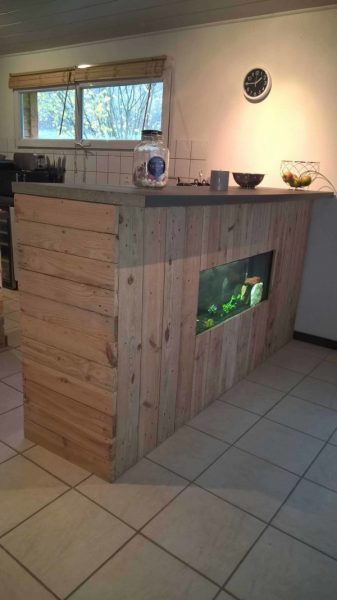 I came across this interesting bar the other day and thought it was genius! It's made out of a recycled pallet, and it has a fish tank built into it.
I can imagine it would be a real conversation starter if you had one in your home or office – people would gather around it, sipping their drinks and chatting, with the fish swimming lazily by.
A pallet bar with an integrated aquarium is a great way to spruce up your home décor. Not only does it add a touch of whimsy, but it also provides a calming presence. I think this is a really clever and imaginative way to use recycled materials.
Reading Recommendation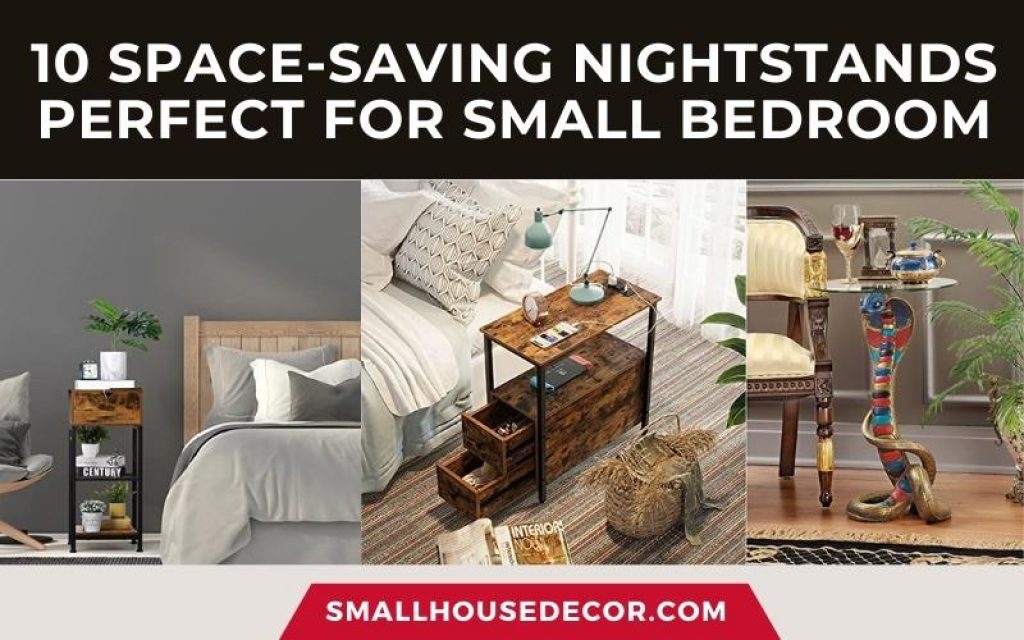 Nightstands for Small Bedroom will give you the perfect place to store all of your belongings. Whether it's books, lamps or blankets; these furniture items can be easily pulled out when needed without taking up valuable floor space in other areas of the room – maximizing its potential as a sleeping quarters!
#6 DIY Pallet Bar Ideas with Built-in Cooler Box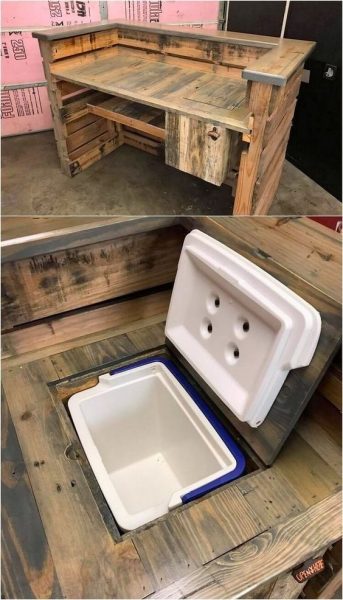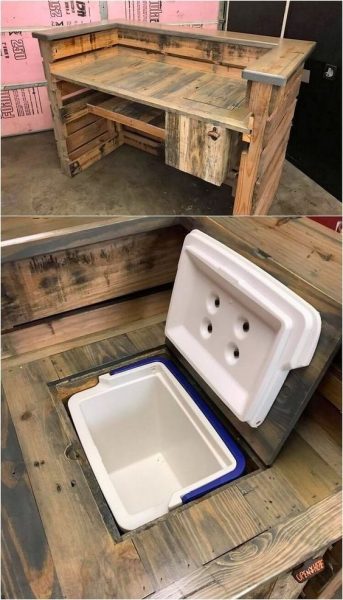 DIY Pallet Bar Ideas: If you want to add a rustic touch to your home, why not build your own pallet bar? And if you really want to impress your guests, include a built-in cooler box.
That way, you can keep your drinks chilled and within easy reach. Plus, it's the perfect spot to stash those extra pool or beach toys. Not to mention, it's great for entertaining both indoors and out.
Whether you're hosting a party or just enjoying a quiet night at home, a pallet bar is sure to add some extra fun. So what are you waiting for? Get creative and start building!
Wheeled cooler box ideal for camping trips, tailgating parties, and picnics
#7 DIY Bar Table Made of Pallet and Corrugated Sheet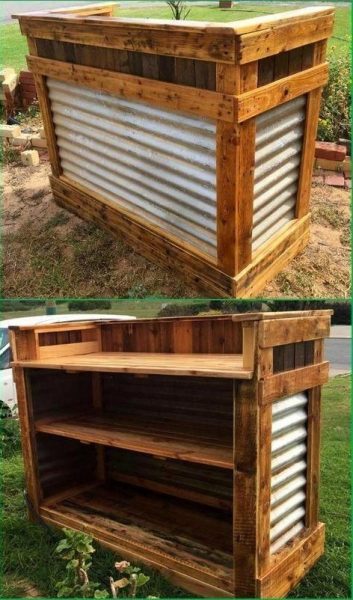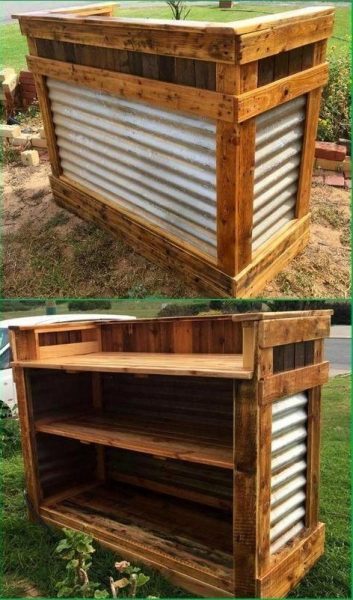 So you want to build a bar, but you don't want to spend a lot of money? No problem! With a little creativity and some elbow grease, you can build a great looking bar for less than you might think.
One option is to build a pallet bar. Pallets are easy to find and relatively inexpensive, and they can be used to create a variety of different looks. For example, you could paint the pallets or leave them natural. You could also add decorations such as lights or signage.
Another option is to use corrugated sheet metal. This material is also relatively inexpensive and can be found at most hardware stores. It's also easy to work with, so you can create a variety of different looks.
Whether you're looking for a rustic look or something more contemporary, corrugated sheet metal is a great option for DIY bar table. So get creative and see what you can come up with!
#8 DIY Outdoor Pallet Bar Ideas With Roof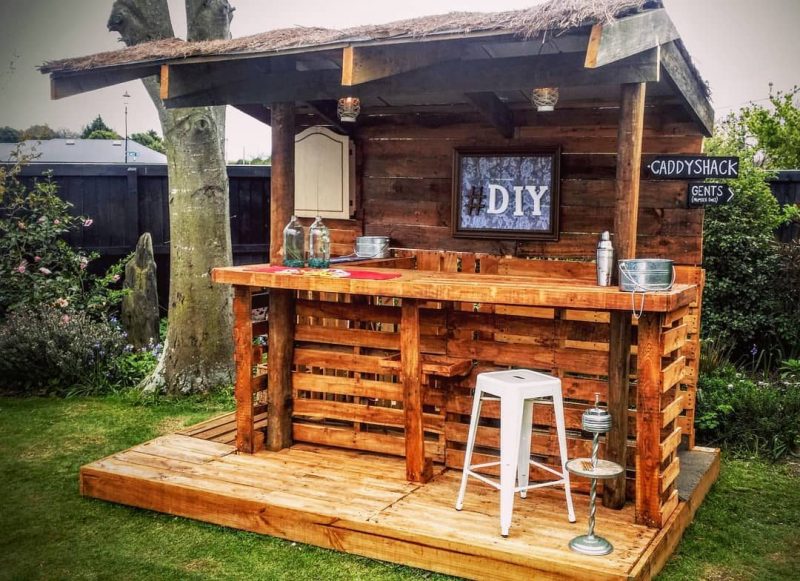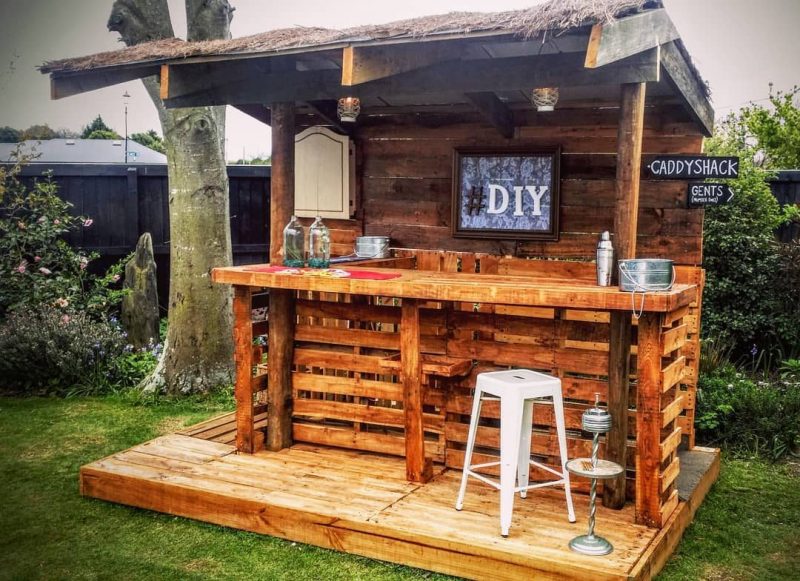 Summer is the perfect time to gather with friends and family for outdoor parties and barbecues. If you're looking for a fun DIY project that will enhance your entertaining space, consider building an outdoor pallet bar.
While many of us enjoy spending time outdoors, sometimes the weather can make it less than enjoyable. You can build a pallet bar with a roof and floor deck for added stability, or you can leave the roof off for a more open-air feel.
This pallet bar will be the perfect place to enjoy a drink with friends, no matter what the weather is like. And because it's only 2 meters wide, it won't take up too much space in your outdoor area.
And because they're made from pallets, they can be easily transported and rearranged if needed. Best of all, these bars are sure to be a hit with your guests. So why not get started on your own DIY outdoor pallet bar today?
#9 Shipping Pallet Bar DIY Projects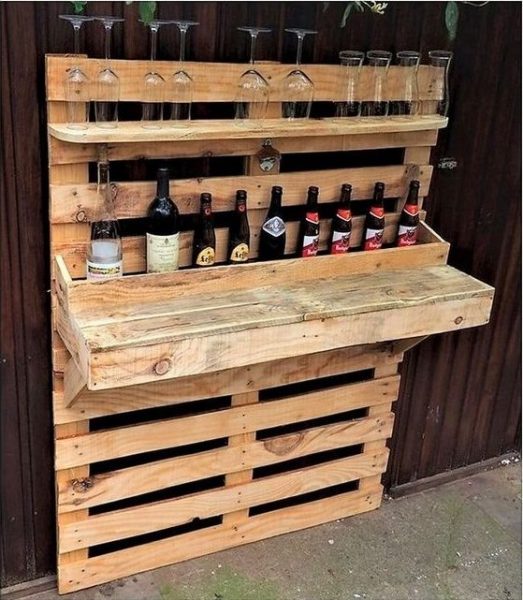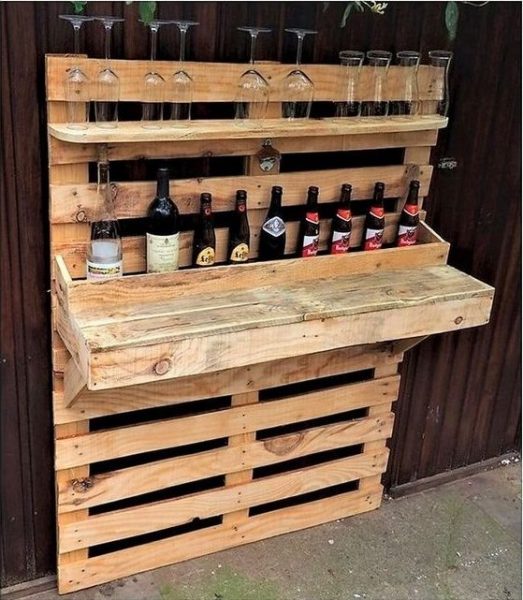 Shipping pallets are often seen as nothing more than rubbish, but with a little creativity, they can be transformed into something truly special. For example, a shipping pallet can easily be turned into a bar.
Place the pallet horizontally on two sawhorses, and you've got an instant desk. And if you're looking for additional storage, try attaching some hooks to the underside of the pallet and hanging glass bottles or cups.
By simply attaching the pallet to a wall and adding some shelves, you can create a unique and stylish focal point for your home. This pallet bars ideas are perfect for small spaces, as they offer vertical storage for bottles and glasses.
But that's not all; this shipping pallets bar can also be used to create a working desk or breakfast nook.
With a little imagination, shipping pallets can be used to create all kinds of one-of-a-kind DIY projects.
#10 DIY Corner Pallet Bar Ideas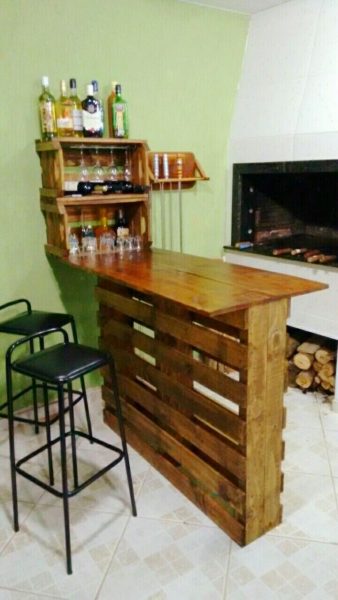 If you're looking for some clever ways to maximize your corner space, then you'll love these corner pallet bar ideas.
By simply repurposing old pallets, it's easy to create a handy corner bar that can be used to store bottles, glasses, and other bar supplies. The large table top is perfect for mixing drinks or serving appetizers, and the sleek design helps to maximize corner space.
Whether entertaining guests or enjoying a quiet night at home, a DIY Corner Pallet Bar is a great way to make the most of any space. Plus, a pallet bar looks fabulous – it's the perfect blend of rustic and chic.
#11 DIY Pallet Bar With Full Height Shelf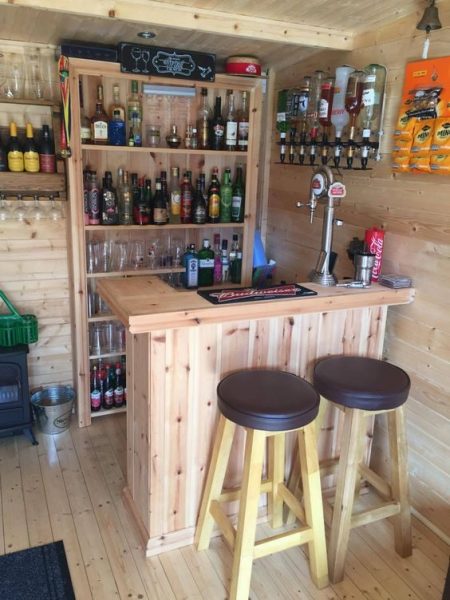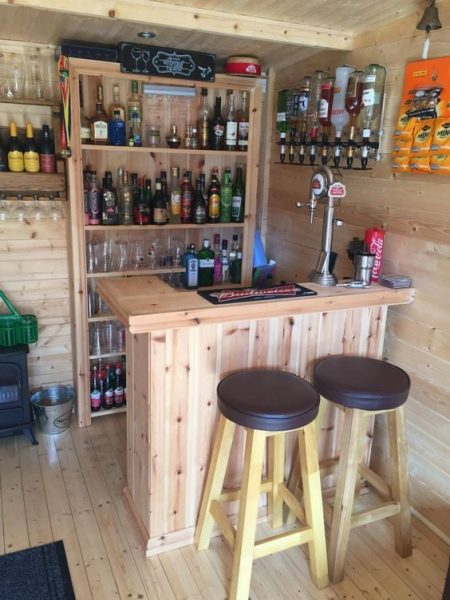 This pallet bar is just the thing for your next outdoor party! The full height shelf provides plenty of space for all your supplies, and the Dutch teak finish gives it a natural, rustic look.
The bar itself is perfect for serving drinks or snacks, and the strong construction means it can easily handle the weight of whatever you put on it. Whether you're hosting a casual get-together or a more formal affair, this pallet bar will be a hit with your guests!
Final Words
We hope you enjoyed our pallet bar table ideas. If you have any questions or comments, please feel free to leave them below. Thanks for reading!
If you liked this article, you might also enjoy our other space-saving ideas, such as our ideas for transforming a small bedroom or our Murphy bed ideas.