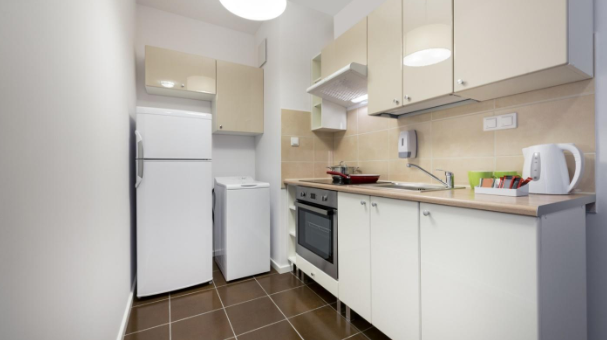 Small kitchens don't always have to be boring, but a lot of homeowners don't exactly know what to do with, and in, such a tiny space. Reaching perfection is quite a challenge when you barely have room to move in an area. 
There are ways to get a kitchen up to your standards, though. Every household has a different view on what it takes to make the room as near perfect as it can be. With our guide and instruction, you'll find it easy enough to piece together the tips you'll need to create your own definition of perfection for your kitchen. 
And trust us, there's a lot more to a kitchen than the cabinet and countertops to work with. But while we're visiting the topic, it's good to know that cabinet and countertop remodels aren't so pricey as long as your kitchen is on the smaller side. For example, whether you want to go with the good old fashioned granite option for your countertops, or whether you want to go with the new and improved quartz option for your countertops, the choice is all yours. You can check out this article for more information comparing and contrasting quartz vs granite. The price won't be too high in either case.
Without further ado, let's get started!
Tip #1: High gloss paint will make space look bigger.
Not only will the glossy paint make the kitchen look better, but it'll make the kitchen feel bigger, too. Glossy paint has a sort of mirroring effect, oddly enough. 
You'll get a color pop with this advancement, too.
Tip #2: Mirroring the walls will also make space look bigger.
For some odd reason, mirrors always make things look bigger than they are (hence the sticker on all of your car's side mirrors that states 'objects may look bigger than they appear').
It's a pretty out-there suggestion, but it's still a suggestion nonetheless. 
Tip #3: Try out open shelving.
Instead of hiding your dishes and glasses away in the cabinets, consider installing open shelving in your tiny kitchen. This will open up the room and give it an airy-like feel.
Make sure you keep it tidy, though. No one wants to see your open shelves cluttered all the time.
Also Read: 6 Kitchen And Pantry Organization Ideas
Tip #4: Use the area above your cabinets as storage.
If your cabinets don't reach all the way up to the ceilings, that means you have storage space above your cabinets. 
All you have to do is run to the store and purchase a few wicker baskets. Then, place the items you don't typically use on a day-to-day basis in the baskets, and store them above the cabinets. You may need a ladder to get at them, but at least you'll be conserving space.
Tip #5: You can use a bar cart as a kitchen island.
Some kitchens are so small, that the option of installing a kitchen island is only a dream. 
If that's the case with your kitchen, you'll need to consider alternate options – and the second best thing to an island is a bar cart!
The cart is moveable and it has extra storage for you to keep necessities. If you have a little extra cash, we'd suggest purchasing the rolling cart so that you can move it when need be.
Tip #6: Hidden prep stations will conserve space.
All you need is a butcher block board and some extra space in a convenient top drawer – and there you have it! You've created a hidden prep station that comes out in the open when you need it to and goes back into hiding when you don't.
We do suggest making the cabinet under this drawer where the garbage goes, though.
Tip #7: Storage bins and sliding doors will also conserve space.
Installing sliding doors may be pricey, but it sure does make it convenient to place items you need to keep tucked away.