Breakfast is the most important meal because it's provides you body and mind fuel after an overnight fast. And to help you gain the energy to make it through your busy morning until lunch time. The body needs these essential nutrients and research shows that if these are missed at breakfast, they are less likely to be compensated for later in the day.
By creating a comfortable and stylish breakfast corner, It's may be able to help you to savor your chosen breakfast meal each and every morning. Large or small, breakfast nooks are a perfect way to make the most of extra space in or near your kitchen.
Look at this best breakfast nook design ideas that i gather from around the web with special concern for small corner/spaces. See how to add a breakfast nook with storage, and how to tuck a breakfast nook just about anywhere to accompany your breakfast.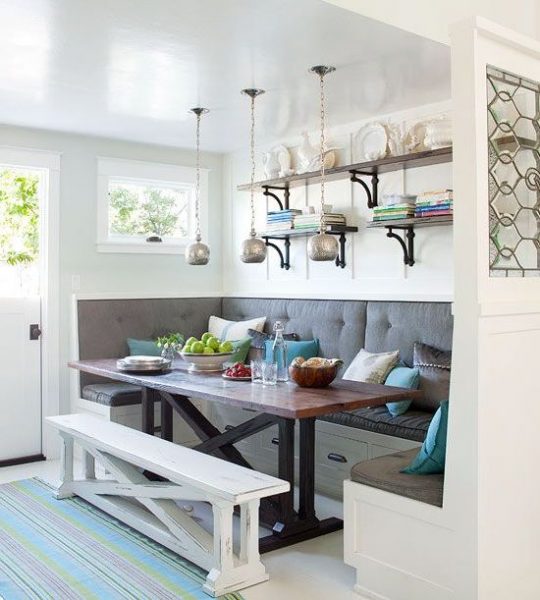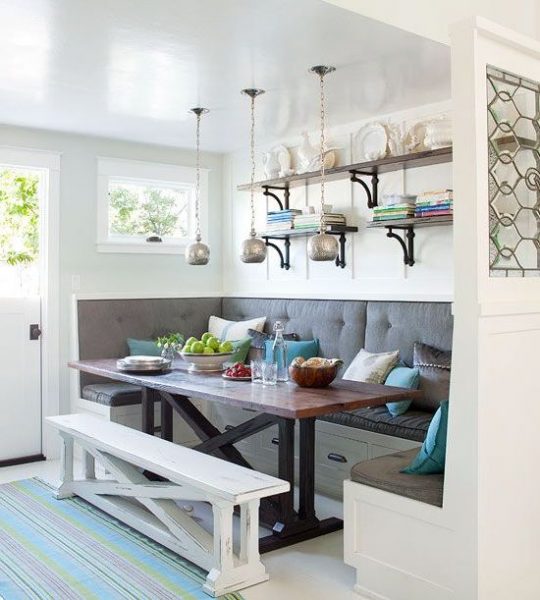 Perfect design for any small house owners. Take into consider you need to take advantage of each and every inch of home. This spacious banquette style seating breakfast nook can be your main dinings and storage all in one.
---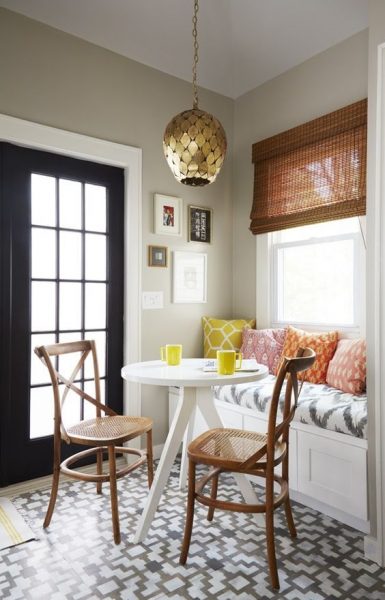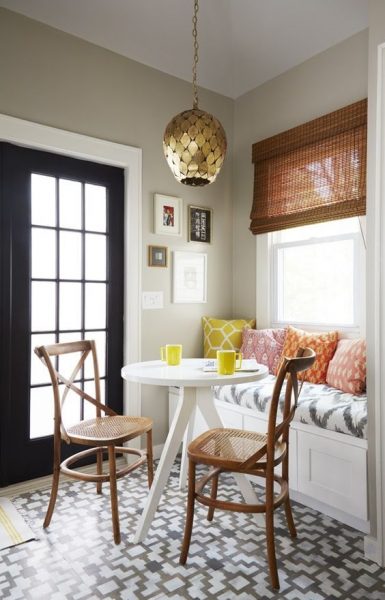 Fresh decorating. With small reconfigurations and big ideas you can also transform your blah corner rooms to this beautiful coffee nook. The hanging lamp also blended together with whole rooms and creating noticable aura.
Source: Nest Studio
---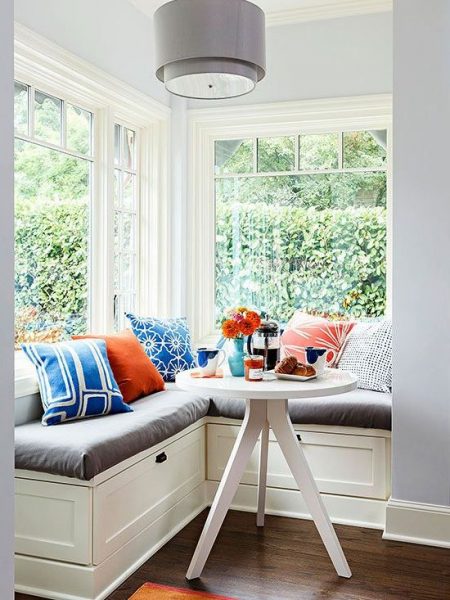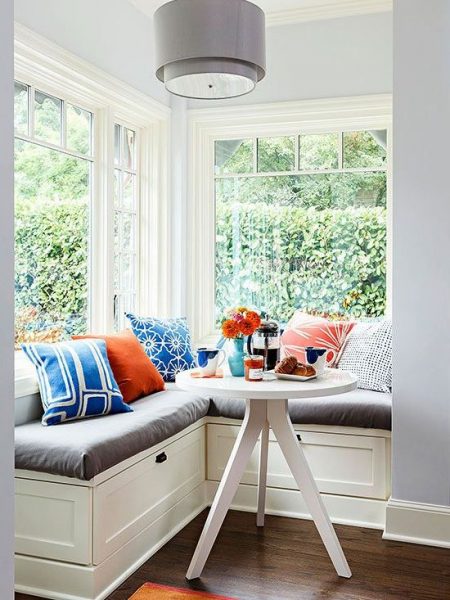 This adorable breakfast nook takes advantage of clear windows that provide natural sun shine and beautiful view. The built in storage benches keep the breakfast corner casual and cozy.
---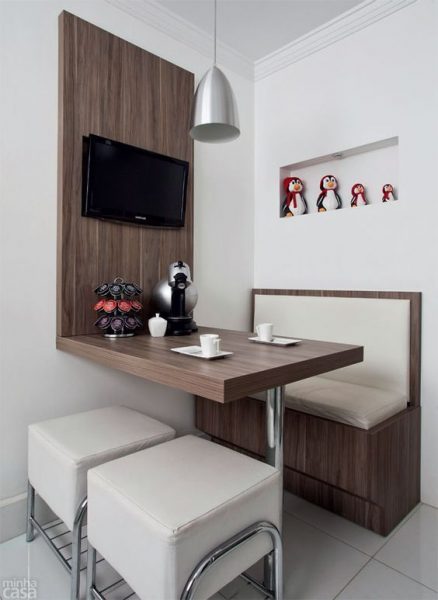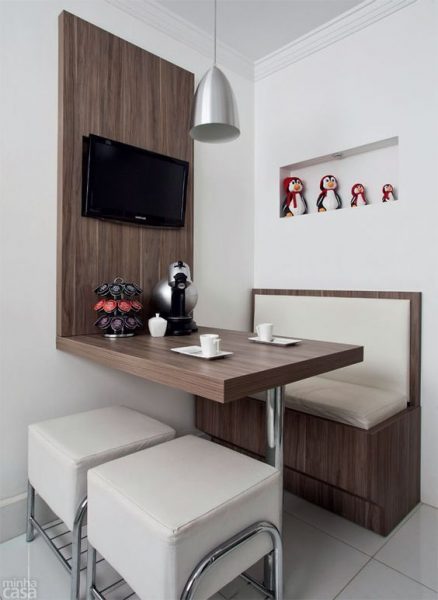 Genius and unusual kitchen nook ideas. Bring elegant look into this small spaces. Really loves the table that merges with tv holder.
Source: Miha Casa
---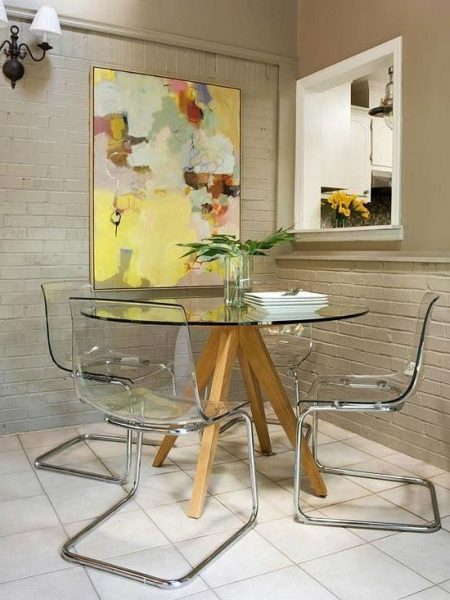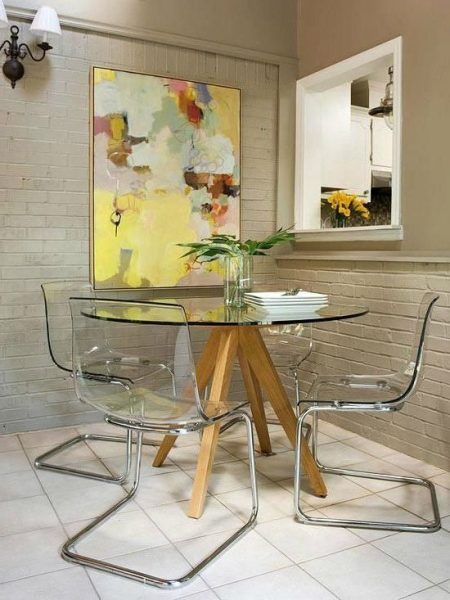 Awe-Inspiring transparent breakfast nook ideas. Comes with stunning glass table and dining chairs. I think it's can be more amazing if placed on wooden flooring rooms or grass carpets.
---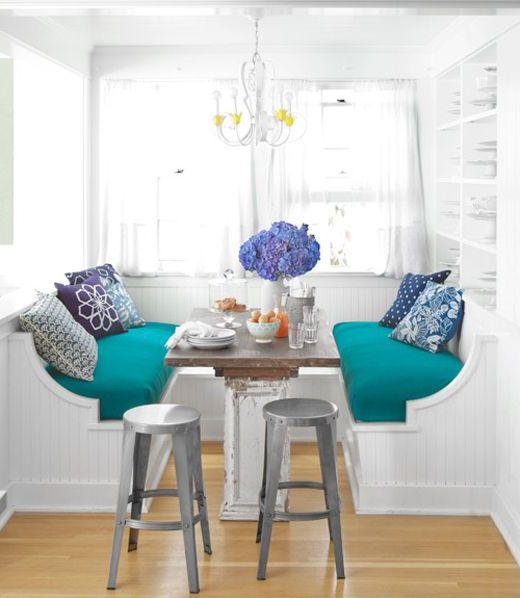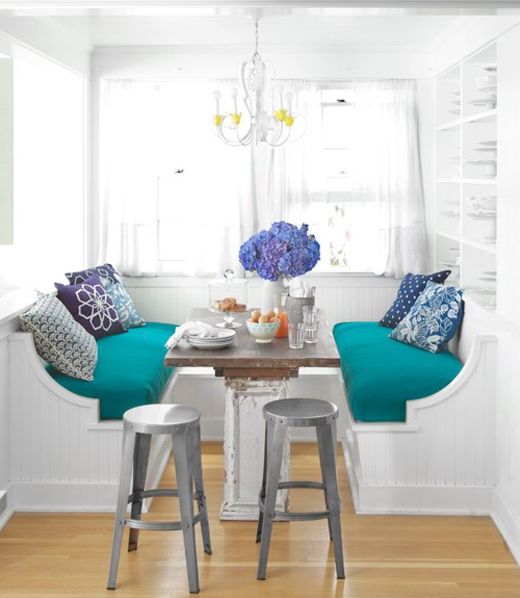 Bright & Colorful breakfast nook on beach cottage looks. Love the Color combo, booth seating, stools and rustic table.
---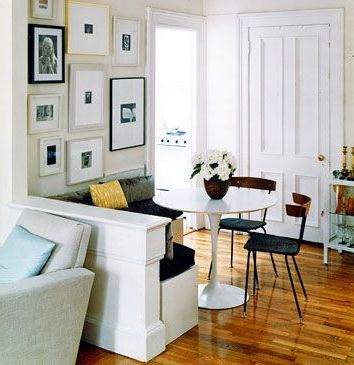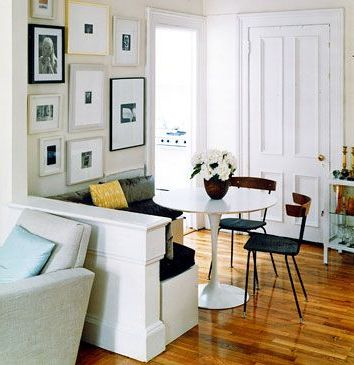 Simple pedestal table that provides ample seating. Truly unusual yet creative breakfast nook placement.
---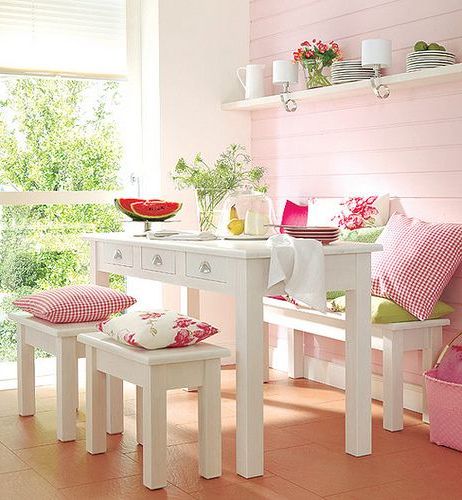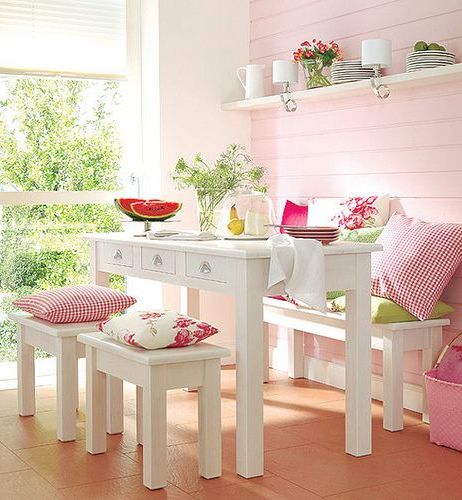 Eye-candy and adorable breakfast nook. Love the pink and green color choice.  The all white table and chairs reinforceall all the colorful things.
---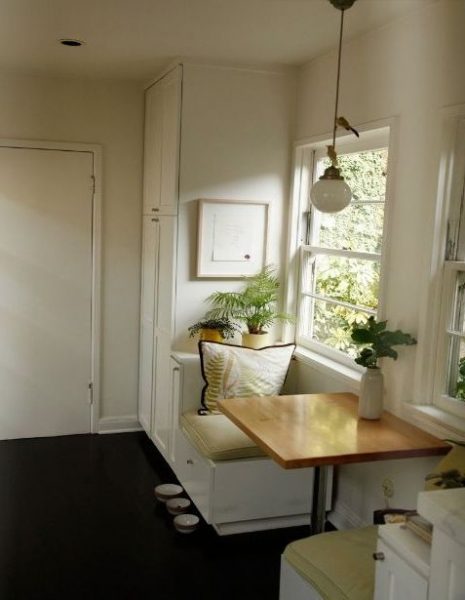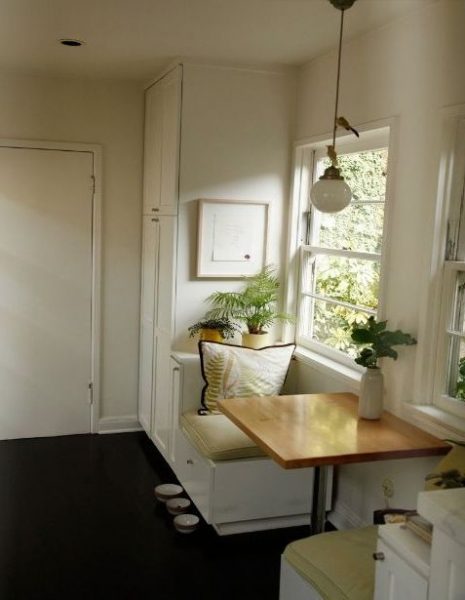 Can you feel a sense of peace from the picture above? Love this natural style breakfast nook. Comes with simple light-wooden table, single chairs with understorage and a plain white vases.
---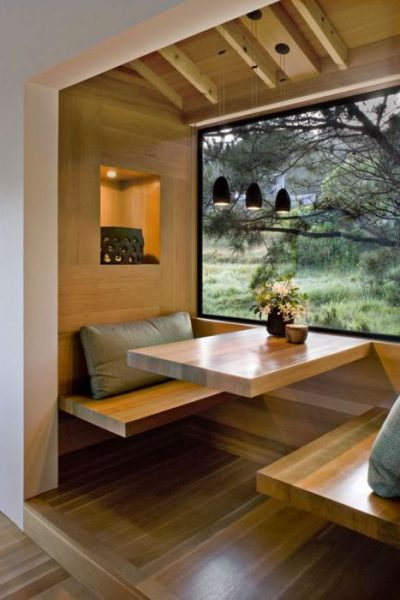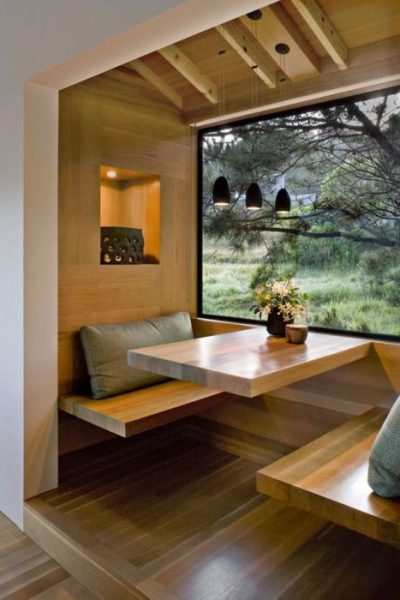 Another breakfast nook ideas with undeniable sense of peace and tranquility that comes attached with flowing design that captured love of Japanese simplicity.
---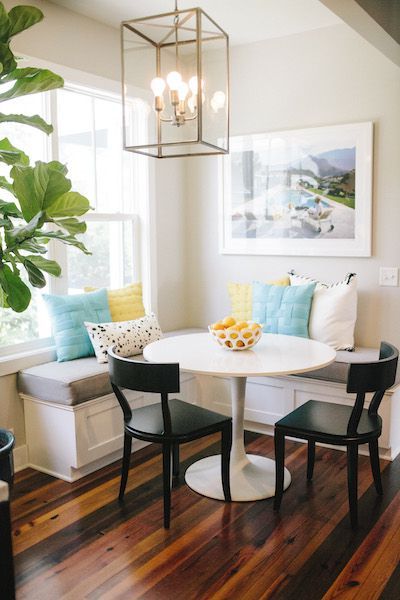 Enchanting breakfast nooks decor. Natural light, highlights the details in this small dining nook. White window and walls provide a beautiful backdrop for the dark wicker chairs. A nest of bulb lamps in frame also grant plenty of warm atmosphere at night.
---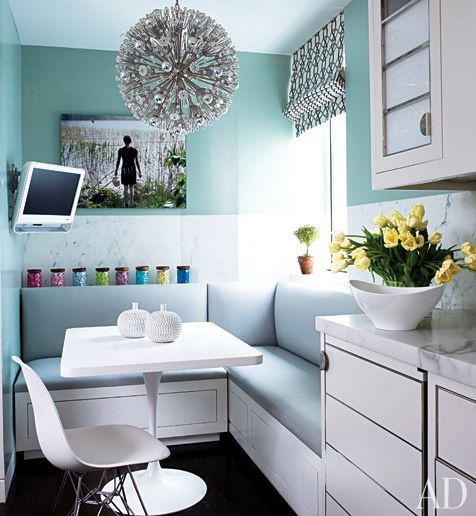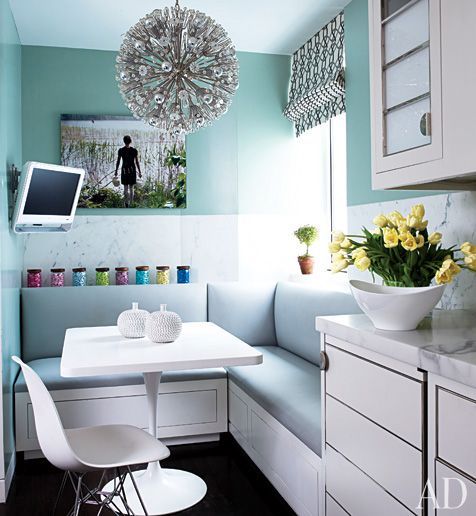 Simple clear design with retro style L-shaped chairs. Love the mounted tv, rainbow candy-jar and all ornaments sets on this design.
---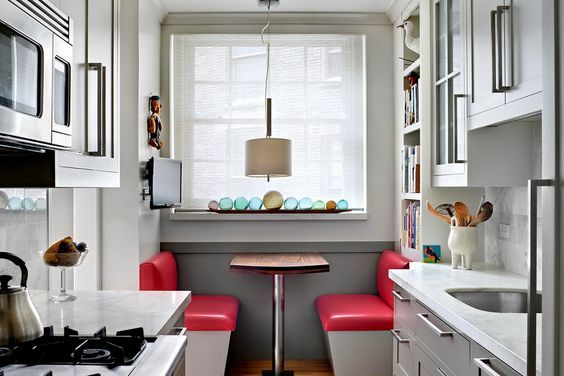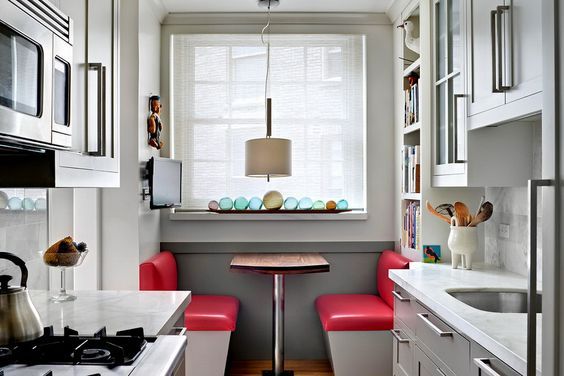 Dining nook for tiny houses or mobile house. Bold bench color make this small corners noticeable.
Source: nytimes.com
---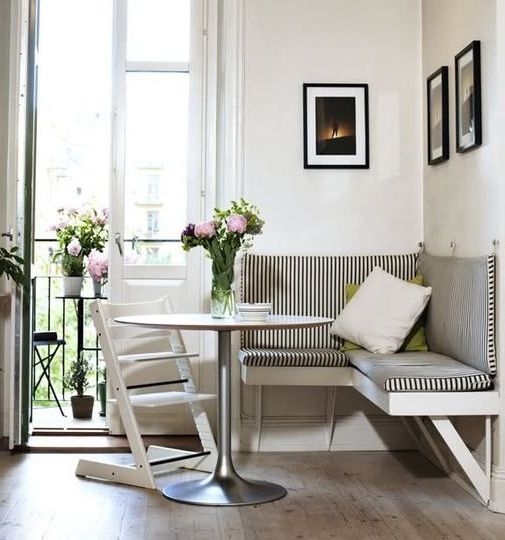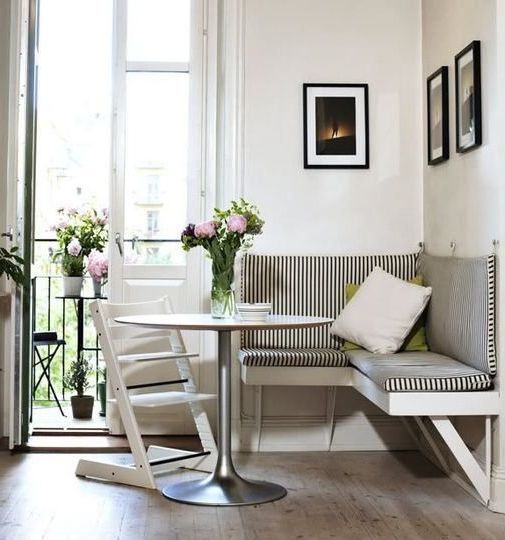 The little details of this breakfast nook tie the room together. The patterns on the seat add style to the room. The black photo frame and white make contrast and complement each other and create a cohesive look.
---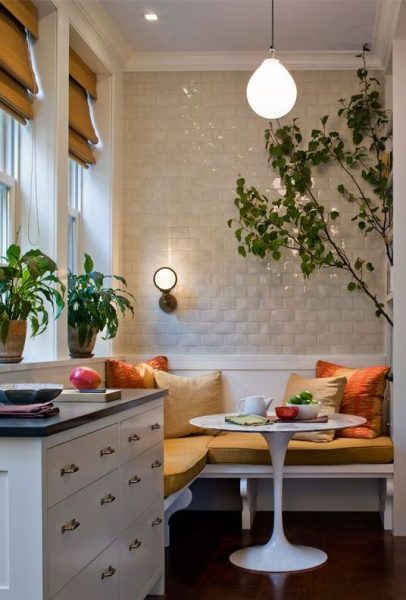 A sleek round table, glossy white brick wall and warm color seating transform a narrow breakfast nook into an intimate gathering spot.
---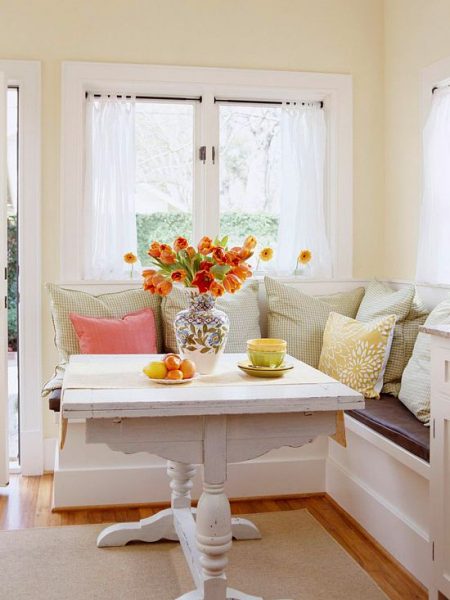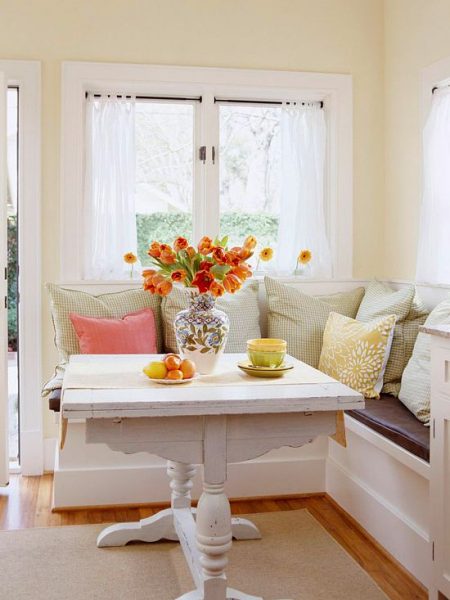 Attractive and cute breakfast nook ideas. Comes with smart use of recycling and remodelling parts/furniture.
---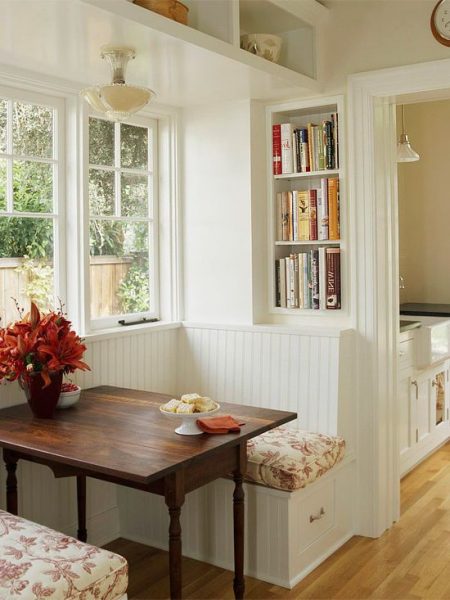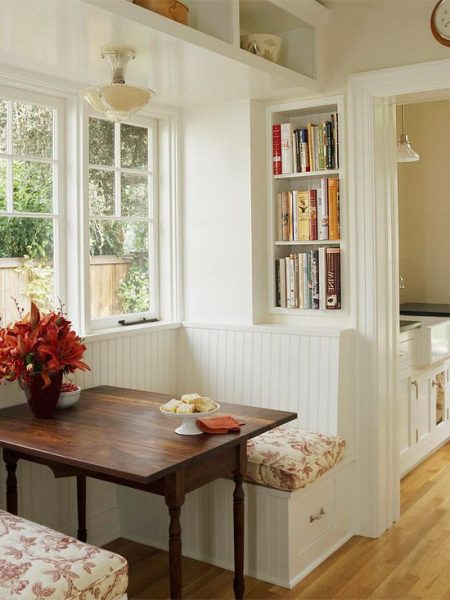 A convenient and purposeful dining area. Not just a place to sit down and grab a bite, the breakfast nook also provides extra storage with drawers below and bookshelf above.
---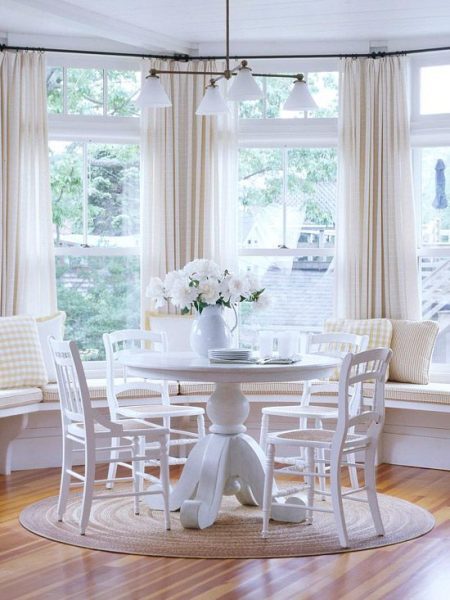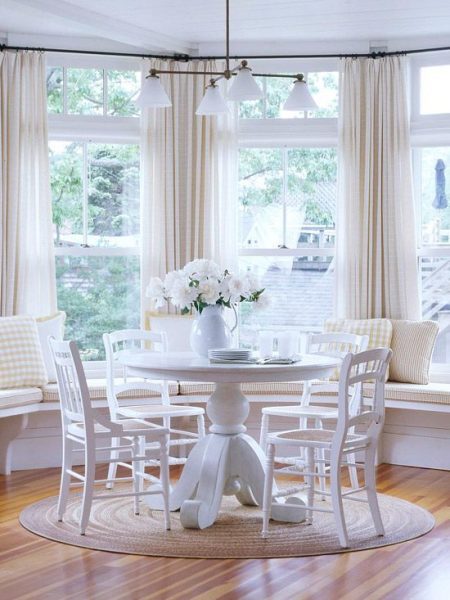 Biggest breakfast nook ideas of all the listed. The space sports curved walls like this cottage nook are perfect spaces to sets the nook . A built-in bench hugs the curves of the window to provide extra seating.
Source: bhg.com
---
---
Breakfast Nook DIY Picture
---
---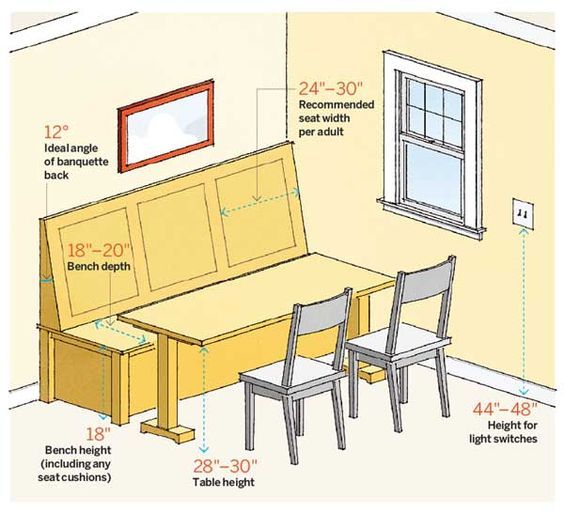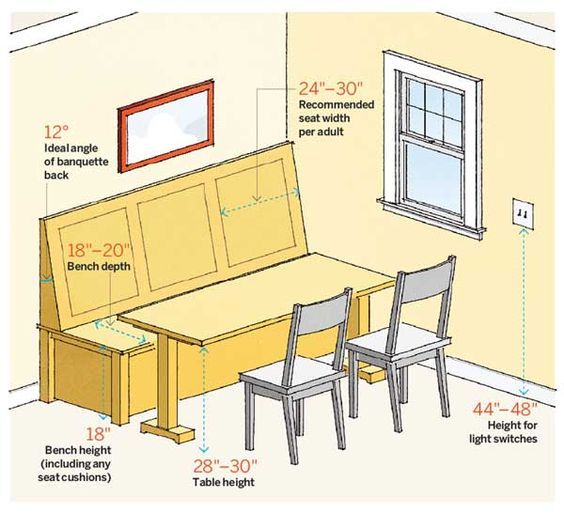 Basic Kitchen Nook Guidelines and Measurement
---


Dining nook build process picture
---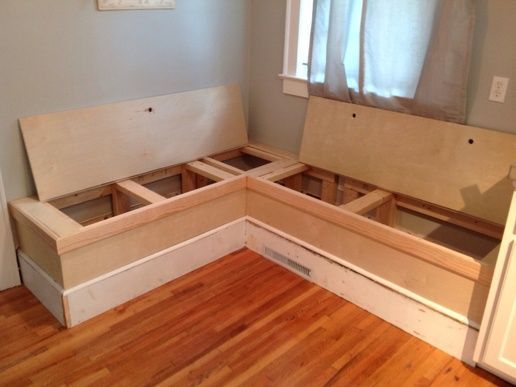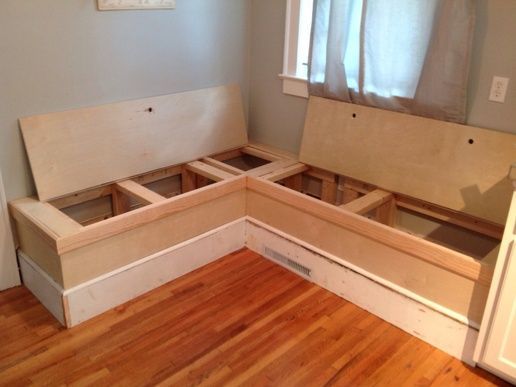 L-Shaped Breakfast Nook DIY Guide [Full Article Coming Soon]
Material used:
8 2x4's
2 1/2" smooth plywood - project board
Drywall screws 2-1/4"
Brad nailer & brads - 1-1/2"
Table saw
Miter saw
Paint (your color choice)
Caulk
Baseboard / trim
2 Piano hinges
---
---