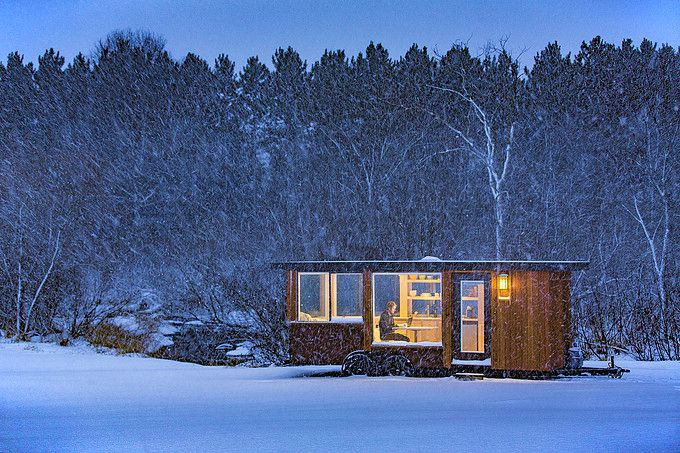 Vista is an escape micro homes to a private space that is both sheltering and directly connected to nature. Build with clean, quiet and open design. This on wheels micro homes is suitable for a guest house, small office or rental space,  perfect to escort your weekend to anyplace in any weather.  Designed and Construct by escapetraveler and just right for that special space of your own to escape the stresses that invade all of our lives.
This micro homes Exterior has cedar vertical siding and cedar trim with steel accent and protective panels. Designer installed Full light 36″ glass entry door. Low-E windows, most of which open. Some or all windows can be obscured glass for privacy.
Available in two models. Vista and Vista XL . Basicly has same feature except for the bathroom only. Vista equipped with shower and bathtub for Vista XL models.
---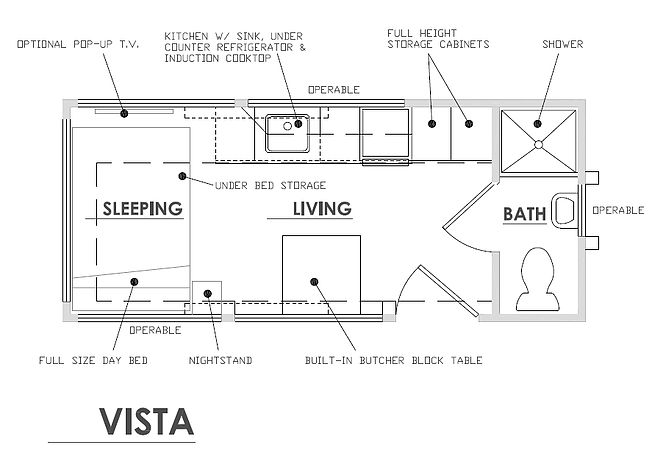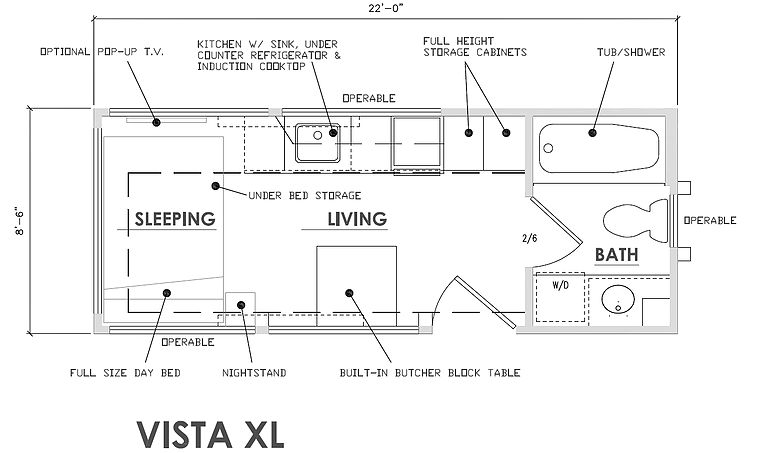 ---
Micro Homes That Maximize Spaces In Every Inch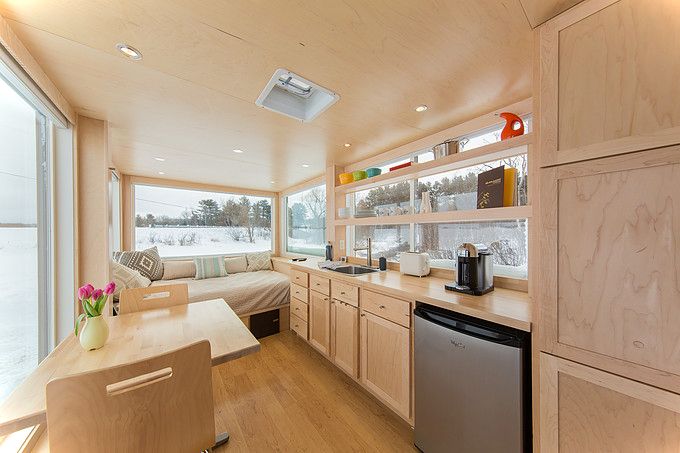 Interior has Pine T&G with pine trim and painted with drywall colors. Laminate flooring available on the oak hardwood. On a daytime rooms filled with rich sunshine comes from Low-E windows and skylight holes.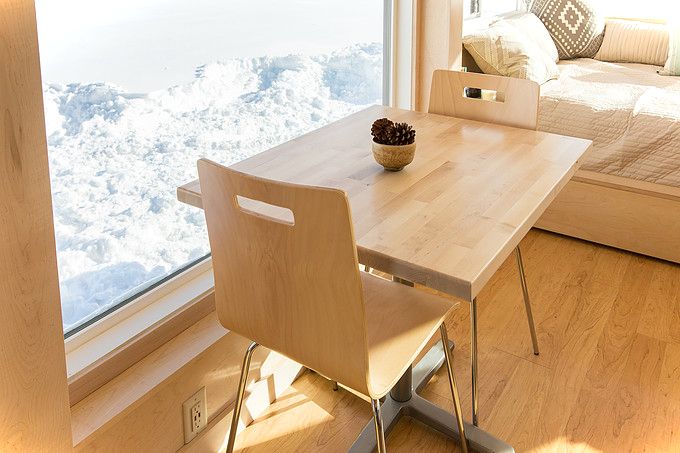 Solid butcher block table and ready for your work, dine or  just daydreaming while gazing the world through the windows. Perfectly matched in colors. 30 amp electric plug intentionally installed here (picture above) to ease for gadget charging.
Take a look at the picture below and guess the difference.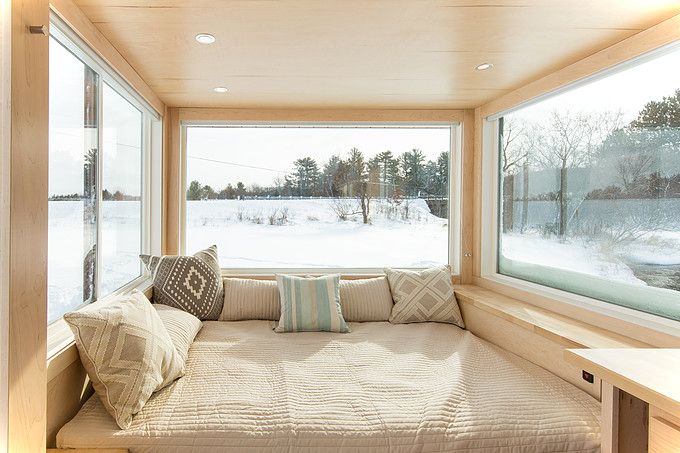 Just the splendor of nature.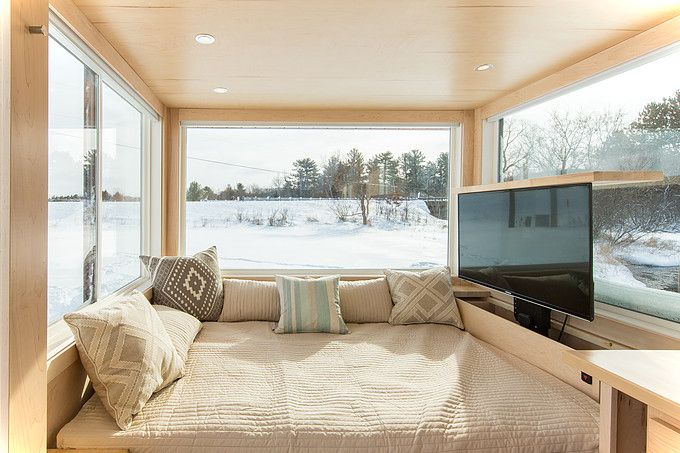 Here we go,  Suprise! TV Popup!! Hidden perfectly under the side frame. Press the button to show and hide. Practical
Daybed available on double bed size or queen size optional. Built in with extensive storage. placed on the edge and surrounded by panoramic windows. Just perfect for lazy days.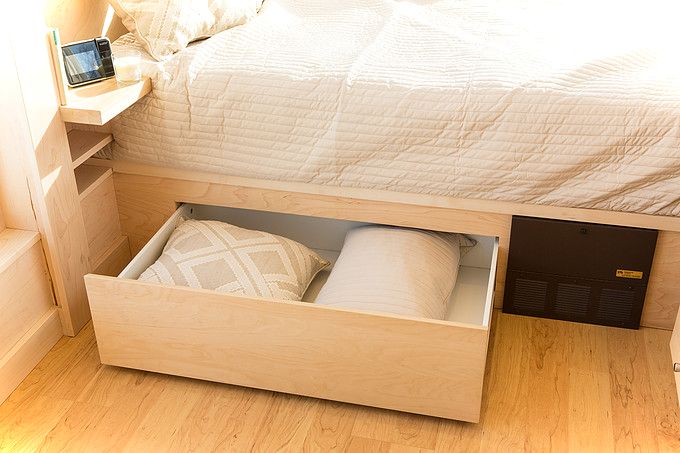 This is what i means 'Maximise in every inch". Storage under the table, large enough to store pillow and blanket.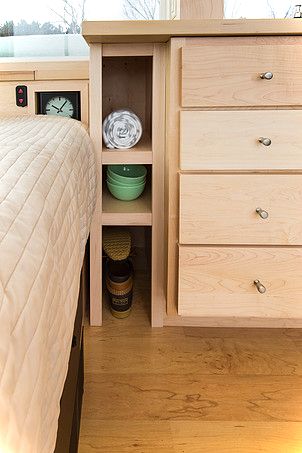 Every inch of this micro homes used and detailed. Don't miss the clock nest near tv buttons.
Kitchen area equipped with the stainless sink, designer faucet,  kitchen table, undercounter fridge, solid butcher block tops, double rows upper shelving, tall mirror and maple cabinetry.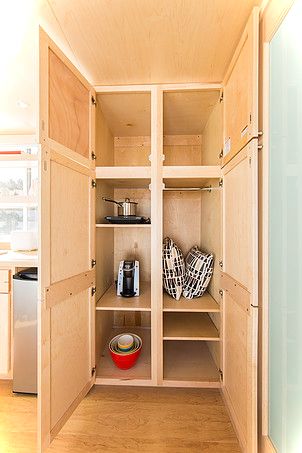 Big cabinet with plenty of rows, eases you organizing kitchen appliance or other stuff.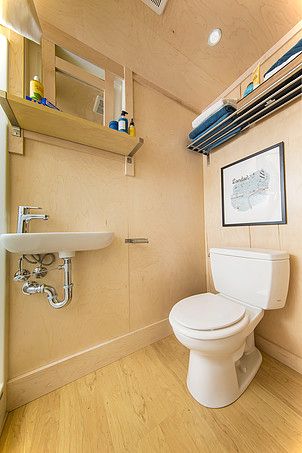 Amazingly efficient furniture arranged found in this bathroom. Plumbing comes with 3/4″ pex water lines ad on demand LP hot water heater. And there also shelving over toilet to keep the towel and other stuff.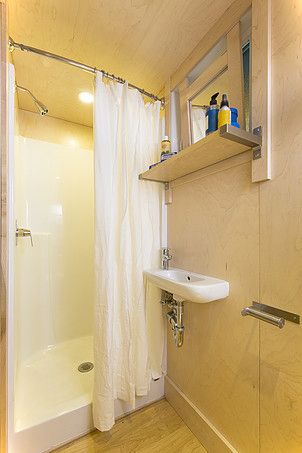 Showers without doors available for Vista Models. Adjusted for tinyhomes without lower user satisfaction.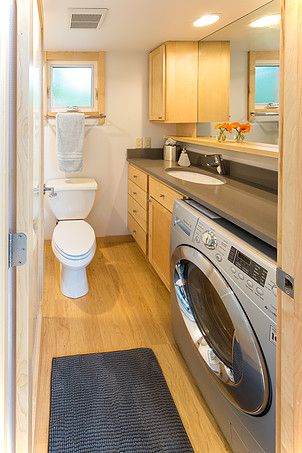 Bathroom design for Vista XL models. Not only has bathtub even more also available extra slot for washer/dryer machine.
Vista Micro Homes On Wheels Specification:
Size: 
20' long,(25' including hitch) x 8.5'W x 9'6"H (10'6"H with rooftop A/C)
XL Version is 2' longer) RVIA Certified Travel Trailer
Square footage: 
160 sq/ft.
Weight:  
6500 lbs.  (varies based on design requested)
Trailer: 
Steel, 6,000 lb HD tandem axles, radial tires, electric brakes, 
Hopkins break-away safety system, easy use leveling jacks,
steel, rodent resistant belly.
Climate Control Options: 
High efficiency ceiling A/C, LP furnace with thermostat.Baseboard heat included.
Source: www.escapetraveler.net