Woodworking Projects to Try This Fall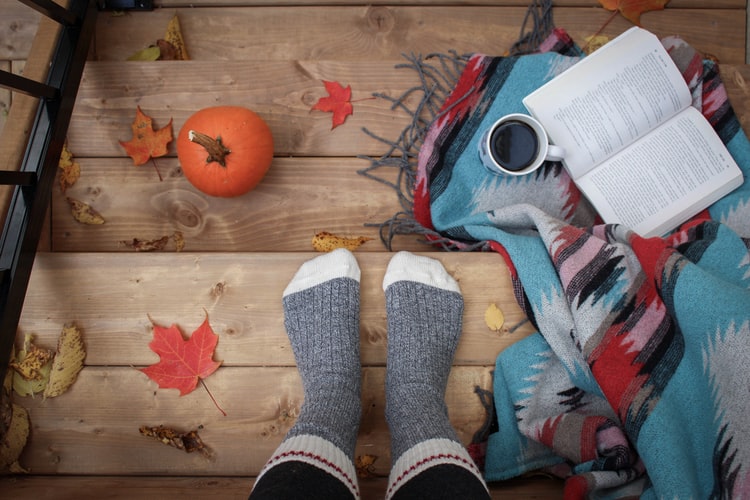 Woodworking is a hobby that some of us picked up in school, later when we moved into our first house or after retirement. A lot of hobbies require time, money and patience but it's nice to have something to show for it, something you can use to decorate your home, give a loved one as a gift or even sell and make some extra income. 
This fall we've compiled a list of projects that match the season's atmosphere. You can choose one according to your skill level and personal taste.  
Wooden Sofa Sleeve and Cup Holder
A sofa sleeve is one of those things that you'd never think you need, but once you have it, you wonder why you didn't get one before. You can sit on the sofa with a nice, hot cup of pumpkin spice cocoa and curl up under a warm blanket. Or if you're not really into all that coziness you can make one for your loved ones. 
You could place one on both ends of the sofa and it can also be modified to hold a mobile phone.
This is one of the easier to make projects. You'll need clamps, a hole saw, tape measure, pencil and a power drill. 
Hole saws are cheaper than boring bits, you can get one for as little as $5 in a home center. You probably already have a power drill, but if you're ready to step up your game you can go for an impact driver. That's what professionals use as they're lighter and smaller than a drill driver and have a higher torque output which helps you get the job done faster. Search for best impact driver review online to compare prices and find the right one for you. 
Then you need a board that you'll cut into three equal sizes, wood glue, wood stain and polyurethane. You might already have sandpaper and steel wool from previous projects. 
You'll have to measure your sofa to determine the size of the board, and you can decide the size of the cup hole according to what cup you're planning to place there. Make sure to clamp the wood in place before you start or you'll risk ruining the finish of your wood. 
The next step is sanding the inside of the hole and the wood board on both sides, but stay away from the edges as you need to connect them first. 
Connect the sides, using a somewhat thin layer of wood glue and use a damp cloth to remove the extra glue before it dries. Then clamp the sideboards to the top board and screw them in place. You can skip this step but it makes the sideboard sturdier. 
All that's left now is the finishing touches: sanding, wood stain and seal it with two coats of polyurethane to protect it from cup condensation. 
Patio Chairs
If you prefer sitting outside before it starts to snow, you can make yourself one or a couple of patio chairs. This project is suitable for a beginner to intermediate level. 
You'll need a drill, 7/16-in. wrench, six clamps and in this case it's better to have an orbital or random-orbit sander. It's faster if you use a miter saw, an air compressor and an 18-gauge brad nailer, but it's also possible to cut ports with a circular saw and use a hammer to drive the nails. 
If it rains a lot in your region, it's better to use cedarwood.
The instructions for this project are a little bit lengthier, so it's better to look online for a step by step tutorial with pictures, but you'll see that it's not very complicated. After you're finished, you can buy some pillows from a home center and enjoy your pumpkin drinks outside
Storage Bench
It's basically a box with legs and you can use it as a sitting space, but also to store blankets and pillows inside so when you want to spend time enjoying the fresh autumn air, you don't have to go back and forth to get everything you need.
This project is meant for intermediate woodworkers.
The tools you'll be needing are a table saw, a jigsaw, a drill, and a sander. In order to assemble the frames, it's also good to have either a pocket-hole jig or a biscuit joiner. 
You'll need pine boards (you can also use cedar but that will double the cost), plywood, pan head screws, galvanized drywall screws, nails, hinges, exterior wood glue, weather stripping, footpads and lid support. 
Not all biscuit joiners are created equal. The Lumber Work website can provide you with more information about it.
Fire Table
This project is for advanced woodworking hobbyists as it requires a wider array of skills such as masonry and metalwork, but if you are up for the challenge it can be a great addition to your garden.
You'll need a table saw for the straight cuts and a band saw or jigsaw if your design has any curved cuts, a Japanese flush saw for joinery, a drill (a drill press with be better) and suitable bits. 
You'll also be using clamps, chisels and a mallet.
For the metal, you'll be needing a jigsaw with a metal cutting blade as well as a hand drill with a metal drill bit. 
When it comes to materials, depending on the design you choose, your list should include hardwood boards, dowels, stainless steel sheets and fireplace curtain screens. 
Wooden Autumn Sign
If you managed to do everything, you can make it a picture-perfect with a wooden autumn sign. Some of the leftovers from previous projects can be used as you just need to glue them together. Nailing is optional. Then you sand it, paint it and maybe apply a print of your choice.
The easiest way to transfer a printed image or text to wood is by using acetone. You'll need to print out the mirror image of your favorite design and fold it over the wood sign, then you can use a shop towel that you dipped in acetone to soak the paper while you're pressing firmly. It shouldn't take more than a few passes. After it dries you can seal it with polyurethane and hang it on your front door or place on your patio, however you like.