It's no secret that moving can be a stressful process. Packing up all of your belongings and unpacking them is a real ordeal. Thoughtful planning and keeping a neutral perspective about everything that you have to do could take a lot of the worry and hassle out of a move. Here are a few things that you can do to make the process easier to manage.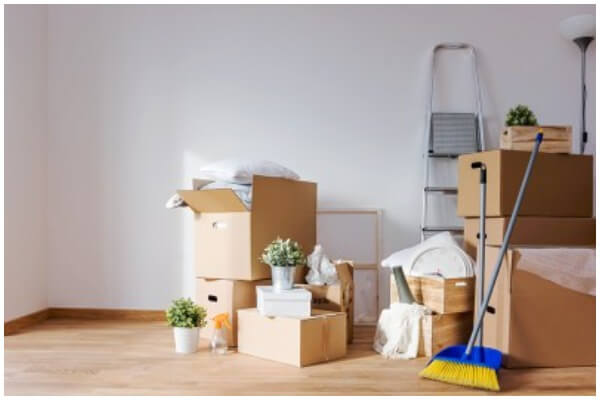 1. Bring in Reinforcements
If you don't have a ton of stuff to transport or you're moving into a furnished apartment, handling a move on your own might be doable. However, despite not having tons to take with you or far to go, it's still a serious project. Trying to move all of your furniture and belongings on your own is no small feat, and you should definitely get help from professional movers if you have a lot to move or you have especially heavy items. Picking up and carrying heavy items can be hazardous, and the last thing you want to do before you have to unpack an entire household is hurt your back or sprain something. Also, attempting a move without enough manpower might result in damage to your items or the property that you're moving into.
Check out reputable local movers online, and seek out a competitive quote. Some companies charge hourly rates and others charge flat fees. Verify that any company that you're considering hiring is properly licensed.
Make sure that the company you hire has general liability insurance. If you're moving into a condominium or apartment building, a property management company may require you to request a Certificate of Insurance to serve as proof that service providers who come onto the premises have sufficient coverage. Muval offers covers on most moves booked through their platform.
2. Start Decluttering Right Away
Don't get too overzealous about preparing for the big day and start packing up all your stuff weeks in advance. If you jump the gun with packing, you'll have to sort through boxes to find the stuff that you want to use before you're in your new home. Living with all of your belongings in disarray for any longer than a few days could make this transitional period when you're feeling like you have one foot out the door seem even more disruptive and chaotic. Also, you'll wind up having to pack things twice.
What you can start doing immediately to get the ball rolling is throwing away stuff that you don't really need. Declutter your home one room at a time. Bringing things you hardly ever use into is going to make it tougher to organize everything and make good use of your new space. Also, it could unnecessarily inflate your moving expenses.
If you have to get rid of larger items such as old furniture, that task might not be as simple as leaving it on the curb for waste collection. Many cities and municipalities require people to arrange for special pickups, and some don't handle large item disposal at all. If you have to get a junk removal company for assistance getting rid of unwanted items, you'll want to set that up and have it crossed off your to-do list well before your moving day. If what you're discarding is in good enough shape to donate, it might be possible to arrange to have furniture donations picked up for free.
Also Read: Moving Tips for Seniors in 2023
3. Don't Procrastinate About Unpacking
It can be tough working up the willpower to unpack all your stuff. A mountain of boxes in every room is seriously daunting. However, until those boxes are gone and all of your belongings are where they should be, you won't really be able to settle into your new home and start enjoying it to the fullest. Bite the bullet and get going on unpacking as soon as you are able to. Consider enlisting friends to help. With a few extra hands on deck, it will go much faster and might actually turn out to be a fun get-together!
Despite being excited about where you're moving to, it's understandable that you might have mixed feelings about leaving a place where you've lived for a long time. Any type of change might feel a little uneasy, even a positive change. Moreover, uncertainty about what living in your new home is going to be like is bound to evoke apprehension. Taking the right steps to plan your move will help to mitigate moving-related stress and make you feel more confident about starting this new chapter in your life.