Whether you live in a city apartment or suburban home, when it comes to living space, every square inch counts. Having a small living area can present certain challenges that limit your ability to be creative with how you use the available space. But, luckily there are quite a few smart and simple ideas for maximizing whatever room size you have without breaking the bank.
In this blog post, we'll cover four of our favorite tips and tricks that will help you make the most out of whatever living area you have while still creating an inviting atmosphere – one where friends and family alike feel comfortable relaxing or having fun! So keep reading if making better use of your existing space is something on your to-do list, or if you're looking for a place to call home.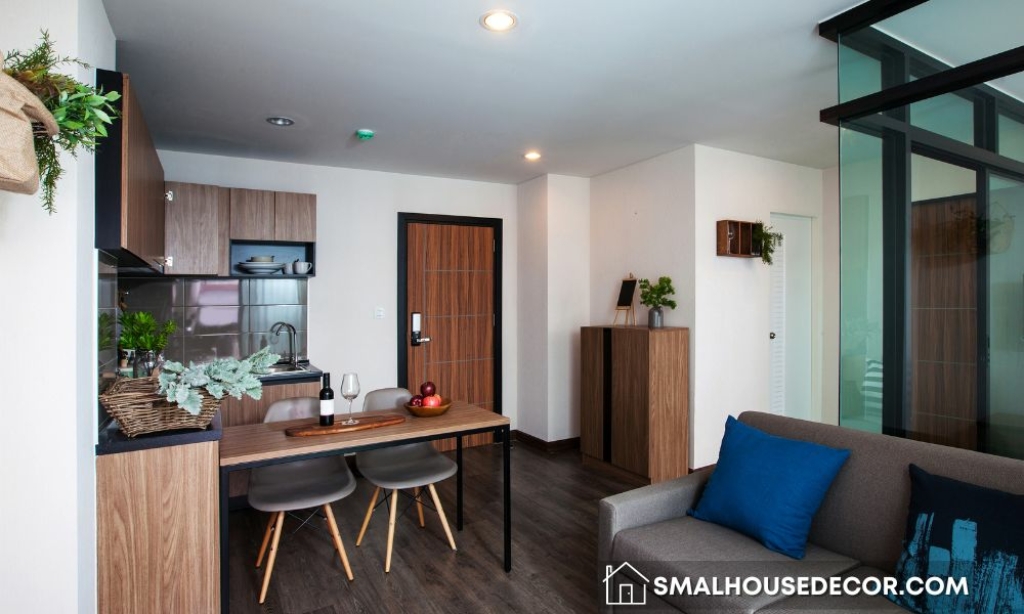 Tips for finding a place and making it your own
Finding the perfect space to buy requires some consideration and research to ensure that it meets your needs and preferences. Start by assessing your lifestyle and the features that you require in your living space. For instance, if you enjoy outdoor activities, you may want to consider a property with a garden or a balcony. On the other hand, if you work from home, ensure that the space you choose has sufficient room to set up a comfortable and functional workspace.
When searching for a property to buy, it's also essential to consider its location. A convenient location should be easily accessible and close to essential amenities such as shops, schools, and healthcare facilities. As the people from hudsoncondos.com note, buying a condo should be an informed and transparent process. Additionally, take into account the neighborhood's safety and security, and ensure that it aligns with your lifestyle and preferences.
Invest in furniture pieces that are multifunctional
Furnishing your home is no small feat, especially when you're trying to maximize space and functionality. That's why investing in furniture pieces that can serve multiple purposes is an excellent idea. Not only can they save you some floor space, but they can also help you effortlessly transform your living arrangements.
Imagine a storage ottoman that doubles as a coffee table or a sofa with a built-in pull-out bed for your overnight guests. With multifunctional furniture, the possibilities are endless. Instead of settling for a single-use piece that will eventually just take up unnecessary space, opt for versatile, multipurpose furniture pieces to add both value and style to your home.
Install wall-mounted shelving
Elevating your home decor is as simple as adding wall-mounted shelving and under-cabinet lighting to your kitchen or living space. Not only do they provide much-needed storage for your everyday items, but these additions also create an open and airy feel that enhances the overall atmosphere of your home. With the extra storage space, you can make your living area look and feel more spacious and clutter-free.
Plus, the added light from the under-cabinet lighting can brighten up even the darkest corners of your home. So, if you want to create a beautifully functional living space, consider installing wall-mounted shelving and under-cabinet lighting to take your home decor to the next level. Keep in mind, though, that if you're renting, you'll need to get permission from your landlord before making any changes.
Also Read: 5 Things To Consider Before Buying A Condo Unit
Reorganize the furniture in each room
Tired of feeling like your furniture is haphazardly thrown together in each room? Consider reorganizing to create more functional areas that make the most of your space. With a little creativity and effort, you can transform your living room into a cozy entertainment space, your bedroom into a restful oasis, and your home office into a productive workspace.
By strategically placing furniture, you'll not only make your home more comfortable but also more visually appealing. So why not experiment with different layouts and see what works best for your lifestyle? You might be surprised at the new possibilities that open up. Plus, it's a fun and easy way to refresh your home without spending a penny.
The space in your home no longer needs to feel cramped or limiting. As you have seen, there are numerous ways to maximize your living space. From investing in multifunctional furniture to reorganizing the existing pieces, utilizing the vertical space, and opting for wall-mounted shelving, there are various options that can help you turn a tight corner into a cozy living area.
With the right ideas, creativity, and budgeting, you can transform an ordinary small room into something stylish and functional. No matter what small changes you decide to incorporate into your home, the goal is to create an atmosphere that makes you and your family feel comfortable and encouraged.