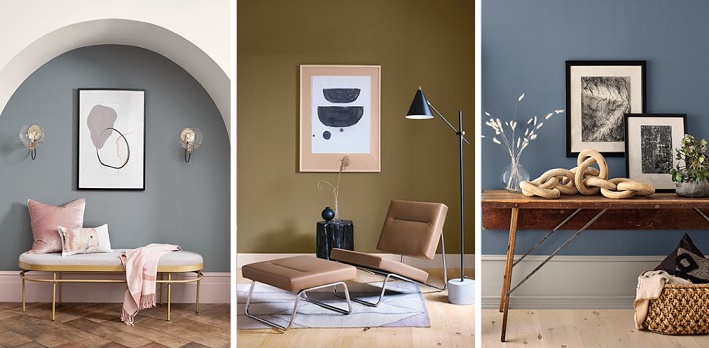 If you are into redecorating and remodeling your bedroom, the best way to start is to paint the walls. Every colour has a different meaning and a different effect on people. Stay true to your style, and choose the perfect shade according to your furniture and accessories colour. Every interior designer knows that colour is a powerful method to transform the room and bring life to any bedroom design. You can mix and match colours, play with lines and shapes or combine various shades of one colour. Which colours are going to be in fashion for the upcoming year 2020? See for yourself what 4 colours are our top choices for your bedroom that made it to our list below.
White Elegance
White is usually considered a sterile colour with not much to offer. However, white on white is the trend that is going to dominate next year. You will be grateful for your white walls, since it is extremely easy to accessorize them with metallic silver or rose gold accessories. It's all about the layers. Add a touch of sophistication to your room with creamy white curtains, powder-white throw pillows, and alabaster white paintings. However, if you don't feel this would complement your bedroom, you can always switch it up with vividly coloured accessories that are great mood uplifters. 
Rose Blush
This neutral pastel colour with a pink undertone screams chic and elegance. If your bedroom design is a mixture of homey and modern, this is the colour you're going to be gravitating towards. It is a great pair for many colours, including white. You can opt for different dusty pastel colours for your bedroom decor, which you can then break up with a large black or white accessory, such as a painting or a floor lamp. Its calming and soothing tone also pairs well with darker wood or deep, moody colours.  Providing a tranquil feeling, it is perfect for matching with a plywood bed base in a modern and trendy children's bedroom. 
Monochromatic Mood
Bold colours such as cobalt blue or emerald or hunter green represent a real fashion statement, so they are going to be big in 2020. The richness and luxury they exude are great for contrasting different shades of soft pastels. They are masculine colours which have a lot of personalities and goes well with light wood and metallic silver or black accessories. Although these are very strong colours, they can still make the space open and inviting with the aid of accessories that tone them down and create a more balanced look.
Turn to Rust
Can you see yourself being inspired by terracotta and burnt orange bedroom decor? These colours are deep but also seem to have the power to calm down a running mind if they are used moderately. Different shades of these colours express renewal and strength at the same time. Add a pop of colour to your ordinary bedroom and immediately transform it into an organic oasis. With the aid of greenery, this colour can come to life.
Also Read: 37 Square-meters Apartment With Moving Wall Design
Organic and monochromatic are two words that best describe the trends for the coming year. Cool tones have been on the throne for some time now. It's high time earthy tones overthrew them. Let your hair down and dare to experiment with these distinctive shades. If you're in the mood for a big change, don't restrict yourself to white or rose blush. Go all out with a combination of emerald green and terracotta. Embrace the divine, punchy colours and deep, jewel tones. What is your go-to choice for bedroom colouring and are you a person who follows trends or goes rogue most of the time?