As extreme climate conditions and increasing electrical bills continue to plague US households, finding ways to make our lives more convenient and affordable is important. One such solution is the installation of smart thermostats, which can help regulate indoor temperatures with greater efficiency and ease. These devices automatically adjust the temperature based on your preferences and are a perfect investment for any homeowner looking to make their household smarter and more efficient. 
However, with the rising need for this smart technology and its wide variety available in the market, you'll find it hard to decide which smart thermostat to choose for your home. To help you with your decision, we've carefully analyzed some top options for your home.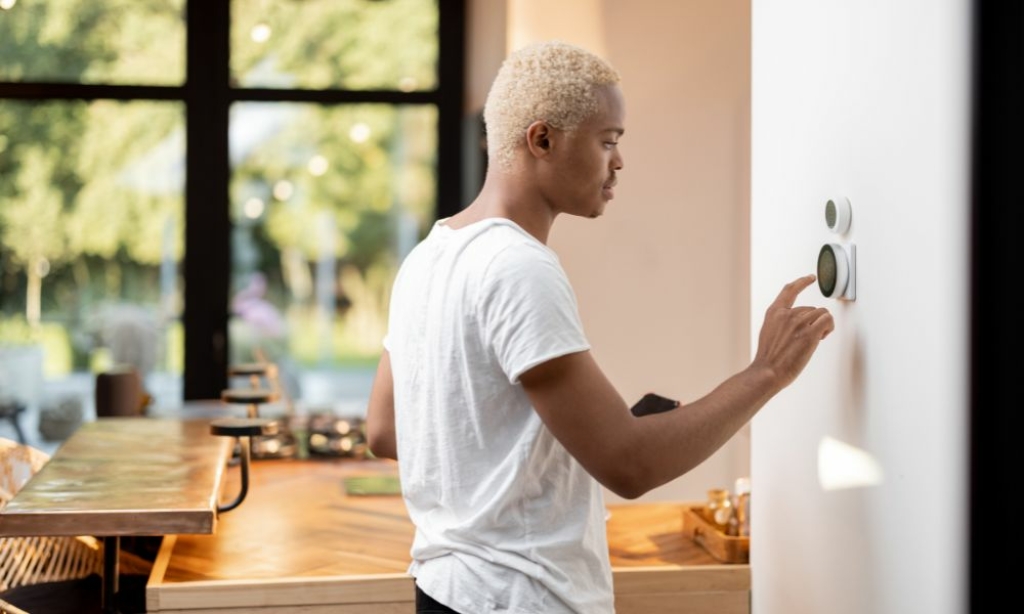 1. Nest Learning Thermostat
Nest Learning Smart Thermostat is Google's premium smart thermostat. It has a classic turn-dial design with a stainless steel finish. The larger, brighter display makes navigating all the temperature settings quite simple. It comes in a wide range of colors, so you can choose one that fits your home aesthetics. 
This smart thermostat puts you in full control of the temperature of your home and can help you save money on your energy bills. With built-in sensors and algorithmic smarts, Nest Thermostat can create a custom cooling and heating schedule for your home tailored to your preferences. Plus, it automatically turns itself down when you're away to avoid energy wastage. 
PROS
CONS
Larger, crisp display 
Does not support Apple Homekit
Learns your preferences and routine
High cost 
Price at the time of publishing: $249
2. Cielo Smart Thermostat
Cielo Smart Thermostat is a perfect blend of style and functionality. Its sleek design features a 2.5 D curved glass face, adding an elegant touch to any home. Its interactive control screen is highly responsive, allowing for seamless temperature adjustments. 
The Cielo smart thermostat offers a wide range of features to ensure your home comfort is just the way you like it. Its smart scheduling function automatically adjusts your temperature settings throughout the day based on your routine. To help you save money, Cielo Smart Thermostat geofencing feature automatically adjusts your settings when you leave the house and then turns them back on when you return. It also tracks your HVAC runtime, making it easier to check your energy consumption and make relevant changes. 
Another top reason why you should opt for this smart thermostat is its straightforward installation process. You can easily set it up without professional assistance. Cielo Smart Thermostat is compatible with a variety of smart home systems. This flexibility means that you can seamlessly integrate with Alexa, Google Assistant, Siri shortcuts, SmartThings, and IFTTT. 
PROS
CONS
Easy to install
Does not provide maintenance alerts
Sleek industrial design
Compatible with wide variety of smrt home systems
Energy saving features 
Price at the time of publishing: $129.99

3. Honeywell T9 Smart Thermostat
This device boasts a sleek design and an array of features, making it a versatile and efficient heating and cooling system controller. By observing your daily habits and preferences, the Honeywell T9 becomes familiar with your schedule. This means you'll always come home to a cozy space that's been heated or cooled according to your liking. Plus, you can get alerts when it's time to change your filters or if your home temperature gets too high or low.
Features such as geofencing capabilities, scheduling, and smart home integration make Honeywell T9 Thermostat a great investment for those looking to integrate smart home technology into their daily lives. 
PROS
CONS
Learning capabilities 
Vertical shape may not cover holes from your previous thermostat. 
Maintenance alerts 
Doesn't have a built-in motion sensor; you will have to purchase a separate remote sensor.
Supports a wide variety of smart home systems
Price at the time of publishing: $179.99
4. Sensi Touch 2 Thermostat
With the Sensi Touch 2 Thermostat, homeowners can enjoy superior comfort and energy efficiency while having complete control over their home's temperature. It offers a large touch screen complemented by intuitive controls to provide a seamless user experience.
It boasts 23% energy savings through the use of features like scheduling, remote access, and usage reports. It monitors your HVAC system performance by delivering usage reports and provides alerts if something in the unit goes wrong. You can connect it with Sensi sensors to prevent hot and cold spots in your home. However, you will have to purchase the sensors separately. 
Sensi Touch 2 Thermostat integrates with home automation platforms like Amazon Alexa, Google Assistant Samsung SmartThings to control your home temperature with simple voice commands. 
PROS
CONS
Large touch screen and intuitive controls
Not compatible with Homekit and IFTTT. 
Provides 23% energy savings 
HVAC system alerts 
Price at the time of publishing: $209.99
5. Lennox iComfort E30 Smart Thermostat
Lennox iComfort E30 Smart thermostat offers an array of smart features to take your home climate to the next level. One of its most compelling features are the "Perfect Temp" and "Feels Like" that factor in outdoor and indoor humidity levels as well as indoor humidity levels to determine the optimum heating and cooling settings for your space. Plus, iComfort E30 can also keep an eye on outdoor air quality levels and will turn on the fan automatically when outdoor pollen levels get high. 
This smart thermostat has an intelligent monitoring system that actively alerts you to any potential issues in your HVAC system. You can relax in comfort, knowing you will be notified right away if anything goes wrong.
PROS
CONS
Innovative "Feels like" and "Pefect Temp" features 
Highly  Expensive
Monitors outdoor air quality 
Price at the time of publishing: $360.00
In Conclusion 
Upgrade your home climate with a smart thermostat that delivers energy savings and personalized comfort. It's a wise investment that pays off in the long run. Smart thermostats are the way of the future and a great way to take control of the home environment while saving some money on bills as well.
From traditional to cutting-edge models, you have many options when it comes to finding the perfect thermostat for your home. Before making a decision, it's crucial to do your research and read reviews to ensure you find the best one for your needs.