5 Budget-friendly Small House Decoration Ideas
Living in a small house and enjoying all the amenities is a challenge in itself. You need to keep everything in the place after usage to save space and time. Otherwise, there are high chances of wasting many hours in search of a phone charger, wallet, or other important stuff. So, keeping your housing needs and pockets in mind, here we have some budget-friendly ideas to decorate your house.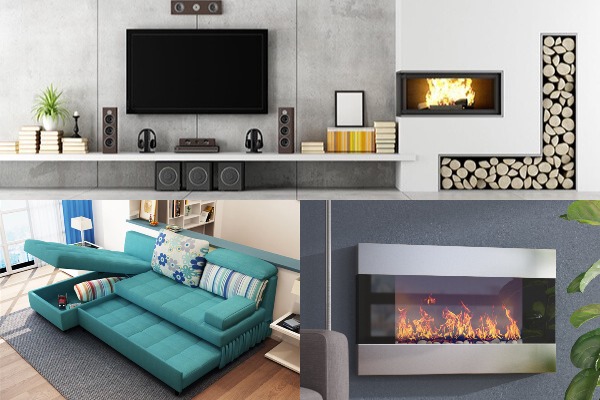 Add Sofa Bed
The two-in-one option, sofa bed always works best for small houses. Based on your need, it becomes a sofa to make your guests comfortable and then easily turn into a bed to ensure a good night's sleep. The dual benefits of sofa beds ensure that you get good value for every penny spent. The best part is that you can make efficient use of any space and there is no chance of dirt ac*umulation. The amazing variety of sizes, shapes, colors, and styles add aesthetic value to your bedroom or living room. Generally, these are available in lighter weight therefore, there will be no trouble for moving them.
Go With A Portable Electric Fireplace
A portable electric fireplace is a convenient option for small houses. One can install them anywhere based on the convenience of the house like on the wall or on any house corner. If you are worried about the budget the good news is that the electric heater for fireplace is available at affordable prices. Moreover, these fireplaces save your future power bills too as these consume very little electricity to keep your room cozy. 
Shrink Your Dining Table
If you have six or more chairs at dining tables and are struggling with housing space issues. It's time to shrink your dining table size. You can go with four seats dining tables that make a space function better and add a bit of fun. Your friends or four family members can sit comfortably and enjoy dinner together. Among the numerous benefits of a four-seat dining table for a small home is that it does not give the opportunity to family members to divide among two groups. Then why not add a beautiful glass or wooden table to your house. 
Also Read: 18 Cozy And Adorable Breakfast Nook Ideas
Mount Your TV
Traditional TV is more space-consuming than the latest LCDs and LEDs. Therefore, people are giving more importance to these modern televisions. The best part is that either you want to install at home or mount on the wall, both options are available depending on space. But most people choose the mounting option to save storage space and better picture quality. So, bring a mounted TV to your home and give a modern look to your house.
Use Different Textures
Painting walls on your own is one of the most cost-effective techniques to decorate your home. You can customize areas like ceiling, fireplace, and others in your own style. For instance, when you are planning to enlarge your small house, paint the ceiling with a darker shade than the walls. It will make the ceiling seem lower and you will feel the ceiling is visually pushing the walls outward. Interesting! You can also add different wall textures on different walls, this is another way to experience large space in a small house.
And in case you are looking for high impact, the best value, and fast turnaround home painting in Toronto then opt for Encore Professional Painters. Their team of enthusiastic and talented painters is committed to excellence and will do the work in no time.
Short details….
Decorating your house is an amazing idea. Therefore, next time when you plan to decorate your small house do not forget to bring a sofa bed, portable electric fireplace, small dining table, and mounting your TV. It will create more space. Moreover, using different textures on different walls works as icing on the cake.