Designing a tiny bedroom can be both a fun and tiring task as it will challenge you to come up with innovative ideas to make each space corner functional and pleasing. Homeowners with little free time or the right eye for designing sometimes hire contractors or interior designers to make the small room appear fancier.
However, hiring these professionals can cost you a fortune nowadays. Thus, many prefer to create a DIY bedroom styling instead. If you are one of these individuals, this blog post can give you more ideas when designing rooms with limited space. We present five must-have small bedroom items that further enhance your room comfort: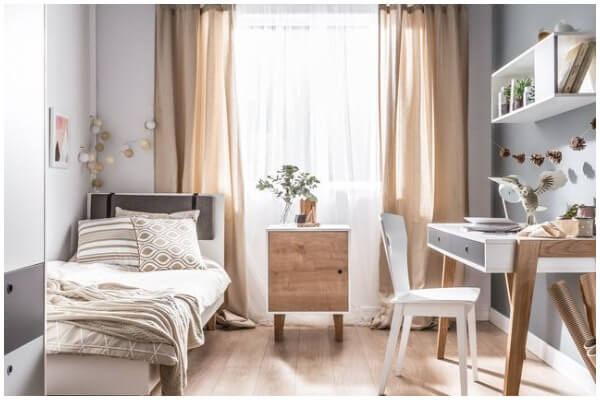 Add furniture
Placing furniture pieces in your small bedroom allows you to maximize the potential of your corners. For instance, if you have a narrow wall, you can put a high-raising wardrobe cabinet wherein you can neatly arrange your clothes and shoes. Tall furniture items are ideal for installation, especially in cramped square rooms, as they fully use the available vertical space.
Moreover, an upholstered storage ottoman is a must-buy for every tiny room occupant as it serves a multi-functional purpose—additional seat, stand, and storage. If you have some budget, you can consider having your furniture customized so that the furniture maker will craft pieces matching the limited spaces available in your room.
Attach hooks and shelves.
As mentioned, it's important to maximize the capacity of vertical spaces in cramped rooms. One way to do it is by hanging shelves on your empty walls. In addition, adding shelves inside your tiny room grants you extra storage wherein you can organize various stuff, including books, alarms, a calendar, a sound system, and many more valuable things.
You can soundproof your bedroom with Acudor soundproof access panels and jam with your favorite music anytime.
On the other hand, attaching hooks around your walls in proper areas also boosts wall functionality. You can utilize them to hang your coat, scarves, cap, and similar wardrobe items, allowing easy pick up whenever you need to wear them again.
Also Read: Ingenious 21 Wooden Pallet Shelf Ideas
Play with layers and textures
Mixing and matching layers and textures is another excellent technique to enhance the look of your small room. You can style your bed with fabric pillows and warm textured blankets to add textures inside a cramped space. You can also place a decorative drapery material from the floor up to the ceiling. On top of that, laying a soft rug on your flooring will help ground spaces in your tiny bedroom.
Lit it up
Lights are also a vital element in every small bedroom. It can magically exhibit a size illusion, doubling the room's area. Allocate space to install windows on your walls or ceilings where natural light can come inside.
If there is no space for a window installation, consider placing artificial lights through accent lamps. Adding sufficient lighting in your small bedroom can improve its ambiance.
Utilize mirrors reflection
Another item that can innovatively make your bedroom appear multifold times larger is the mirror. The natural or artificial lights beaming inside your room will reflect in the mirror toward any point inside your room, which visually extends the space. Whether you hang an average-sized square mirror on your wall or place a full-length one on your floor, it can trick the eyes and make your bedroom appear not-so-small anymore.
Style your tiny room right
With appropriate interior design, you can avoid making your small bedroom look narrow as it is. Save up some professional fees and labor costs by hiring design experts. Instead, follow these five helpful tips we shared and see monumental changes in your room. Take note of each piece of advice, so you can perfectly turn your room into a place you're comfortable staying in all day long.