As the weather gets warmer, there's no better way to enjoy those long summer nights than with a fire pit backyard idea. Not only does it provide warmth and light, but it also creates a cozy ambiance that's perfect for entertaining guests or just relaxing with family.
But why settle for a basic fire pit when you can take things up a notch? Here are top concepts to help you liven up your fire pit backyard ideas.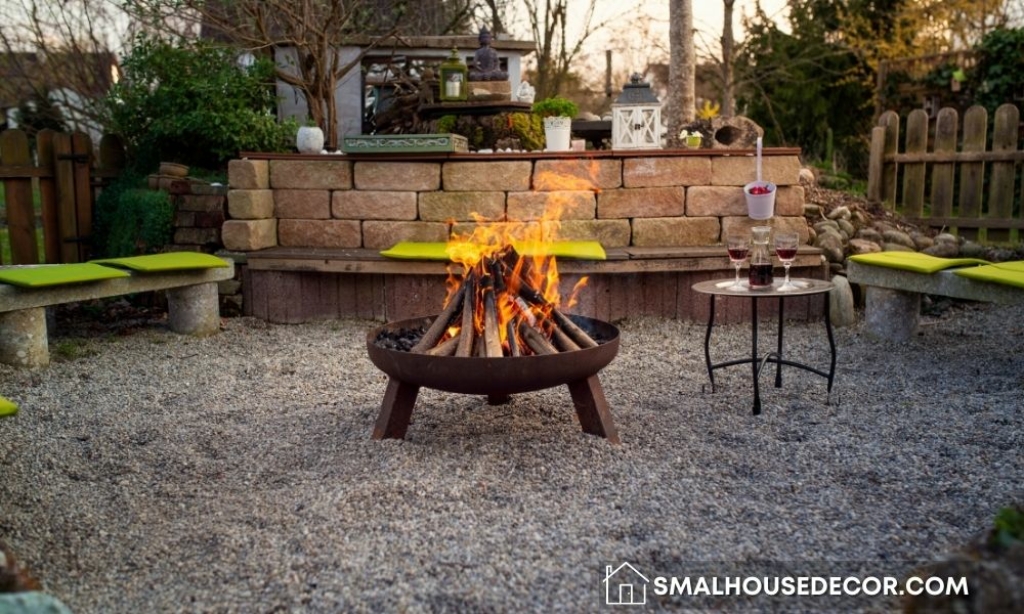 Idea # 1: Customize With Fabric
Customizing your fire pit with fabric is one of the easiest backyard ideas to make it stand out. You can use outdoor curtains or drapes to create a private oasis around your fire pit. This works exceptionally well with an open yard offering little privacy. Hang the curtains on poles or rods around the perimeter of your fire pit, and you'll instantly create an intimate space perfect for conversation and relaxation.
If you don't want to go all-out with curtains, consider adding throw pillows and blankets in coordinating colors to soften the area around your fire pit. These little touches go a long way in making your space feel cozy and inviting.
Idea # 2: Strategize Around Shape
When it comes to fire pit backyard ideas, there are endless shapes and sizes to choose from. But did you know that the shape of your fire pit can impact the vibe of your backyard? For example, round fire pits tend to feel more social since everyone can gather around them easily. On the other hand, square or rectangular fire pits lend themselves better to more structured seating arrangements.
Another factor to consider is the height of your fire pit. A raised fire pit will create a focal point in your yard and draw people towards it naturally. On the other hand, a sunken fire pit will create a more intimate setting where people can sit closer together.
Also Read: Best Smallest Pellet Stoves for Your Home
Idea # 3: Create Privacy The Natural Way
If you're looking for a more natural approach to creating privacy around your fire pit backyard, consider using plants instead of fabric or barriers. For example, tall grasses like bamboo or pampas grass can be planted strategically around your yard to create natural walls that block out unwanted views from neighbors or passing cars.
Consider adding highly durable poultry netting to reinforce your natural barriers as well. These'll keep your pets and your children, if you have any, from messing up your plants and ensure they stay safe inside your yard. 
Other backyard ideas could include planting shrubs or trees that provide shade during the day and privacy at night when using your fire pit. Not only will this option look beautiful year-round, but it also adds value to your home by enhancing its curb appeal.
Idea # 4: Keep Blankets and Towels Nearby
Even on warm summer nights, temperatures can drop quickly once the sun goes down. That's why it's essential to keep blankets and towels nearby so guests can stay warm as they enjoy their time around the fire. Consider investing in some cozy throws or blankets made from materials like wool or fleece that are soft against bare skin.
You could also provide towels for guests who want to take a dip in nearby pools or hot tubs before warming up by the flames. Plus, having extra blankets and towels on hand ensures that everyone stays comfortable throughout the evening without needing to leave early due to feeling too cold.
Idea # 5: Hang String Lights
Finally, no backyard gathering is complete without some ambient lighting. String lights are an easy way to add sparkle and shine around your backyard while keeping things relatively low-key. For example, you could hang them above your seating area for added brightness or string them between trees for a whimsical effect.
The best part about string lights is how versatile they are – they come in all sorts of shapes (like stars), sizes (like giant bulbs), colors (like white), and styles (like solar-powered). So whether you're going for something rustic-chic or modern-minimalist, there's sure to be a string light option that fits perfectly into your aesthetic backyard ideas.
Backyard Ideas With Fire Pits: In Conclusion
In conclusion, creating an inviting outdoor space centered around a fire pit backyard is an excellent way to extend your living area into nature's realm during cooler months – all while enjoying time spent with loved ones under starry skies. Start by customizing with fabric, strategizing around the shape, and creating natural privacy barriers.
Make sure to keep blankets nearby and hang string lights overhead. By following these tips, homeowners can transform their backyard idea spaces into something magical they'll cherish forever. We hope you found this information helpful, and thank you for reading.