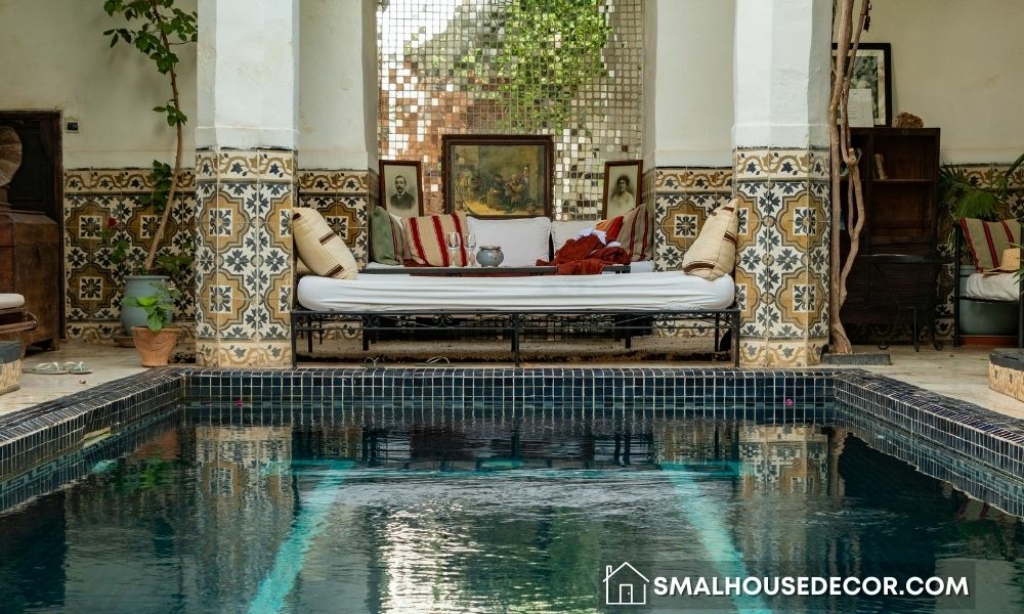 Having a pool in your backyard can be an exciting decision and an even more exciting experience. But decorating pool areas can come with a hefty price tag. If your home has a small pool area, that makes budgeting for decor even more of a challenge. The good news is that there are a myriad of budget-friendly ways to make your pool area look polished and expensive without breaking the bank. 
Here are 10 budget-friendly pool decor ideas for small homes to get you inspired.
1. Go For Cheap Pool Upgrades
If you want to give your pool a bit of an upgrade, there are some relatively inexpensive ways to do it. Invest in some pool tiles or even just accent tiles, as they can feel luxurious while making the pool area look more expansive. Additionally, install some underwater pool lights that'll give it a dramatic nighttime glow.
2. Add A Few Brightly Colored Pool Floats
Pool floats not only add a splash of color to your backyard oasis but can also double as decor for smaller pools. Choose a few floats in various sizes and colors, and add them to your pool for a collage-style pool look. 
Not only will adults love lounging in them on hot afternoons, but they'll also provide some extra seating when you're entertaining guests.
3. Hang Some Outdoor String Lights
Nothing adds instant atmosphere to a backyard like outdoor lights. Hang them above your pool to create an inviting ambiance that'll make any setting unforgettable. 
Put together a selection of lights in varying colors and shapes – long rope lights, smaller bulbs, or even some old-fashioned lanterns.
4. Create A Custom Pool Sign
If you're feeling creative, give the pool's vibe a customized touch with a pool sign. Paint a sign with motivational words or your favorite quote and place it by the pool. 
Alternatively, you can buy a fun, pool-themed sign for a gallery wall look. Either way, this sign will make your pool area look extra special.
5. Invest In Some Wall Art
Although it's now more common to see various canvas paintings and murals near a pool, that doesn't mean that it's not still an impactful piece of decor. Choose some pool designs or motifs and hang them outdoors. 
You can even enlist the help of family members for a homemade DIY take on wall art.
6. Find Affordable Pool Furniture
Having a pool is great, but having pool furniture is even better. Fortunately, there are ways to get stylish options without digging deep into your pockets. Look for items made of strong, durable materials such as wicker, aluminum, wood, or plastic that'll endure.
Also Read: Have a Swimming Pool at Home? Use These 10 Tips to Keep Your Kids Safe.
7. Make Use Of Outdoor Rugs
Setting up outdoor rugs is a simple way to make the pool area look more like an outdoor living space. Choose rugs with bright colors and modern patterns to add a touch of artistry to your backyard. 
Be sure to pick ones that are designed for outdoor use and can withstand any type of weather.
8. Install A Backyard Fountain
Nothing completes a backyard quite like a water feature. If you don't have a large pool or want something extra special, a fountain can do the trick. 
Look for a small but striking fountain with designs that complement your home's look.
9. Decorate With Potted Plants
Plants are always an excellent way to bring some life to the pool area. Place potted plants around the space, such as in the corners, stairways, and poolside. 
Not only will the plants bring a calm, serene atmosphere to your backyard, but also make your pool area look more put together.
10. Get Creative With Planters
Finally, don't forget about the planters. Place a few around the perimeters of the pool to bring more color. Spot them with bright, vivid flowers or water-resistant plants, and you'll have a vibrant pool surround. 
Conclusion
If you're looking to decorate around a small backyard pool, the ideas are endless. From installing string lights and custom signs to adding pool tiles and planters, you can quickly create a chic and inviting pool area on a budget. Add a few or several of these ideas to your pool decor to make your backyard look as stylish and expansive as others.