The kitchen is the heart of your home. It needs to be functional, stylish, and presentable. Most serious conversations happen in the kitchen. You make memories here as you cook something for the first time. Or you bake with your kids and more. Therefore, you need a functional but stylish kitchen.
Fortunately, the two are not mutually exclusive. You can have a functional, presentable, stylish kitchen if you play your cards right. And it does not have to be expensive unless you want it to be. So, whether you are renovating it entirely or updating the kitchen, these tips will help.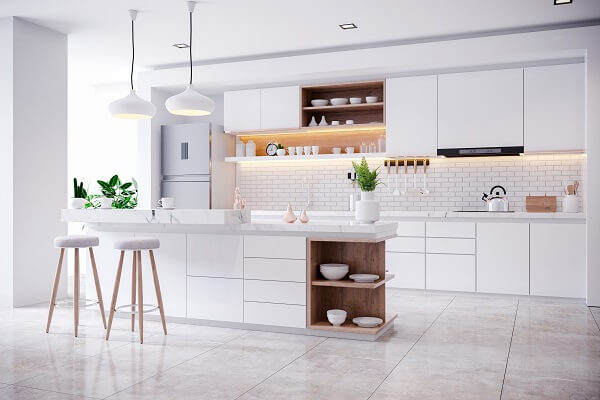 Change the paint and hardware of the cabinets.
One of the best ways to give your kitchen a new look is to change how the cabinets look. Paint the cabinets a new color and change the hardware. Use a hot contemporary color, and the results will be amazing. Painting the cabinets in your kitchen is an art. It can backfire on you if you do not use the right color or way of painting.
Moreover, try changing the hinges and handles on the cabinets too. It will give the cabinets a fresh look without costing much. Go for soft hinges, as they add class to the cabinets.
Add feature lights
If your kitchen gets natural light, it is the best. However, you still need to add features and task lighting to uplift the look of your kitchen. When it comes to feature lights, be careful. If you get any, the smoke and oil from the cooking can ruin the lights.
Thus, a simple LED hanging light or stunning pendant light is ideal for your kitchen. Look at pendant lights at Ivory & Deene to find the best ones according to the space and theme of your kitchen. It is best to keep the design simple yet attractive.
Have a sitting area.
If you have a spacious kitchen, you can try this tip. Having a restaurant kitchen is a trend nowadays that you can follow. Placing a table and chairs inside the kitchen to work as an eating space works well. It is stylish and practical for a lot of families.
For instance, families with an open kitchen can convert the existing counter into a counter where you can have breakfast or snacks. For this, you will need stylish chairs and bar stools. You can also add a small foldable dining table in the kitchen and take it out when needed.
Spruce up your kitchen island.
A kitchen island takes up the most space. So, changing its look can give the entire kitchen a new look. The simplest way to give it a makeover is to use tiles. They do not have to be expensive, but they must be sturdy and stylish. Getting them at a second-hand site works well too.
To add tiles, first, check whether the island's surface can support them. Then get the tiles after measuring the island to know how many you will require. You can install the tiles yourself or hire an expert if your budget allows.
Also Read: 10 Multifunctional Kitchen Island Ideas
Replace the old sinks and taps.
Another way to give your kitchen a makeover is to add new sinks and taps. Get shiny ones that go with the theme or complement the kitchen theme. Getting new taps and sinks doesn't have to be expensive. You can find good-quality ones at affordable prices. Though, remember, resin, Belfast, and ceramic sinks are examples.
Get a new blind.
One last tip for you to upgrade your kitchen is to add blinds. It should be the last step after you redo the cabinets, paint the walls, or anything else. Once you are satisfied with the new look, finish it by replacing the old kitchen blinds with new ones. Get ones that complement the color or theme of the kitchen. You can also get patterns. If you want to add blinds for privacy purposes, get a blind that is not transparent and fits well.
The kitchen should have space and personality. Try these ideas to give your kitchen a marvelous makeover now. If you can, working with an interior designer can undeniably help you upgrade a kitchen with the best returns.