7 Flooring Designs to Make Your Home Stand Out
According to many interior design experts, flooring is a crucial piece of the overall puzzle of well-designed space. It not only affects the way the room looks but also how it feels and functions. 
Updating your flooring is a big undertaking and can be an overwhelming decision-making process. But it's also an opportunity to have some fun and make a unique choice. Flooring design doesn't have to fit within a certain box, it's a great way to insert some of your personality into the home. 
To help you get started, we've compiled a list of some of the best flooring design ideas.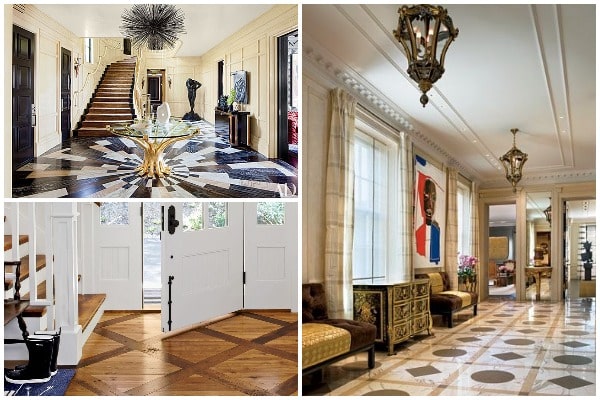 1. Unexpected Materials
When you're already having to replace all of your floorings in a room anyways, an easy way to bring some added interest is to use an unexpected material. 
Traditional types of flooring like hardwood, tile, and laminate can all be fun and beautiful and can be used in a unique way. But there's just something about the instant excitement you get when the flooring is unique all on its own. Looks into options like concrete, handmade tiles, or cork.
After you start looking into uncommon flooring options, you'll be amazed at some of the types of materials others have used. If you can salvage it, someone has probably tried to use it as flooring somewhere. 
2. Change the Scale 
 If you want to stick to one of the traditional flooring types (totally understandable!), you can still come up with a unique look with a little out-of-the-box thinking. 
An easy way to create some interest for your floors is to play with the scale of the flooring. 
We've all seen hardwood laid in long, medium-width planks or square tiles. But what if your tiles were extra large or extra small? What if the hardwood planks were wider? These small changes can completely change the look of the flooring. It'll look like you have a completely custom, expensive floor! 
3. Painted Designs 
Another route to a customized look is to add some painted detailing right onto the floor itself. Depending on the type of flooring you have, you can easily spice up the design of the space with a simple gallon of wood floor paint or other products for tile or vinyl. Finding the right products for your floor is key to having an attractive end result. 
Once you've found the right product it's time to decide on a design for your floor. There are two ways you can approach this decision; bold or calm. 
If you want to go bold, pick a large design element and make the floors the full focal point of the room. It'll be exciting to walk into the room and see such a large piece of art. 
If you want to go more calmly, you can simply change the look of your traditional flooring but with new colors or patterns. 
4. Unique Patterns 
Speaking of patterns, changing up the pattern that your flooring is laid in is a great way to make your home design feel more rare than common. 
This is an especially valuable thing to think about when you're using hardwood or tiles in the space. Both of those materials lend themselves to being placed in a way that makes them a larger design element in the room. 
The pattern that you choose for your flooring is also a great way to define the style of your home. 
5. Pop of Color  
Many homeowners choose their flooring so that it will blend in and be a good backdrop for the rest of their design choices. If you're looking for something more adventurous, choose a flooring type that will give you some more color!
Typical flooring colors include white, black, light or dark wood tones and grey. Stepping out of those will automatically give you an edge and upgrade the feeling of the room. Though it can take some courage to pull the trigger and make those bold choices. It often pays off in the end when your floor becomes a major conversational piece. 
6. Added Functionality 
While we all love a fearless design choice, no one wants an impractical floor in their home. The flooring you have has a huge impact on your daily routine so it's important to keep the functionality in place as well.
One of the biggest complaints about flooring is that it's hard and can cause injuries if there are falls. If this is a problem in your home (maybe you have elderly or especially young family members), you can find unique flooring that's easy to walk on but softer if you do fall. 
And this type of flooring doesn't have to be an eyesore, you can apply all of the fun design styles in but with the added comfort as well. 
7. Multiple Types 
In order to create an overall unique home design, you should be utilizing multiple types of flooring throughout.  This keeps the eye interested and engaged as you move through the home. 
It's important that not every room has a loud, bold floor design, that can be too overwhelming. But mixing in those choices with some more understated, beautiful options can make for an overall fun, attractive, and compelling design story throughout your home. 
If you want to get a little crazy, you can even mix flooring types within a single room. This design decision can go either way, so make sure you really love it before committing but it's an exciting choice when it's done right! 
Unique Flooring Designs 
No matter what size, shape, or style your current home is, there's always an opportunity to add some personality into the flooring designs. Even the smallest addition can make a big difference in the overall look. 
Before you make a final decision, it's helpful to picture what you want people to feel when they see your space for the first time. This ideal feeling can help guide your choices to make sure you love the design you choose for years to come!
If you're interested in gathering more inspiration and design tips for your home, check out our other articles today!