Are you looking to give your house a fresh coat of paint?
Painting a section of your home can transform your living space into a dynamic area. Changing the colors of your walls can even have an effect on your mental health. It can affect how you think and feel, allowing you to transform any room into a dedicated therapeutic area.
However, painting your home by yourself can be a tedious task to do. It can be exhausting, especially if you want the job done right. Hiring a painter is the best way for you to circumvent this problem and make the process easier for you.
When hiring professionals for your residential painting project, though, it's important you know what to look for. Here's what you should look for when going through painting companies to do the job for you.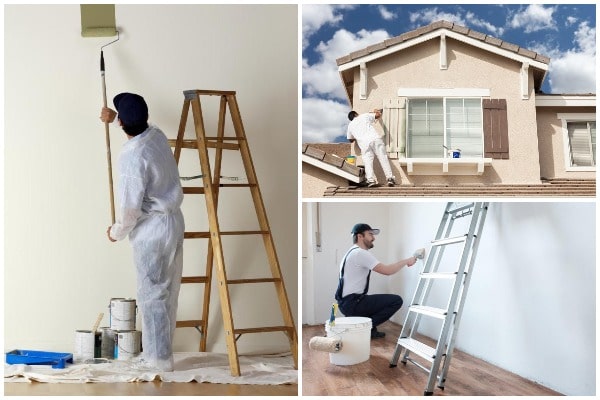 1. Proper Professionalism
There are different ways you can measure the professionalism of a painter. The first thing you should look into is how they communicate with you when you're inquiring about their services. Keep an ear out for how they talk about their services and how they treat you.
Are they respectful? Do they sound knowledgeable in their field? If so, then they'd have passed your first screening.
Also Read: How To Repaint A Wood Door
The second would be their organization skills. It's important to know how organized they are with not only their tools but with the project you want them to do, too. 
The next sign of professionalism is literally a sign of professionalism. Ask them to show a certificate or license that says they're allowed to operate as professionals. A good painting company will have no qualms and will not hesitate to show you their certificates.
If they present even the slightest bit of hesitation, then it means they have something to hide. If this isn't the case, then it may mean they have little faith in their certificates and licenses. You don't need a service that doubts itself from the get-go. 
2. Skills and Experience
Licenses and certifications shouldn't be the only things you look at when hiring professionals. You should also take a look at their portfolio to know about their experience as a company. This will show you their previous projects, where you can see how long they've been doing residential painting as a profession.
You can ask them to show some of their previous work to check if the project complements their expertise. Other referrals you can also check are through reviews from previous clients. If the job they've done catches your eye, then by no means hire them.
You also want to take a look at their skill set. This is important as you'll need them to take charge when left to their own devices. Expertise in this line of work allows you to trust them to do the job right.
Combining these two qualities makes you certain they'll know how to paint your home the right way. It's important in making sure the project goes on without a hitch.
3. Honesty and Trustworthiness at Work
Being able to trust a professional goes beyond knowing they'll pull the job off. It also applies to whether or not you can trust them to be in your home. A great way to figure this out is by looking at their history on the job.
Check what people had to say about them and their services. Look for any complaint that says something went missing while they were on the job. If anything pops up, you need to be cautious with how you proceed.
You can test this right off the bat by seeing how honest they are. Ask for their prices and see what their pricing will be. You'll need to know the average cost of having a house painted to know whether they're honest or not.
4. Ability to Communicate With You
When you're hiring a painter, they should be able to communicate with you. If they don't talk with you, chances are, the project will come out differently.
They must know to talk to you first about anything before proceeding with the job. Things like not having the right interior paint colors are important points to discuss. Doing so allows you to know about any change that the project will undergo.
They must also be able to approach to admit any mistake they've done. It's a great way for you to stay in the loop of what's happening in your home. This is also another sign of professionalism that's worth admiration. 
5. Friendly and Courteous Even After Work
Your hired painter should be courteous and friendly no matter what. They're entering your home, after all, where you and your family should always be comfortable in. You don't want the painter to act rudely and fight with any household member.
Finding someone that's courteous and friendly even when they're done with the day's tasks is important. This allows you and your family to not feel threatened in your own home. So, you must look out for even the slightest signs of rudeness when approaching a painting company. If you feel comfortable with the people you talked with, there's a high chance they'll have a quality painting contractor for you to hire.
6. Responsibility on the Job
Measuring the responsibility of a company is almost impossible unless you hire them first. However, a good way to know if they're a responsible service is by checking to see if they have on-the-job insurance coverage. It's a great way to know whether they take responsibility for any damage that may occur while they're working.
Ask them about it when talking to them for the first time. Good companies will have insurance to ensure that their workers won't cause any damage on the job. Even if something does happen, any damages that incur will get covered by their insurance plans.
It's a great way to ease your mind as you let other people into your home. 
Find These Qualities When Hiring a Painter Today
Nothing can liven up your home like a fresh coat of paint. Have professionals do the job for you to ensure your house gets the best treatment available. Look out for these qualities when hiring a painter and get the right person for the job today!
Do you want to learn more about house remodeling and interior design? Check out more of our guides to learn all you can today!