Renovate These Five Spots In The House to Get A Whole New Look
  The way a house looks significantly affects the ambiance of the space. Renovation is pivotal if you want to make your home more exciting and comfortable. For great results, set aside your finances and be as creative as you can. Sometimes, a little change and addition can boost your home's aesthetic appeal and make it safer at the same time. Home remodeling perks up your house's resale value and attracts potential buyers if you plan to sell your house in the short run. Give extra attention to some focal spots in the house while renovating.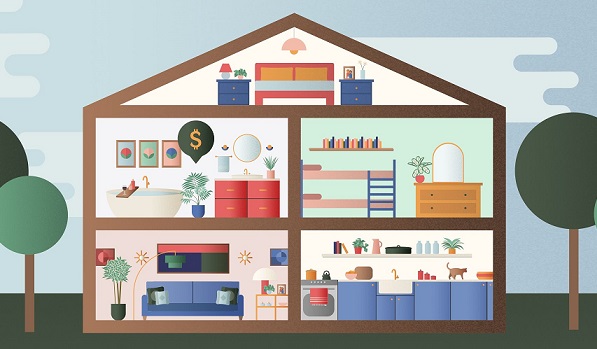 Here are five spots in the house that you can renovate to get a whole new look:
You can come up with a bold, minimal, or moderate idea to design your living room.  A fresh coat of paint is pivotal; go with a color theme if you are looking for a lively space. Colors reinvigorate your mood; repainting is a budget-friendly idea and requires no special skills either. For small areas, choose light and neutral shades and place a single large-sized sofa to make the room look bigger. Floor seating is a convenient idea for small living rooms. Play with textures and mix vintage with modern for a classier look. Hang some artwork or change the light fixtures to accentuate your living room interior.
The kitchen is a vital section of the house; besides cooking, it is the best place to socialize with your friends and family. Keep lots of room for natural light; you can relocate items that are blocking the natural light from reaching your kitchen. Add house plants near the window to make it visually attractive. Updating the kitchen is also beneficial for your health as dust, moisture, and smell are unpleasant and encourage bacterial growth. Search for local kitchen remodeling agencies; if you are a Concord California resident, visit kitchen remodeling Concord CA, regarding your kitchen up-gradation project. They offer excellent services to their clients by helping them create their designs for their kitchen. You can get attractive kitchen cabinets that change the kitchen's look. This company can bring more comfort to your kitchen by installing the right kitchen cabinets with their expertise.
Refreshing your front yard increases the curb appeal of the house. Evaluate your home's architecture before starting the project. There are many landscaping designs, but it is better to consider your area's surroundings before finalizing one. Consider your front yard's size and go for a minimal look to make it look less crowded. For a small yard, a creative mail carrier is a smart choice. Change the pathway and entryway to create a vibrant feel to your house. Make sure your front door complements the rest of your property. If you have adequate money, repaint your home exterior to eliminate all the dirt and weather damages on your exterior walls.
A bathroom makeover is not easy, especially if you are looking for a complete renovation. Tearing up the tiles takes time; in this case, it is essential to seek help from this business's professionals. If you cannot handle all the fuss, then replace your bathroom's sinks, storage, and workspace for a revived look. Buy a few shower niches to accommodate your shampoo and other bathing liquids. Keep the washroom as neat as possible. Add some plants in your bathroom or add fancy lights in there to make it look more spacious. Space matters a lot during renovation; you can install an en suite shower room if your bathroom is big.
Change The Look Of Your Hallway And Stairway
The walls in your hallway and staircase get neglected at times. Create a picture wall in these two areas. Installing the spotlights above will bring a different feel and improve the sense of these spaces. Go for cohesive designs, stencils, and wallpapers if you already have a picture wall in the house.
Also Read: 16 Creative Under Stairs Remodelling Ideas
The Final Word
Home renovation projects need time, energy, and investment; there are budget-friendly ways to revamp your house and change the entire look. The kitchen, bathroom, front yard, and living space are some of the focal points in your house. By making a few changes in these locations, you can get a whole new look for your home. Consider the size of your house, the architectural style, and other design elements before making any changes. In the kitchen, install some attractive and practical cabinets to add convenience to your daily cooking routine. A complete renovation is a time-consuming process but rewarding in the end.