Gutters are an integral part of our homes. There is no way to eliminate them whether you like them or not. As they are generally installed on the outer part of the building, they greatly contribute to how the building's exterior looks.  
For this reason, it is very important to choose and design your gutters wisely if you are concerned about the look of your home. While there are no strict rules about gutter design, you can follow some simple tips and tricks that will help you match your gutters to your home's architecture. This article lists some easy ideas for ensuring your gutters complement the rest of your home's exterior.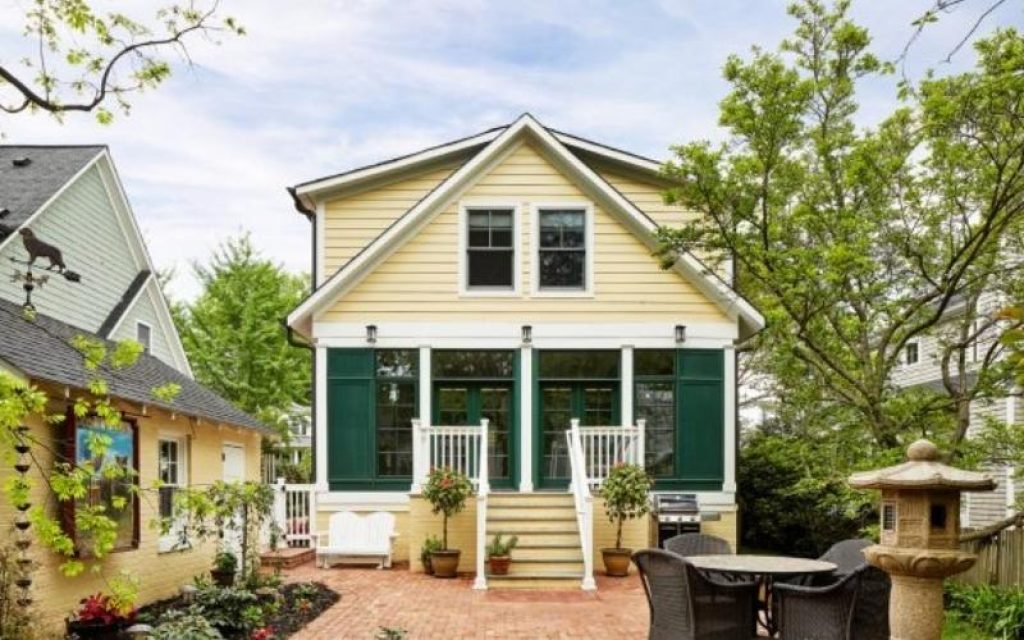 Why We Need Gutters 
Surface water cannot be dumped into a sewer or drain that collects wastewater. Instead, rainwater is received by a gutter and fed through an outlet pipe from the edge of the roof to the bottom of your house. 
After that, it can either be gathered and recycled or removed through a waterway, mixed surface water, or underground sewer. This is the main reason why gutters are essential. 
There are two types of gutters. They are: 
Hidden Gutters 
Just as their name suggests, these gutters are not visible on the outer facade of the building; rather they are built into the walls. Hidden gutters are great if you don't want the gutters to interfere with the look of your home's architecture in any way. However, they come with their own downsides. 
As gutters pass water on a regular basis, they need maintenance to prevent rust, blockage, or debris. In general, gutters are exposed on the outer side of the building, and as a result, they are very easy to clean. However, if you are opting for hidden gutters, maintenance can be a headache. You will need to find a professional to do the maintenance, and that can be expensive. 
Visible Gutters 
These are the conventional gutters that you see on most homes. They are connected to the eves. Eves are the points where the roof connects to the walls of the building. The biggest problem with these is of course that they are visible from the outside; however, the fact that they are visible can sometimes help you use them for your own benefit. 
You can use the gutters to balance out the colors on the roof or walls or even add some bold accents to make an architectural statement. Moreover, the maintenance on these is a lot easier than on the hidden ones. 
Now that you've learned the basics about gutters, let's get down to the real topic – how to make sure that your gutters align with the overall architecture of your home. 
Choose the Right Material 
When it comes to choosing the material for your gutters, there are numerous options available. But if you don't want your gutters to look out of place, you can't choose just any material. There are many materials available that provide different finishes and colors; you have to choose wisely according to your needs. Budget is also a considerable factor here. 
Some of the most popular options are plastic gutters, aluminum gutters, copper gutters, steel gutters, cast iron gutters, and zinc gutters. 
Choose the Right Profile Option 
Deep flow, round, ogee, and square guttering profiles are the most popular. Ogee gutters are the best option for period homes. It matches gutters with square profiles; however, it has a flat bottom and a beveled side.
Square gutters have a more modern appearance and would go better on a modern home. Half-round gutters are typically substantially less expensive even though their more angular shapes naturally give them a higher capacity.
Consider a deep flow version if a typical half-round gutter is too shallow to handle the demands of your home.
Match Them to the Roof Color 
Gutters are generally attached to the extended part of the roof. Consequently, it is a good idea to match your gutters to the color of your roof. This option is open to homeowners who like a minimalist aesthetic because it minimizes the number of exterior home modifications.
Additionally, matching your gutters to your roof is a fantastic way to highlight the look of the roof without bringing too much attention to the gutters. If your roof has unique materials you want to draw attention to, matching your gutters to your roof is a brilliant way to do it.
Also Read: 12 Black Gutters on House Ideas: Make Your House Stand Out!
Match Them to the Windows
This is one of the safest options to go for. Most people gravitate toward this option because it is very commonly done. To ensure consistency in your outside appearance, matching your gutters to your windows is the best option. The curb appeal of the house may decrease if the gutter installation differs too much from your exterior decor concept.
When the gutters match the windows, the elevations look very uniform and neat. Sometimes, this can also help your gutters go unnoticed. 
Match Them to the Siding or Brick Color 
The siding color has typically been the most common element to match gutters with. Because white and brown are the more common (and therefore least expensive) gutter colors, this option can primarily be seen in homes with a basic siding color. 
Because it is the aspect of the home that the gutters make the most contact with, a lot of homeowners prefer this option while matching their gutter to the architecture.  
Match Them to the Trim Color 
Finally, you can harmonize the color of your gutters with the trim and fascia of your house. Modern homes are starting to use this option more frequently. The gutters will blend in perfectly with the area of the house that they immediately rest on if the trim and fascia are the same color as the gutters.
Moreover, it will also frame out the house better and look like an extension of the trim. Designers are increasingly adopting this strategy in modern homes by opting for darker siding and adding bright white trim to the fascia, soffit, corners, and windows to truly highlight the siding.
Consider Your Roof Pitch 
The size and design of your gutters can be determined by the pitch of your roof. If it's steep, you might need a plan that supports wider, deeper gutters. Therefore, it would be preferable to evaluate your roof's pitch before deciding on a gutter design.
The gutters on the market today also come in sectional and seamless varieties. Older gutter designs sometimes came in parts that needed sealants to be installed. These, however, occasionally led to leaks.
Most contemporary gutter products have a seamless system. Therefore, you only need to make sure that your dimensions are accurate to create a gutter that can extend the entire length of the ledge of your roof. Knowing the pitch of your roof is also important since it affects how well the gutters work.
Paint Your Gutters 
Let's say you have selected what you want to match your gutters too. However, once you have your color scheme ready, you might find out that the material you have chosen doesn't come in the color you want. In that case, what you want to do is to paint the gutters in the shade you want. The plus side of this is that the layer of paint might help prevent rust as well. 
For some reason, many homeowners choose the typical white or off-white factory-finish gutter color. Some people opt for white because they like the way it appears, while others choose it because they are unsure of what color to pick. This is not to argue that gutters are better not painted white unless you are matching it with the architecture. 
Painting the gutters can also be helpful if your gutters look a bit worn but still work fine. In these cases, some people tend to replace their gutter just because it detracts from the look of the building. However, that shouldn't be the case. If they are working fine, you can just add a layer of paint, and they will look good as new. This way you can save a lot of time and money. 
Conclusion
If you utilize these ideas, your home will never look unappealing. No matter what you choose to match your gutters to, be it your windows or trim, the tips mentioned above will help you achieve a cohesive look.
So pick the one that suits your taste and start designing without any worries because you can never go wrong if you choose to make your gutters to the parts mentioned above.  
FAQs 
Can different colors of gutters and downspouts work together?
To better fit into the structure, gutters and downspouts need to be the same color (instead of standing out). Additionally, coordinating gutters and downspouts will keep the color scheme of the house cohesive and draw attention to other, more attractive features of the house.
Which is the most frequently used gutter color?
White is the most common color for gutters. This is because the majority of home exterior color schemes complement or blend in with white as it is a neutral hue. White is one of the few common colors that can be purchased for less money than more unique colors.