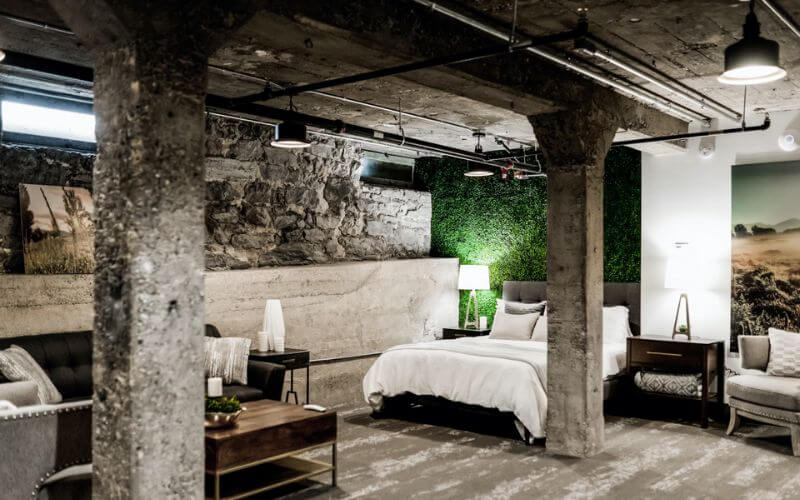 Turning your basement into a lively and functional space can enrich your home experience and significantly increase your property's value. Often overlooked or used as mere storage, basements hide tremendous potential. With thoughtful design and purposeful conversion, they can transform into almost anything you can imagine—a cozy family room for movie nights, a productive home office, a fun-filled game room, a quiet retreat for reading, or even a fully-equipped gym. In this blog post, we will explore a range of exciting basement conversion ideas that are both practical and innovative.
These ideas are tailored to fit various needs and tastes and might inspire you to start planning your basement makeover. So whether you're looking to create a warm and inviting guest room or a lively entertainment hub, read on to discover how you can unlock the full potential of your basement.
Multipurpose Family Room
One of the best ways to make use of your basement space is by turning it into a multipurpose family room. This will not only provide a comfortable and enjoyable space for your loved ones but can also serve as an extension of your main living area. To achieve this, you can incorporate a variety of elements such as comfortable seating, a big-screen TV, a gaming area, and even a small bar or kitchenette. By creating a cozy and versatile space, you can effortlessly transition between family movie nights, game tournaments, or casual gatherings with friends. Additionally, you can consider adding a dedicated workspace for remote work or study, as well as storage solutions to keep the area organized and clutter-free. With these additions, your basement can truly become a functional and inviting space for the whole family to enjoy.
Home Office
In today's digital age, more and more people are working remotely from the comfort of their homes. If you're one of them, why not convert your basement into a dedicated home office? With its secluded location and potential for natural light, basements provide an ideal setting for a productive workspace. You can design your office to suit your specific needs, whether it's a traditional desk setup, a standing desk with a treadmill, or even a creative studio space. Consider adding built-in shelves and cabinets for storage and organization, as well as comfortable seating for breaks or meetings. You should consider working with a designer or contractor experienced in under-house renovations to ensure your home office is functional, efficient, and aesthetically pleasing. Plus, you can claim tax deductions for home office expenses, making this conversion a smart investment in the long run.
Entertainment Hub
Basements are perfect for creating an entertainment hub where you can host parties, game nights, or movie marathons with friends and family. You can install a large screen and surround sound system for the ultimate viewing experience, as well as comfortable seating and a mini-fridge to keep snacks and drinks within reach. For an added touch of luxury, you can incorporate a small bar or kitchenette for easy refreshment access. With proper lighting and decor, your basement entertainment hub can become the go-to spot for all your social gatherings. Just be sure to hire a professional electrician and plumber to ensure safety and functionality.
Also Read: Turn Your Basement Into a Business
Relaxing Retreat
If you're looking for a calm and peaceful escape from the hustle and bustle of everyday life, consider converting your basement into a relaxing retreat. Create a tranquil oasis away from the chaos of daily life by incorporating soft lighting, cozy seating, and warm colors to establish a serene atmosphere. Design a dedicated reading nook with comfortable chairs and bookshelves, providing an ideal space for relaxation. Enhance the retreat with a yoga or meditation area for your daily practice, and consider adding a spa-inspired bathroom to complete the tranquil experience. Embrace the potential of your basement and discover a peaceful escape right at home.
Guest Suite
While a guest room may be a common addition to most houses, using your basement for this purpose can offer unique advantages. With its secluded location and potential for natural light, basements provide an ideal setting for a comfortable guest suite. Depending on the available space, you can incorporate a bedroom with an ensuite bathroom or create a separate living area for added privacy. To make the most of your basement guest suite, consider adding a kitchenette or mini-fridge for convenient snacking and entertaining. This conversion idea is not only practical but can also add value to your home.
Fitness Center
If going to the gym is not your preference, why not bring the workout experience to your own home by converting your basement into a fitness center? With ample space and privacy, you can install various workout equipment such as treadmills, ellipticals, or weightlifting machines. You can also incorporate mirrors for proper form checks and ventilation for airflow. Additionally, consider adding a TV or music system to keep you motivated during your workouts. With a dedicated fitness center in your basement, you can save time and money on gym memberships and stay active in the comfort of your own home.
In conclusion, basements hold endless possibilities for creative and functional conversions. Whether you're looking to add value to your home or enhance your living experience, these basement conversion ideas can help you transform your space into something truly amazing. So don't let this valuable space go to waste, start planning your basement conversion today! So, don't hesitate to explore different designs and styles that will suit your needs and taste. Trust us; the result will be worth it!