Carpet vs Hardwood Floor – What's Best for Your Home
There are hundreds of different types of floors available today. However, when it comes time to install new floors, most homeowners find themselves in a familiar wheelhouse: carpet vs. hardwood floor.
Choosing between carpet and hardwood may seem like a purely aesthetic choice, but there are dozens of other factors that contribute to deciding whether or not one type is the best option for your home.
While the overall look is critical, you also need to think about things, such as maintenance, resilience, texture, cost, and even potential allergens. If that seems like a lot to process, don't worry. We're here to help.
Here's everything you need to know about how to decide between carpet and hardwood flooring.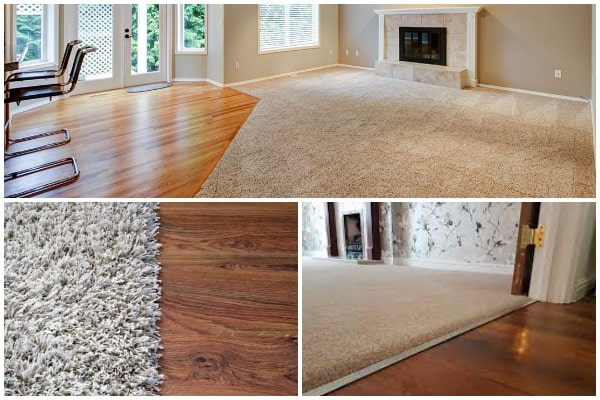 The Pros and Cons of Carpet
While carpeting has more or less fallen out of fashion in recent years, there's a good reason it's still one of the most popular flooring varieties available today.
One of the most significant upsides of choosing carpet over hardwood flooring is the overall cost. Natural hardwood floors are generally much more expensive per square foot than carpeting. So, if you're trying to upgrade your flooring on a budget, you may want to consider carpeting first.
Carpet also comes in more colors and textures than hardwood floors. Because of this, homeowners have more control over the final look of the room.
Also Read: The Things You Need To Know About Carpet Cleaning Adelaide
On top of that, carpeting is generally much softer and more comfortable than hardwood floors, making it an excellent and safer option for families with small children.
All of that said, although carpeting comes with many benefits, it has a few downsides too. Carpet is prone to stains and is generally much more challenging to clean than hardwood floors. Carpeting can also trap dust, dirt, dander, and other microbes over time, which can cause severe allergies.
The Pros and Cons of Hardwood
As we mentioned in the previous section, one of hardwood flooring's most significant drawbacks is its price tag. While the overall cost of installing hardwood floors varies greatly depending on which type of wood you decide to use, homeowners can expect to spend much more on wood floors than carpeting.
Also Read: 4 Key Benefits of Professional Timber Flooring Installation
Carpet vs. Hardwood Floor: What's Best for Your Home?
That said, hardwood floors tend to be much more durable and are easier to clean than carpeting. So, if you're able to splurge a bit on the flooring, you could save quite a bit of time and money in the long run.
While hardwood is prone to scratches and knicks, you won't have to worry about any added allergens, and you'll be able to wipe up most spills without having to worry about stains.
However, as the name may suggest, hardwood floors are not as soft or forgiving as carpets. So, for those families with small children running around, wood floors may not be the safest option.
All of that said, whether you decide to get carpeting, hardwood, or any other type of flooring, this company can help you find and install the floors of your dreams.
Carpet vs. Hardwood Floor: A Definitive Guide
Now that you know a little bit more about how to choose between carpet vs. hardwood floor, it's time to make your decision.
Are you looking for more advice on how to transform your house into your dream home?" We've got you covered. Check out the rest of our blog for more helpful articles, tips, tricks, and advice today!