Adding lights to your landscape can be a smart decision. This allows you a way to take control over what is going on outside. It not only looks nice, but ensures that you and anyone else who may be on your property will not trip and fall or get hurt. These lights can also add an element of safety to the yard, providing you with a way to deter robbers and others who come around to cause harm.
With that in mind though, there are a few different types of outdoor landscape lights you can consider adding to your property too. You may want to choose based on the mood you would like to set or the amount you want to spend. Some of the different types of outdoor landscape lights you can consider include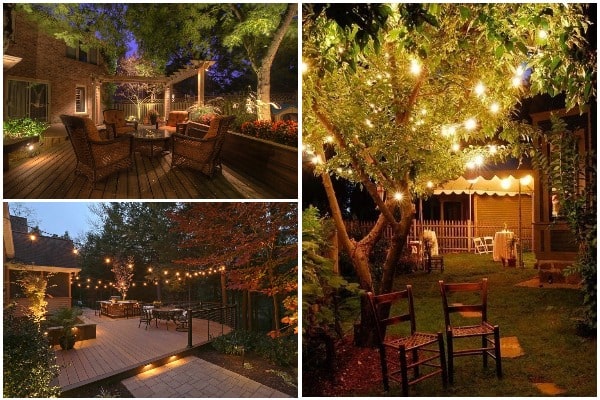 Spotlights
There are different types of spotlights, but the reason that we use this term is because it can count for any light that will only point in one direction. If you point a spotlight towards a wall, it may be called more of an uplight that can create a wall grazing effect.
You can choose the type of spotlight you would like to add to your yard. They range in the brightness and the amount of area they can cover. If you just want to point it at a statue or a plant, then a smaller spotlight is probably plenty for your landscaping needs. But if you hope that it can help illuminate a good deal of the yard, then you need a larger spotlight that comes with more brightness.
Flood Lights
If you want to brighten up a really large area of your home or you plan to use these lights as more of a deterrent to make sure that no one is able to get onto your property, then you would want to choose some flood lights to help you get that done.
These are a type of spotlight technically, but they have a very wide coverage range and high brightness that you will not find with the typical spotlight you may choose. This is good for the driveway, especially when you are coming home late at night from a long day at the office or having fun with others.
Also Read: The Different Types of Flood Vents and Which One to Choose
Step Lights
As you can imagine, these are going to be the lights that you place on lights to illuminate your way when walking up or down the stairs around your home. If you have a steep incline to get into the property, or you are worried about you or someone else falling when they come into the home, then you may want to consider whether these step lights are a good choice for you.
You can get these designed to work well for your steps, making sure they are the right size and brightness to not cause problems or make the situation worse. The right landscaper will incorporate these into the design of your home so that they look natural and neat, rather than turning them into a big eyesore that you don't want to have there.
Garden Lights
If you have a nice garden on the front of the back of your home, you may want to implement some lights to really help. These lights can show off the landscaping that you do around the home, while providing that safety light you are looking for at the same time. There are different types of lights that you can choose, helping to highlight some of the beautiful flowers that you would like to add into that area.
You can even choose where you would like the light to point. Some will choose to have them go downward and slightly out a bit. This helps everyone who comes to your home see the plants rather than spots when they look at the bulb of the light. You will be able to work with your landscaper to make sure that you choose lights that look amazing for the space you have around your own home.
Bollard Lights
When you choose to work with a bollard light, you are working with posts that have light running right on the top. There will be no light shield or cover on these at all. These are one of the few light types that you could choose for your home that would be allowed to shine out in every direction.
The reason you would choose these lights over some of the others is because they are great for lining a pathway, allowing everyone to see which direction they should go, even in the middle of the night. If you want to make sure that you and any guests are able to make it safely to the front door, rather than wandering around in the dark and getting lost, then you need to discuss adding some Bollard lights to the landscaping with your professional.
String Lights
There are a lot of ways that you can take some basic string lights and make a really unique area around your home. These string lights are going to be perfect if you would like to add something to the trees or place it as a main area in some other part of your home. The lighting is strong enough that you will be able to see, but it is subtle enough to really make that area seem comfortable and quiet.
Many times these string lights will look great on a deck or in a special spot in the garden where you would like everyone to congregate together. You can hang them on the trees, on the fence, on the deck, or somewhere else to get the picture that you are dreaming about. Or you can ask your landscaping professional for some advice on how to get started.
When you are looking for Dallas Landscape Lighting, trust our team to be there to provide you with the very best. We will be able to walk you through the different options in landscape lighting that are available, ensuring that you can find the exact type that is just right for you. Trust our team to be there when it is time to choose and install the lights that your home needs.