Working from home has become increasingly popular in recent years, with many individuals opting for the flexibility and comfort it brings. However, creating a conducive workspace within your home can be challenging. Without proper planning and organization, your productivity could suffer.
In this how-to guide, we are going to help you encapsulate productivity and comfort in the form of a home office. From setting up the perfect workspace to investing in essential equipment and organizational storage solutions – we've got you covered!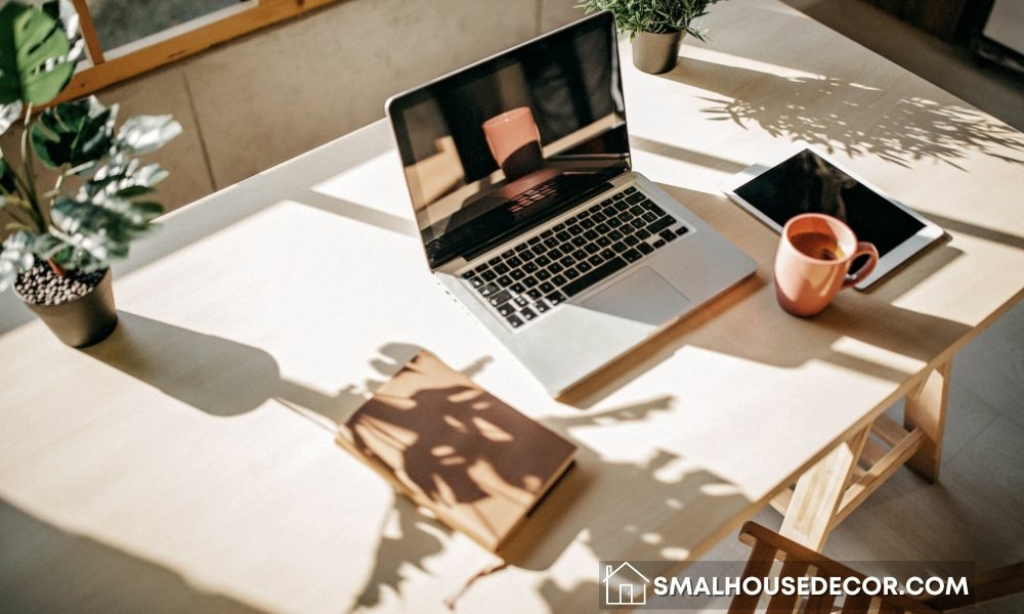 Have the Proper Workspace
Ideally, you want a space that's quiet, private, and free from distractions – this could be a spare room or even just a corner of your living room. In fact, a lot of small home office ideas will include a small, secluded place in which you can focus and not be distracted.
Once you've chosen the perfect spot for your office, it's time to set up your desk and chair. Your desk should be large enough to accommodate all the necessary equipment while still providing ample workspace. A comfortable chair with good back support is also important as you'll likely be sitting for extended periods. Lighting is another crucial element when setting up a home office.
You want natural light if possible but ensure that there are no harsh glares on screens or windows behind you causing shadows on desktops.
Also Read: 6 Unconventional and Creative Ideas for Your Home Office Upgrade
Obtain the Essential Equipment
First and foremost, you'll need a reliable computer or laptop. Consider what type of work you'll be doing and choose a device with enough processing power and memory to handle those tasks. Additionally, invest in a quality monitor so that you can view your work comfortably without straining your eyes.
A comfortable chair is another essential piece of equipment for any home office. Look for chairs with good back support as well as adjustable height settings to ensure proper ergonomics while working. 
Along with these basic items, there are other pieces of equipment that may be necessary depending on the nature of your work. For instance, if you're frequently on calls or video conferences, a headset or webcam could be beneficial. Or if you frequently print documents, investing in a printer might make sense.
Invest in Organizational Storage
This will not only help keep your space tidy and clutter-free, but it can also increase productivity by making it easier to find what you need quickly. For instance, you can go for a filing cabinet or drawer system for paperwork and documents. Label each category clearly using dividers to make sure everything has its place and is not overbearing for the room.
For smaller items such as pens, paper clips, and other desk accessories, consider utilizing a desktop organizer with compartments or drawers that fit neatly on top of your desk. On the other hand, if you have books or reference materials that you frequently use, bookshelves or wall-mounted shelving units are great options for keeping them organized and within easy reach.
Make Sure You Get an Ergonomic Setup
Sitting at a desk for extended periods can lead to neck pain, back pain, and even carpal tunnel syndrome. Here are some tips for creating an ergonomic setup: Firstly, invest in a comfortable chair with good lumbar support. A chair that is too high or low can put unnecessary strain on your spine.
Make sure that your feet are flat on the ground and that there is no pressure under your thighs. Secondly, position your computer screen at eye level so you don't have to constantly look down or up.
This will help reduce neck strain. Thirdly, make sure that you have adequate lighting in your workspace to prevent eye fatigue and headaches. Use an ergonomic keyboard and mouse setup that allows for comfortable typing without straining wrists or forearms.
Final Words
Setting up a home office may seem like an overwhelming task, but with the right mindset and tools, it can be a smooth process. Remember to take into consideration the space you have available and choose furniture that will fit comfortably in your designated area.
Make sure to invest in essential equipment such as a reliable computer, internet connection, and efficient lighting. Organizational storage is also crucial for keeping your workspace tidy and clutter-free. Make sure to prioritize ergonomics by choosing comfortable chairs and desks that promote good posture.