For those looking to create a comfortable and inviting outdoor space for entertainment, designing an open space area can be a great option. Whether you are hosting a large gathering or just want to hang out with friends and family in the fresh air, having an outdoor area that is both versatile and inviting will make it enjoyable for everyone. 
With the right design elements, your entertainment area can become a beautiful oasis where guests will love spending time outdoors. Here are some tips on how to create an open-space entertainment area that is perfect for gatherings of all sizes.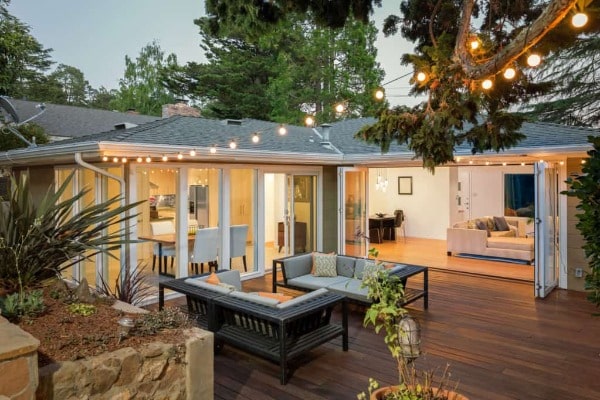 1. Choose the Right Space: 
When choosing an entertainment area, it's important to select the right space that is large enough to accommodate your guests. You should also consider how much natural light and shade you will need and whether any electrical or plumbing access is required. 
Once you have identified a suitable area, measure it so you can plan accordingly. Also, be sure to check with local ordinances and restrictions that might affect your plans. For example, some areas might require a permit for entertainment purposes. Also, your outdoor entertainment space should be far from any dangerous obstacles, such as traffic and street lights. That way, your guests can enjoy their time safely. 
2. Choose the Right Furniture:
The furniture you choose should be comfortable, durable, and appropriate for outdoor use. You may want to consider a variety of seating options such as benches, chairs, loungers, or even hammocks depending on the type of gathering you are hosting. 
Consider adding side tables or ottomans so that guests have a place to set their drinks and other items. Additionally, be sure to select furniture that is weather-resistant and can withstand the elements if your outdoor space will be exposed to the sun, wind, rain, or snow. 
Also Read: 8 IKEA Alex Drawer Alternative: The Perfect Solution for Small Spaces 2023
3. Add Decorative Elements: 
Adding decorative elements to your outdoor entertainment area can help create a welcoming atmosphere for your guests. Consider hanging strings of lights or lanterns around the perimeter of your space to create an inviting ambiance at night. You could also add plants and other greenery such as shrubs and trees for added color and texture. 
If you want to create a more rustic vibe, consider adding a fire pit or outdoor fireplace. Finally, think about incorporating elements from your home such as pillows, throws, rugs, and artwork that will coordinate with the overall design of the space. 
4. Provide Entertainment and Activities: 
When planning an outdoor entertainment area, it is important to consider what type of activities and entertainment you will provide for your guests. You may want to include a variety of things such as board games, yard games, TVs or projectors for watching movies, music systems, or karaoke. 
If you are hosting larger gatherings, think about incorporating fun activities like trivia nights or game show competitions. That way, everyone can have a great time! Also, be sure to provide comfortable seating and plenty of shade so that your guests can enjoy themselves without worrying about the heat or sunburns. 
5. Consider Including Technology: 
Incorporating technology into your outdoor entertainment area can help make it even more fun and engaging. Think about adding wireless speakers so you can stream music outside without needing extra cords or wiring. You could also add a charging station for phones and other devices so your guests can stay connected while they are outside. 
Additionally, consider installing outdoor TVs so that everyone can watch their favorite shows or movies without having to go inside. For example, you could hang a large outdoor TV in your space or use projectors to show movies on the side of your house.
6. Plan for Safety and Security: 
Safety should always be a top priority when planning an outdoor entertainment area. Be sure to have first aid items on hand, such as bandages, antiseptic wipes, and over-the-counter medications. 
You should also check that the area is free from any potential hazards such as loose wires or sharp objects. If you are hosting a larger gathering, consider having someone responsible for security at your event. That way, you can ensure that everyone stays safe and has an enjoyable time. 
Final Words
Creating an outdoor entertainment space can be a fun and rewarding experience. With the right planning, you can create a safe and inviting atmosphere for your guests to enjoy. From choosing the perfect furniture to incorporating technology into your design, many elements go into creating a successful outdoor entertainment area. 
Be sure to consider safety and security when designing so that everyone remains comfortable and secure during their stay. By following these tips, you'll have everything you need to host memorable gatherings in your backyard!