Create an outdoor oasis and elevate your backyard bliss! Warm summer days spent winding down in a serene retreat are yours for the taking. With just a few simple steps, you can transform your backyard into a dreamy destination — perfect for hosting friends or enjoying some quiet alone time.
From eye-catching garden accents to luxurious furniture selections, we've got 6 must-try ideas to bring your vision of paradise to life. Go ahead, take charge of that space outside your windows, and craft the rustic escape of your dreams!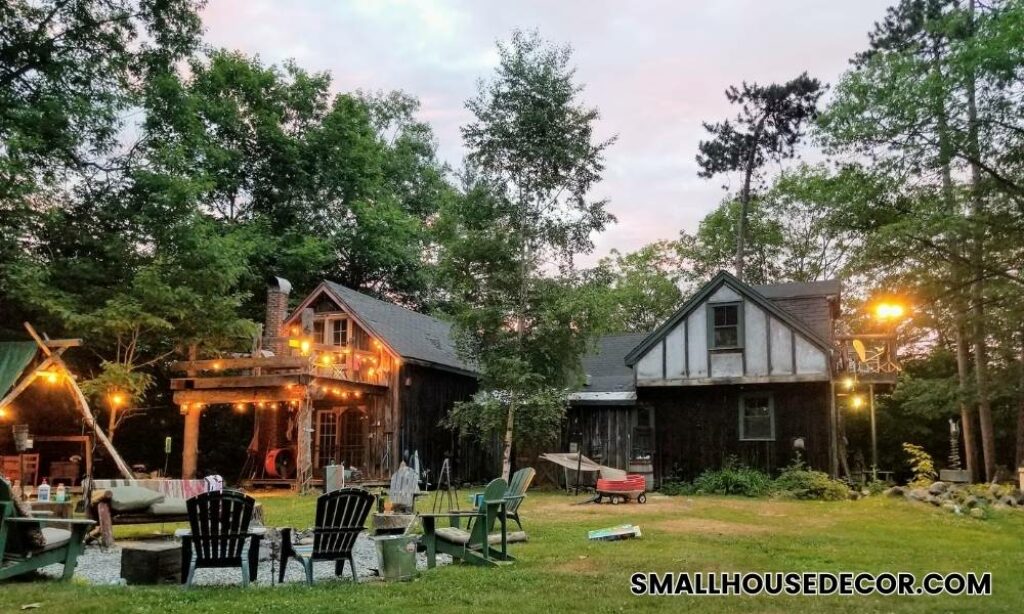 Invest in Large Outdoor Planters
Transform your garden into an oasis with large outdoor planters. The perfect plant pots for the garden offer the ample space your plants need to thrive and make a statement at the same time. Choose from a variety of modern styles, colors, and finishes that match your outdoor decor and elevate the overall ambiance of your space.
Whether you want to plant tall statement trees, colorful flower arrangements, or herbs and vegetables for cooking, large outdoor planters provide the flexibility and versatility to experiment and flex your green thumb. Plus, they make it easier to maintain your plants by retaining moisture, improving soil drainage, and protecting them from extreme weather conditions.
Start with a Clean Slate
Picture a serene and beautiful outdoor space, unobstructed by clutter and debris. A true retreat, this peaceful haven is yours to create. But first, you must clear away any remnants of yesterday and create a clean slate to work with.
Think of it as an artist's blank canvas, ready to be transformed into something truly magnificent. If you set aside the time to clear away any clutter in your yard, you are giving yourself the gift of an empty canvas with limitless possibilities. Pick up that rake and start clearing away the old to make way for the new!
Soften the Space
A simple way to soften up your outdoor area and create a relaxing oasis is by incorporating outdoor rugs, cozy furniture, and playful throw pillows. These elements are sure to add a touch of style and create a warm and welcoming atmosphere that's perfect for entertaining guests or unwinding after a long day.
It doesn't matter if you have a large backyard or a cozy balcony, adding a few simple touches can truly transform your outdoor space into a peaceful retreat. So why not give it a try? With the right accessories, you can easily create your outdoor sanctuary that will help you make the most of the beautiful weather ahead.
Also Read: Garden Design Ideas in 2023 To Transform Your Small House 
Get Creative with Lighting
As the days get shorter and the nights get longer, it's the perfect time to get creative with lighting in your outdoor space. Hanging string lights can instantly transform your backyard into a magical oasis while lanterns can provide a warm and inviting glow. For those seeking an extra touch of ambiance, consider installing a firepit.
Lighting adds a unique aesthetic and atmosphere to your outdoor retreat while enhancing safety by providing visibility at night. Maybe you opt for a modern chandelier or perhaps a vintage-style lantern; either way, the right lighting can take your backyard bliss to the next level!
Create Interesting Areas
With a little creativity and some thoughtful planning, your backyard can become an outdoor living space that's as inviting and comfortable as any room inside your house. And breaking up the space into designated areas can create the desired effect. Imagine a cozy spot for lounging and enjoying a good book, a separate space for outdoor dining with friends and family, and a game area for activities like cornhole or horseshoes. With each area designed to suit its particular purpose, you'll have a backyard that's both functional and enjoyable.
Don't Forget the Little Details
The little details matter when creating the perfect outdoor space. Adding unique accessories like wind chimes, birdhouses, and outdoor art pieces can bring character and charm to your yard. 
Not only do these items add visual interest, but they also create a soothing atmosphere with the sound of gentle chimes or the sight of colorful bird visitors. Plants and furniture alone might not be enough to make your outdoor area stand out, so don't forget to accessorize! Once you add the right finishing touches, your yard can become a personalized oasis that reflects your style and personality.
Creating a backyard oasis is a fantastic way to utilize outdoor spaces and transform them into a tranquil retreat. It's not about having a vast space or a huge budget but using creativity and paying attention to details. From large outdoor planters to creative lighting, and from softening the space with cozy furniture to creating various interesting areas, all it takes is a little imagination.
The beautiful thing about enhancing your outdoor space is that it's an ongoing journey. You can continue to tweak, add, or change elements as your needs and tastes evolve. So go ahead, invest some time and energy into your outdoor space, and build your dream backyard getaway!