Hardscaping cleverly incorporates non-living materials (like brick and stone) into your landscape. This not only creates distinctive textures and hues but can help cut back on maintenance and create unique spaces, like patios and walkways, to enjoy. Below are some hardscaping ideas to consider if you want to transform your home's outdoors positively.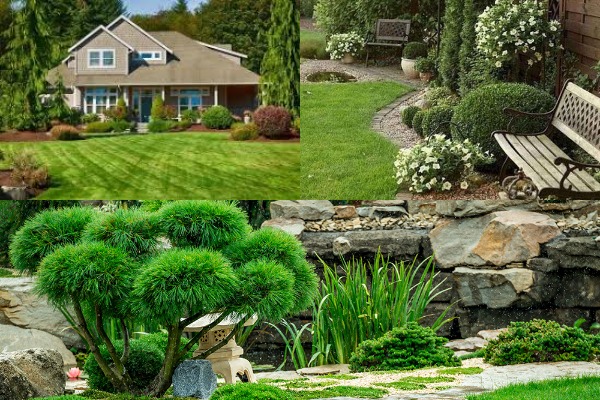 5 Outdoor Hardscaping Ideas
Fireplaces
One of the top ways to change your outdoor landscape with hardscaping is to install a handcrafted fireplace which can make your outdoors a much more exciting place to spend time in. 
There are countless materials you can choose from to construct your fireplace with. You can go traditional with brick or choose stone, like limestone or slate. The fireplace can be built to tower over your patio or so that it's compact and blends in when not in use. 
Better yet, you can design your fireplace with various features. For instance, a metal log rack could be built in or a temperature gauge if you'd like a pizza oven. You might even have a pergola built over the fireplace creating a cozy place to enjoy any time of the year, or a bench built around it to enjoy its warmth. There's no limit as to what you can do!
Staircases
A staircase is something to look into to add texture and depth to your outdoors. It can be as simple as two steps up to a patio or a spiraling one down into a sunken garden. 
While the material is something to ponder, be sure also to contemplate the staircase's location. Do you prefer it to lead into your patio? Will it connect to your home?
Also, think about small details in the staircase. Do you want a design carved into it? Lights embedded? These might seem trivial, but they can truly amplify your staircase. 
A Waterfall
Another intriguing option is an outdoor waterfall. Again, this doesn't have to be massive but could be something small that's meant to be a hidden gem. 
Your waterfall could flow in the background, or it could be incorporated into a surrounding garden. Besides this, you could have the contractor build a wall around your patio or deck and then insert a small waterfalling feature in it. 
Depending on your choice, deck builders in Rising Sun, MD might need to install new or additional water pipes in your yard. However, this won't usually be an excessive project. 
Walkways
If you're interested in having hardscaping done but not sure where to start, think about a walkway. This is a simple investment but one that still makes an incredible impact. 
You could also have the walkway lead to a hardscape courtyard to make a beautiful interconnected landscape. It might be good to have the walkway have focal points rather than just leading somewhere. This could be a garden, your home, or a waterway nearby. 
Keep in mind that walkways don't have to be made with concrete slabs or stone. Instead, you could have a gravel or mulch pathway winding around the grounds. This might be a good alternative to stone, especially if you're on a budget or want to start simple. 
You can also mix and match things. For example, part of the walkway could be brick, and another portion could have quartzite slabs. 
Planters
For those who enjoy gardening, include planters in the design scheme. They can be placed separately around the landscape or built into an overall hardscape design, like along a staircase. 
Planters are fantastic because they prevent the need for excessive pots and containers. This way, you don't have to keep buying new pots and soil. 
If you're feeling a bit adventurous, consider building a layered retaining wall. The wall can feature spaces between the layers so you can plant trees and flowers. In addition, pathways and staircases can be built winding through the various levels, and even small resting areas can be incorporated. 
Can I Do Hardscaping Myself?
While you can do these hardscaping tasks yourself, it can be a little tricky, especially if you want extravagant layouts. Because of this, it's ideal to use a professional service near you. These experts are equipped with the right tools and knowledge to get the job done right (and quickly). 
Remember, though, that you want to research the company carefully. One of the best ways to do this is through online research, where you should find their website and reviews. If not, that's a major red flag. You can also ask around to see if anyone you know has someone to recommend and why they felt they did a good job. 
Once you think you've found the right company, invite them to check out the space and tell them your ideas. A good company will listen closely and also suggest some designs. 
Hardscaping is a great way to boost your outdoor landscaping. Whether it's a beautiful pathway or an intimate dining area, you can use it to transform your backyard into a beautiful escape.