Dining chairs are some of the simplest pieces of furniture in a home, but their designs are among the most iconic. Few furniture pieces are more acclaimed than the dining chairs designed in the middle of the 20th century. Learn the history behind mid century dining chairs to see how the right mid century chair can elevate a modern home.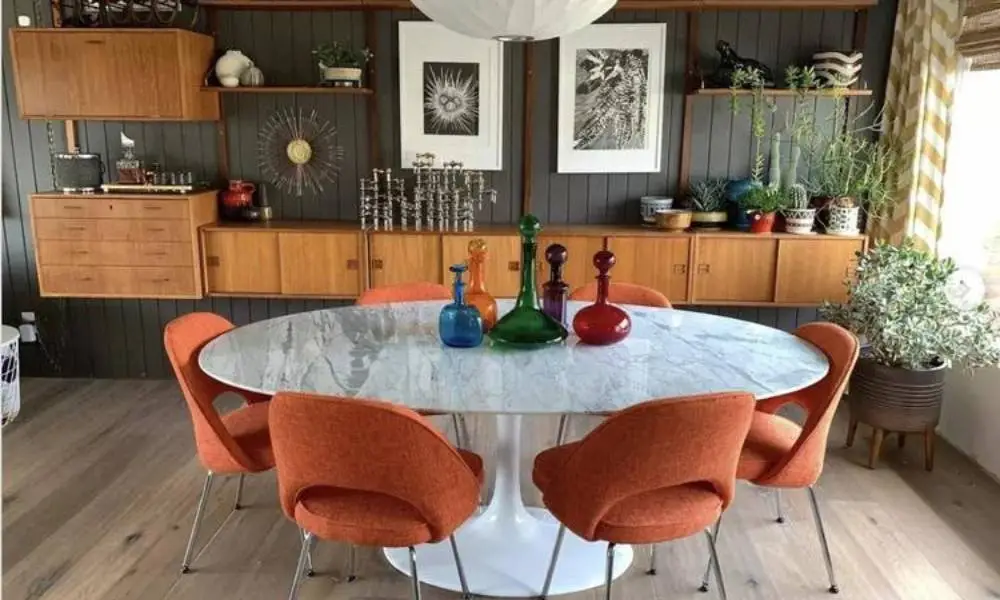 A Short History of Mid Century Chairs
Prior to the 20th century, "more is more" was the dominant home aesthetic. Rich, heavy fabrics, excess detail, gilding, and large furniture size were all popular ways to denote wealth, sometimes at the cost of function.
The mid century design revolution reversed this trend. Minimalism and clean lines dominated, especially in the simple dining room chair. The Danish Swan chair, the Wishbone chair and the famous Eames chair are all stunning examples of dining chairs that remain relevant today, with several on display in the Museum of Modern Art in New York City.
Mid Century Modern Home Design
The mid-century trend of airy minimalism, clean lines and natural elements never went out of fashion. In fact, it became the new baseline of home luxury. The mid-century modern style united new materials such as concrete and glass with a sense of boundless creativity.
Also Read: 18 Cozy And Adorable Breakfast Nook Ideas
Mid Century Dining Chairs: Styles and Options
Today, there are many options for recreating this timeless aesthetic. Here are a few styles that can instantly elevate any modern home.
Classic Minimalist
At its core, mid century style is about blending organic shapes and materials with modern touches. Organic shapes and modern textures have become hallmarks of many different home design themes over the decades. A minimalist approach to a dining room chair fits perfectly into not only a mid century modern home, but also a Nordic, eco-conscious or more generally minimalist aesthetic.
One advantage of choosing simple and clean mid century dining chairs is the freedom to include a stunning focal point. Hanging a mid century chandelier above a dining table can absolutely fit with a minimalist aesthetic if the chairs give the piece space to shine.
Geometric
Geometric patterns and bold colors are also hallmarks of mid century home design, aligning with the influence of the popular Dutch abstract artist Piet Mondrian. For a slightly louder option, choose a bright pop of color or a geometric lattice back. A sleek seat and leg portion keeps the chair grounded in the mid century, pared-down aesthetic.
Flowing Lines
Embrace the most beautiful lasting trend of mid century design with flowing, smooth lines in your dining room chairs. A unified sweep of a chair embodies the artful simplicity of mid century furniture design while providing comfort and function.
Inspired Choices for Modern Home Design
Mid century modern is the rare trend that endures for decades, and it shows no signs of slowing down. Poly & Bark unites modern convenience and timeless home design aesthetics. Browse their collection of mid century dining chairs to find the set that will elevate your home.