What is one of the excellent ways to adorn your old furniture and transform it in the best possible manner? The answer is by decoupaging it. Decoupage not only adds style but personality to the furniture piece that paints alone cannot. 
Here, we will throw light on how to decoupage on furniture, supplies needed for decoupage, and how to decoupage on hospitality furniture.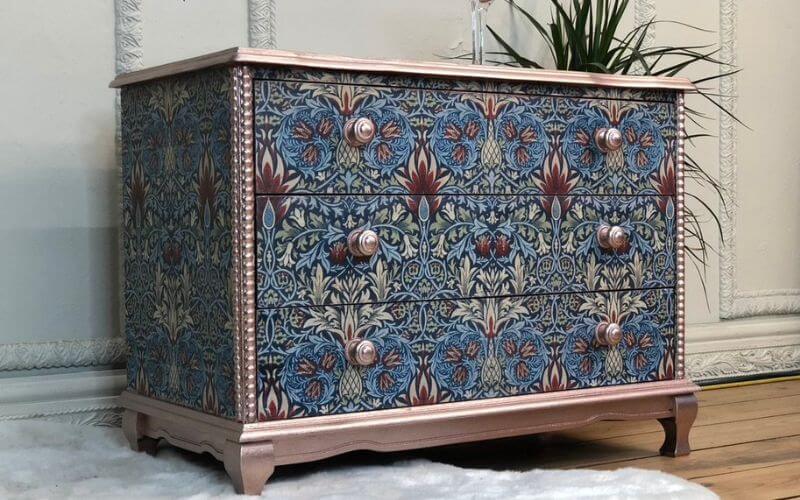 What is decoupage?
Decoupage derives itself from the French word "Decouper," which means cutting or cutting from something else. It is an artistic pursuit of gluing paper or other craft items to a surface and then sealing it. The decoupage process can range from being simple (using one piece of paper) to complex, where you use cut-outs of paper. 
It is one of the finest ways to bring back the life of an old piece of furniture to give it a unique look and make it stunningly beautiful. 
Supplies needed to decoupage furniture
Furniture piece
Sand Paper
Decorative papers like – gift wrap, book pages, wallpapers, maps, or scrapbook paper. 
Mod podge
Foam brushes or paint brushes
Masking tape
Clean cloth or sponge
Scissors
Pencil
How to decoupage furniture?
What is the purpose of your furniture?
Your purpose behind using the furniture helps you determine the weight of decoupage paper to be used on the furniture pieces. For instance – If the main purpose of using the top of the furniture surface is to serve drinks and food items on it, use heavyweight decoupage paper and seal it with a few layers of water-based top coat.
Planning to decoupage the front of drawers? You can use any paper for that.
You can choose from the given options – 
Leave the piece unfinished or with the finish it has on it. 
Paint the piece.
If you want to go for the first option, clean with warm and soapy water. Let it dry, and you are good to go. You need not sand your furniture further.
If you want to paint the piece, do a test paint on a small square that isn't visible. If it sticks, go ahead. 
Prime and paint 
Paint the furniture piece first by using a primer as a base coat and then with the actual paint. The primer ensures that the actual paint will adhere to the wall. Let it completely dry before decoupaging the paper onto the furniture surface. 
Note: You may consider not painting the sanding tops of the furniture pieces as you have to cover them. However, you can do that for the legs of the furniture. 
Also Read: 8 IKEA Alex Drawer Alternative: The Perfect Solution for Small Spaces 2023
Cut paper fits  
Trace the shape of the top of the furniture surface or where you want to paste the paper. Carefully cut this shape out of the paper using sharp shears to create smooth cuts. If you have to make detailed cuts, using a small pair of scissors would do. After cutting the paper, carefully glue it to the surface. 
Sand your furniture  
Sanding the furniture is done for surface smoothing and removing or roughening it. The extent of sanding depends on the condition of the furniture. For instance – a heavily varnished piece may require more extensive sanding than one with a relatively smooth, existing finish. Always follow the specific instructions for your project and use appropriate grit sandpaper to achieve the desired results.
Applying decoupage paper to furniture  
Attach the paper to the surface using a decoupage medium like Mod Podge. You can also use spray adhesive to create a smoother bond. If you decide to use Mod Podge, apply thin coats. If you decide to use spray adhesive, spray evenly over the back and front of the paper for better adhesion.  
Tip: After attaching the paper, use a plastic spatula to push out and eliminate any wrinkles or air bubbles that may have appeared on the paper. 
How you can decoupage on hospitality furniture?
Now, let's get started with some ideas on how you can decoupage hospitality furniture in places like restaurants, hotels, or other commercial settings. 
Table tops  
Decoupage the tabletops of dining tables or coffee tables in a restaurant or hotel. It won't only create an eye-catching design but also level up the ambiance of the space. You may even consider using custom-designed or themed papers for the same.
Bar counters  
It's time to create a focal point of your commercial setting by adding a decoupage on the bar counter. Here, you can use the patterns related to the signature cocktails or the theme of your organization.  
Menu Boards 
Decoupage techniques can be used to create custom boards. Use the technique of applying menu items and descriptions onto the board with decoupage paper to create a rustic look. 
Reception desks  
The reception desk is the first thing visitors see while entering your office, restaurant, or hotel. Adding an artistic touch to it with decoupaging can leave a lasting impression on visitors. 
Outdoor furniture  
Decoupage the hospitality furniture used in the outdoor seating areas to protect its surface. You can use Mod Podge to make the surface more durable.
Event spaces  
Hospitality venues that host events like parties and weddings are in much need of decorative pieces. You can create custom decoupaged decor items, such as table centerpieces or decorative signs, to fit the occasion.
Artistic Murals  
Decoupage murals have the power to transform larger furniture pieces like cabinets or room dividers. These can serve as both functional storage and artistic expression.
Branding  
Incorporate your brand's logo, colors, or motifs into the furniture through decoupage. It can help reinforce your brand identity throughout the space.
Select appropriate materials if you have decided to decoupage on hospitality furniture. Keep in mind the wear and tear the furniture will endure. Ensure to rightly seal and protect the decoupaged surfaces for easy cleaning and durability. Besides, don't forget the overall design and ambiance of the space in mind to ensure that the decoupage complements the décor and atmosphere you want to create for your guests. 
Final Thoughts
Decoupage is a fantastic way to revamp old furniture, infusing it with personality and style. By adhering decorative paper with Mod Podge, you can achieve stunning transformations. Whether for personal use or in hospitality settings, decoupage offers endless creative possibilities, making furniture pieces truly unique and visually captivating.