Our homes are an extension of ourselves. The way we fill the empty spaces is how we express ourselves. Bibliophiles like to fill their houses with books, sometimes with meticulously curated bookshelves.
For many people, their homes are a reflection of their unique style. But how are we supposed to figure out what screams our name the loudest? What should we do to ensure that our personal space stays true to who we are?
Today, we are going to talk about outdoor spaces and how you can design them to make your home aesthetically pleasing. One way to do that is by decorating your outdoor space with a Pergola.
Google defines the word pergola as a structure placed in a park or a garden outlined with a climbing frame. It's usually square and creates a segregated space in the middle of the open space.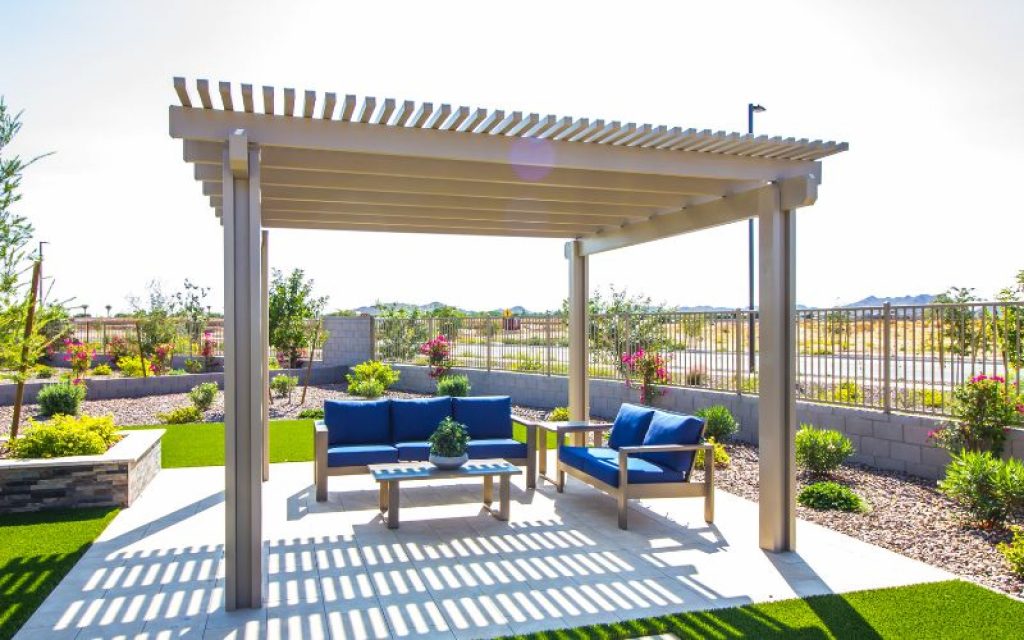 Design the Perfect Pergola for Your Outdoor Space
The inside of a pergola can be decorated with plants, furniture, comfy sofas, hammocks, fairy lights, curtains, and whatever speaks to your soul. There are countless ways to decorate a pergola; so, picking one that suits your outdoor space may be difficult.
But, you don't have to worry, because we are here to help. Let's have a look at some of the most alluring ways to decorate a pergola.
The first step in designing the perfect pergola is to decide the kind of pergola you want. There are two pergola designs – the free-standing, and the attached.
Do you have a garden that looks empty and needs some life? If yes, then a free-standing pergola is the one for you. As the name suggests, a free-standing pergola can stand independently and does not require to be attached to anything.
You can set it up in your garden or on the roof or in the backyard. If this sounds like something you would go for, you must check out the free-standing pergola kits offered by Zen Pergola Systems.
The best part about choosing Zen Pergola for your pergola brackets is that they offer several sizes. You can choose one that fits your needs and your outdoor space the best.
Some ideas to design the perfect free-standing pergola are:
Decorate the frame. There are several items you can use for this. Look for stream lights and vines that can cover the entire frame. Better yet, throw both of them in there and watch how your space lights up!
Set up the pergola kit among trees. Not only will this create a zen-like atmosphere for activities like reading, but it will also be a great place to hang out with guests, relatives, and friends. The wood will add to the glamor of your evening.
The third essential for a pergola bracket is furniture. You can set it up with patio chairs, recliners, or a well-rounded table-chair set. Invite your friends over for a wine tasting. To add a bit more appeal, set up a projector and have a movie night out. Nothing says comfort like sitting in a well-lit space with your loved ones and watching your favorite movies all night long.
Add a few lamps to make the space more rustic. Get creative and hang some potted plants from the ceiling.
If you're running short of locations for your pergola, install it by the pool. When the whole space comes together with the reflection of the open sky into the pool, the graceful lighting of your space, and the comfort of your lounge-like setting, you will want to show it off to everyone!
Now, let's jump to the attached pergola design. Much like the free-standing, the Zen Pergola Systems have a wide variety of attached pergola kits that can conform to the frame you have available.
Pick out the most beautiful attached pergola kits at Zen Pergola Systems and get started with the outdoor space of your dreams!
The thing about the attached pergola brackets is that they are designed to accommodate spaces like patios, backyards, and pretty much any wall where you can attach the bases.
Now, we have already talked about how you can decorate a free-standing pergola. All of those ideas can be implemented with an attached pergola as well. However, there's no harm in going a little extra! Here are some elegant ways to design the perfect attached pergola for your outdoor space:
Let's say you are attaching the bracket to a wall and want to cover the open space to add a bit of shade. Find some Bermuda shutters of your choice of color. You can lay some galvanized steel corrugated panels on the roof of the pergola.
Once you've created the perfect shaded pergola for you and your family, add a daybed in the corner that's supported by the wall. Decorate it with premium cushions and covers that suit your color scheme.
Just like with free-standing pergolas, you can never go wrong with string lights and plants. If you want to add some of that starry, wood magic to the pergola, go ahead. You will be delighted with the results.
Find some lamps, a davenport, and a hanging chair for when you're feeling whimsical, and voila!
Last, but not least, if you like eating out but don't want to go to a candle-lit restaurant every other night, set up a dinner table inside the pergola. This could be a small table set up for you and your significant other, or a slightly bigger one so you can enjoy a meal with your kids.
Better yet, if the space allows, add a big dining table and invite the whole family over for Thanksgiving, Christman, New Year, and any other random day during the year.
Also Read: How Much Does Struxure Pergola Cost in 2022?
Remember, your taste is unique and nobody can match it. If you like any of the ideas, use them as inspiration and throw in some of your ideas to customize your pergola. Head on to Zen Pergola Systems to find the perfect pergola for your outdoor space.