How to Find and Buy Vacation Homes
The prospect of finding vacation homes to buy has become more appealing in the past few years. Increasing income means that families are going on more vacations and need accommodation for their getaways. Real estate investors are aware of the increasing demand for vacation rentals and are always looking for profitable ways to add to their investment portfolio. 
Not everyone knows or can find best places to buy vacation homes. There are many vacation homes for sale on the Internet, and it's easy to get overwhelmed by the options. However, finding a vacation property for your needs is not so complicated if you know what to do. This article will educate you on how to find the most suitable vacation property for getaways or investments. Let's first examine reasons to get a vacation home.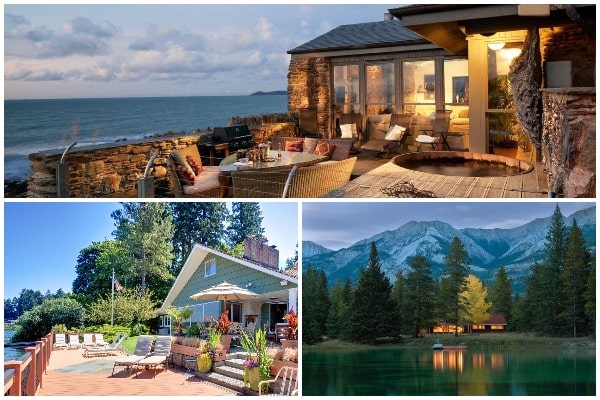 Why You Should Consider Buying a Vacation Home
If you are still contemplating getting a vacation home, these advantages may help you reach a decision: 
Increasing Asset Prices
Real estate asset prices, especially those in bustling areas, usually increase over time. Even if you don't use your property for a long time, there is a good possibility that your property will be worth more than when you first acquired it. 
Income from Rentals
If you aren't spending a lot of time at your vacation property, you can generate passive income by renting it out. A property in a busy area can become a real money-spinner.
Also Read: 5 Nuggets of Wisdom for a Profitable Rental Property
Easy Getaway Option
Owning a vacation home takes away the hassles of planning for accommodation whenever your family needs to travel. You can customize the property to your taste and keep some of your family's belongings there. 
Retirement Base
Retiring to a tranquil environment is the stuff of dreams. You can acquire your vacation property with the intent of retiring to it. Acquiring a vacation home gives you the option to sell your old house and retire to a place of your choosing. The cash from your old home can also help to finance outstanding payments on your vacation home.  
What to Know Before Buying a Vacation Home
Whether you're looking for inexpensive vacation homes for sale or you want to invest in vacation rentals, you should consider these factors before making any commitments.
Also Read: Tips for buying a lifetime oceanfront property
Location
Having the right location is the cardinal rule for all things real estate. However, what you intend to use your property for should influence your choice. Are you big on privacy, or do you love to be surrounded by the hustle of a busy metropolis? Do you love to be near the sea, or do you prefer mountainous terrain? You want to choose a place that you'll love to visit often. 
How Much Are You Willing to Pay
You should consider your finances carefully before attempting to buy a vacation home. It's possible to get carried away without reviewing the financial implications. Owning a vacation property typically comes with associated costs in taxes, insurance, maintenance, and other fees. Whether it's getting cheap waterfront homes for sale or luxury condos downtown, you should be clear that buying that property is suited to your long-term financial goals. 
Ease of Access
You want to be able to get to your vacation home quickly. Will guests have trouble getting to your property? Will you have to fly in or enter by boat? You should know the answers to these questions before paying for the property. 
How to Finance a Vacation Home? 
Now that you've decided on the type of vacation home you wish to purchase, you have to consider your financing options. Let's explore the popular ways to finance a vacation home: 
Outright Cash Payment
If you have enough money saved up, paying cash is probably the best way of acquiring your vacation property. You can also pool resources with friends and family to get a second home. 
Cash-out Refinance
You can use the equity on your home to refinance your vacation home – meaning you can replace the loan on your home with a new one for an increased sum, then keep the cash difference between the two loans. 
Take a Conventional Loan for your Vacation Home
If you've finished paying the mortgage on your first home, you can apply for a loan to get a second home. However, vacation home loans may command a higher interest rate than primary home loans and require a higher down payment. Lenders believe that you are more likely to default on your vacation home loan, so requirements are stricter. 
Home Equity Line of Credit (HELOC)
HELOC lets you borrow against your home equity. You get a credit limit based on your equity and withdraw your funds whenever you need to. HELOC allows you to avoid refinancing the mortgage on your home if you have a lower rate on your home equity. 
Drawbacks on Getting Vacation Homes to Buy
It would help if you also considered these drawbacks before proceeding to get a second home: 
Property Expenses
Typically, vacation homes to buy come with additional costs like property taxes, insurance, and utility bills that you need to pay even when the property is unoccupied. You may also need to pay for the services of a property manager even when you're absent. 
Investment Risks
There is always a slight possibility that the real estate market will take a hit and cause a slide in property prices. Vacation homes are particularly vulnerable to these downturns. Natural disasters may also affect beach homes and other property in disaster-prone areas. Taking insurance can help guard against this kind of loss. 
Unfavorable Legislation
Short-term rentals are highly regulated in some states, and these restrictions can affect the earning capacity of investors. If you plan to earn by renting out your property, ensure to look out for cities with minimal short-term rental restrictions. 
Conclusion 
Buying a vacation home can be a great way to add to your real estate portfolio, make passive income, or plan for your retirement. However, you must carefully consider the benefits and drawbacks in light of your medium and long-term financial goals. Buying a home is a significant personal and financial investment; ensure you have all the information before making your move.