Are you tired of looking at the same boring bathroom that's been in your home since you moved in? Is it time for a change, but you don't know where to start? Transform your outdated space into something more modern and stylish with just a few simple steps.
Let us show you how to make your bathroom look like a piece of art with some tips and tricks! From statement pieces to subtle lighting changes, there are numerous ways to add character and personality to this important room in your home. Get ready for some serious bathroom inspiration!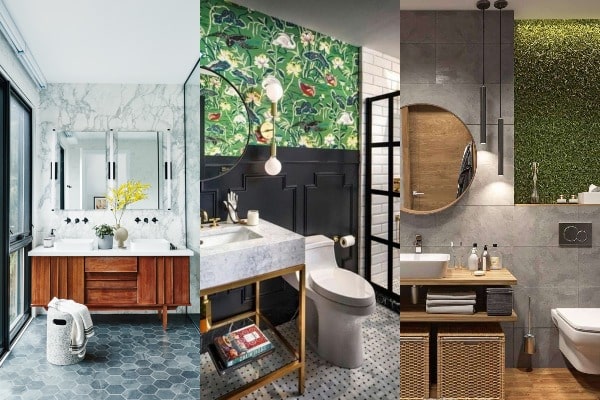 Invest in frameless shower doors
Creating a luxurious and inviting bathroom space has never been easier with the addition of frameless shower doors. Look for providers like The Shower Door Store that offer custom frameless options to fit any bathroom size and style. Besides providing a sleek and modern aesthetic, they also offer practical benefits such as easy maintenance and a more spacious feel. With frameless shower doors, you'll no longer have to worry about unsightly water stains or mold buildup in the corners of the shower.
The lack of a bulky metal frame allows for more natural light to flow through the space, making your morning routine more bright and refreshing. Invest in the beauty and functionality of frameless shower doors and elevate your bathroom to new heights of sophistication.
Invest in quality, stylish fixtures
Are you tired of looking at your old, outdated sink and faucet every morning? It might be time to consider investing in some high-quality, stylish fixtures that can enhance the look of your bathroom and increase the overall value of your home at the same time.
Imagine coming home to a sleek, modern sink and faucet combination that perfectly complements your decor and makes a statement. With so many options available, you can find the perfect style and finish to fit your unique taste. Don't settle for less when it comes to the heart of your home — upgrade to a new sink and faucet and enjoy the benefits for years to come.
Choose a statement piece
Adding a statement piece to your bathroom is an easy way to make it stand out and give it a unique touch. This could be anything from a bold, patterned wallpaper to a colorful, mosaic tile backsplash behind the sink. Get creative with your choice of artwork or add some drama with a chandelier above the bathtub.
Think outside the box and choose something that reflects your personal style. A statement piece can also be functional, such as a vintage clawfoot tub or a unique vanity with plenty of storage space. Whatever you choose, make sure it's something that will make you smile every time you enter the room.
Paint the walls an accent color
If you're not ready to commit to a bold statement piece, consider painting one wall in your bathroom an accent color. This is a simple and cost-effective way to add some personality and visual interest to the space. Choose a color that complements the existing decor or adds a pop of contrast.
You can also play with different textures like textured paint or wallpaper to add depth and dimension to the wall. Just be sure to properly prep the surface before painting to ensure a smooth and lasting finish. Each time you walk into the room, you'll be greeted by the vibrant energy that the accent wall brings. Go ahead, grab a paintbrush, and let your personality shine through the walls of your home.
Update flooring and lighting
Of course, don't forget about the flooring and lighting in your bathroom. These two elements can make a big impact on the overall look and feel of the space. Consider swapping out old, worn-out tiles for something more modern and durable, such as luxury vinyl or porcelain.
For lighting, choose fixtures that provide ample brightness while also adding some style to the room. You could also install dimmer switches to create a more relaxing ambiance for those late-night bubble baths. These simple updates can transform your bathroom into a true work of art that reflects your personality and style.
Organize shelves and drawers
Do you find yourself constantly digging through cluttered shelves and drawers, searching for a specific item? Keep your bathroom organized and functional by investing in some storage solutions. This could be anything from stackable baskets to drawer dividers or even a hanging organizer for your hair tools.
A clutter-free space looks more aesthetically pleasing while reducing stress and saving time during your daily routine. Plus, organizing your shelves and drawers can also serve as an opportunity to add some decorative touches like scented candles or small plants.
Hang stylish curtains
For a softer and more inviting look, consider hanging stylish curtains in your bathroom. This can add texture and warmth to the space while also providing some privacy if you have large windows or a glass shower door. Before making your choice, play with different patterns and colors to find the perfect match for your bathroom's style.
You can also opt for waterproof and mildew-resistant fabrics to ensure longevity and easy maintenance. Trust us, switching out your boring shower curtain for a stylish one will make all the difference in elevating your bathroom's overall look and feel.
Add splashes of color with house plants or flowers
Nothing adds life to a room quite like fresh greenery or vibrant blooms. Whether you're looking to brighten up your space or make a statement with bold colors, house plants and flowers are an easy and affordable way to add pops of personality to your decor.
Apart from bringing a sense of freshness and natural beauty indoors, they can also provide a wide range of health benefits, from purifying the air to boosting mood and productivity. With so many different varieties to choose from, you're sure to find the perfect plants and flowers to suit your style and make your space feel like a true oasis.
Your bathroom deserves just as much attention and design consideration as any other room in your home. With these tips, you can transform it into a stylish and functional space that reflects your personal style and enhances your daily routine. Don't be afraid to think outside the box and invest in quality fixtures and accessories that will elevate your bathroom to a whole new level of sophistication. Happy decorating!