If you are looking to make your home stand out, it all starts with the interior design. The problem is interior design can be a daunting task, especially if you are a first-time homeowner or if you are someone who wants their guests to leave their home with a sense of wonder. But don't be intimidated! With a bit of imagination and creative thinking, you can make your home's interior look spectacular without breaking the bank. 
While some aspects of interior design have not changed, such as ensuring the area is clean and clutter-free, in 2023, there are more options than ever available to you that will make your home stand out and also showcase your personality at the same time. Great!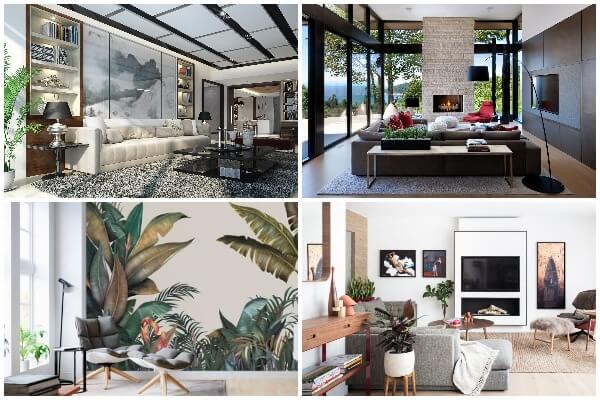 So, here are some top tips on how to make your home's interior stand out. 
Step 1: Get Stone Countertops
Have you ever been to a home that had a truly stunning kitchen? What was it about it that made it stunning? Going back to the interior design trends that don't change, it was likely to be 2 things: 
The proper lighting 
The use of stone countertops
Indeed, stone countertops, like granite or quartz worktops, are popular once again, with many homeowners leaning toward the more natural hues that these materials can create. 
While you can get quartz countertops that are blue, if you want a timeless feel, you will want to go for a countertop that is gray, white, black, or a combination of the 3! Be aware that having a stone worksurface fitted in your kitchen can be pricey, so it may be best to opt for a kitchen wrap in these materials instead to pull back on the costs.
Step 2: Find An Inspirational Palette
Do you know the colors you'd like to use in your home? Selecting a cohesive color palette that works for the entire house is very important for creating a harmonious feel. Designers suggest going with neutral colors for walls and ceilings, adding accents of contrasting colors to make the room look dynamic. 
Indeed, if you want to make a bold statement, opt for bright white skirting boards and deep colors for the walls, such as forest greens, aqua blues, or even reds and oranges. Or, if you want a more bohemian/gothic look to your home's interior, aim to use neutral greys in combination with whites, blacks, purples, reds, and metal accessories.
The point is that when it comes to designing a home that will leave a wow factor on your guests, this is going to be more likely to occur if your home truly reflects your personality. So, think about colors and go from there!
Also Read: 12 Perfect Colors That Go Well with Burgundy
Step 3: Consider Smart Use of Mirrors
Mirrors are a great way to enhance the look of a room and make it appear larger. Strategically placed mirrors can help make a room look larger and can, of course, can be used to help you see other parts of the room from a seated position. This can be great if you have a play area or playroom where your kids hang out, and you are in another room; that mirror can save you a lot of trips to check on them!
In a hallway, aim to put the mirror somewhere where most people will see it. Do not put it behind a door or hidden behind the coats; place it somewhere where it can be seen and make a statement.
Step 4: Bring In Large Plants
OK, so most people love having small plants in their homes, like succulents, cacti, and even tiny bonsai trees. But have you considered going the other way and choosing a larger plant?
Many people have adopted the idea and look of having larger plants in their homes, like ficus trees, giant ferns, and even tall snake plants. Of course, this adds a touch of natural beauty to any room, clears the air, and can be a great focal point. Just remember to put the plants near a window, so they don't die! If you cannot commit to keeping a plant healthy, why not go for the same look but with an artificial plant?
Step 5: Construct Interesting Lighting
Most people think an interesting light feature is only a good idea if it is hanging in the kitchen or bathroom. But these can work anywhere!
Many of the more interesting light options include the apparent chandelier, which can be paired with a gothic theme, or even a light fitting, which, if it is the right color, can be paired with almost any piece. A lot of people are growing to love layered lighting or even lighting that points downward to add a dramatic emphasis to a room.
Of course, who says it has to be old-fashioned to be attractive? A lot of homes are now using smart lighting, which can be controlled via a smartphone or via a smart home assistant.
Step 6: Install a Fireplace
If you are looking to add a grand theme to your home that will get people talking, why not opt to have a fireplace installed? While many people choose to have fireplaces installed in the family rooms, the den, or the dining room, why not spruce it up and add a fireplace to your bedroom?
That can add a touch of real romance and be a great focal point for the room. Just make sure that when you are looking to have a fireplace installed that, you have sought the correct permissions to do so from your homeowner's association and other authorities.
Depending on the shape of your home, you may have to have some reconstructive work completed to have a fireplace installed, so it may not happen right away! Also, be sure that the people who are installing it are trained to do so and that all of the safety checks are up to standard. 
Final Thoughts
The key way to make your home stand out is to use the space to accentuate your personality. So, aim to choose color schemes that match your own likes, and choose interiors that make you happy and feel comfortable. Or else, you may end up living in a home that feels more like a show house!